I LOVE cheesecake!  It's definitely a deathbed food for me, though I will confess that I don't eat it often because it's so nutritionally naughty.  In fact, now that I think about it, I haven't had a slice in 2012!  That's going to change on July 30 – National Cheesecake Day.  In honor of National Cheesecake Day, I thought it would be cool to offer wine pairing recommendations for the Cheesecake Factory's most popular cheesecakes.
When it comes to dessert and wine pairings, there is only one hard and fast rule –  the wine should be as sweet as, or sweeter than the dessert, otherwise the wine will taste sour.  That's why cheesecake can be a challenging pairing – because it comes in so many variations/styles.  Not to mention that it's not top of mind when it comes to something with which to pair wine ( I bet a cold glass of milk comes to mind for the majority of folks) But to my way of thinking, having a great glass of dessert wine is one of the wine world's and life's finest and most delectable treats, and is the perfect way to cap off a great meal!
Here's the deal, I went to the Cheesecake Factory website, and found the following 10 cheesecakes listed (in order) under "Our most popular" cheesecakes (hmmm…not sure how a cheesecake being rolled out next week is #1 on the list..but I'll go with it)
Note: All images and descriptions of the cheesecakes are courtesy of the Cheesecake Factory
OREO® Dream Extreme Cheesecake – "OREO® Cookies Baked in our Creamy Cheesecake with Layers of Fudge Cake and OREO® Cream Mousse. Topped with a Milk Chocolate Icing".  This seriously decadent  and delicious cheesecake debuts on July 30th according to the Cheesecake Factory's website.
Pair with 2009 M. Chapoutier Banyuls Vin Doux Naturel ("VDN"). This is a lightly fortified wine from France made from Grenache with intense aromas of fig, quince, chocolate, licorice and spice nicely offset with tannins and acidity that make a charming match for this extreme cheesecake.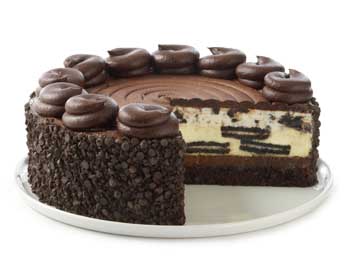 Hershey®'s Chocolate Bar Cheesecake – "Two moist layers of chocolate cake soaked with Hershey's chocolate, layered with creamy Hershey chocolate ganache and chocolate cheesecake made with Hershey chocolate. Finished with Hershey milk chocolate icing and Hershey milk chocolate chips".
Pair this chocolate overload with a Ruby port.  Ruby port is the least complex style of red Port, and is fruity and straightforward.  That youthful style should work well with the milk chocolate which dominates this cheesecake.  Try the Ramos Pinto Fine Ruby Port.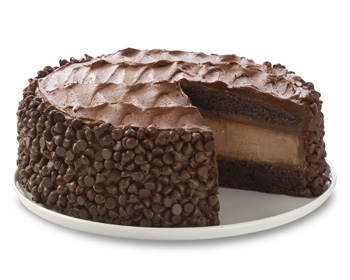 This classic cheesecake would be fantastic with the 2007 Schramsberg Crémant Demi-Sec, which is a sparkling dessert wine, and a fantastic one at that!  I've enjoyed it with a "plain" cheesecake before, and it was a fabulous pairing!  Because the Schramsberg is made it the "demi-sec" style which will be sweeter than the cheesecake. Additionally, the effervescence of the wine will cleanse the palate and have you ready for the next bite of cheesecake!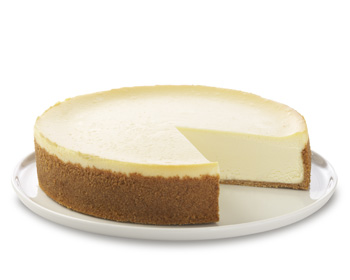 Red velvet cake tend to be less sweet than its chocolate counterpart.  Pair with 2009 Dashe Cellars Late Harvest Zinfandel, which features cherry, raspberry, and hint of chocolate and vanilla flavors that are balanced out by a nice vein of acidity.  It's sweet but not cloying.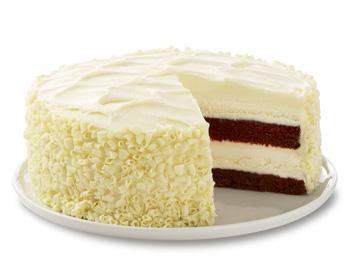 White Chocolate Raspberry Truffle® – "Our Creamy Cheesecake with Chunks of White Chocolate and swirls of imported Seedless Raspberries throughout. Baked in a Chocolate Crust and finished with White Chocolate Shavings and Whipped Cream".
Here's another opportunity to pair cheesecake with a  sparkling wine – this one is from Italy – Banfi Rosa Regale. It's a beautiful cherry red color, and offers delightful rose petal aromas backed by flavors of strawberries and raspberries.  It's one of the few sparkling wines that has an affinity for chocolate!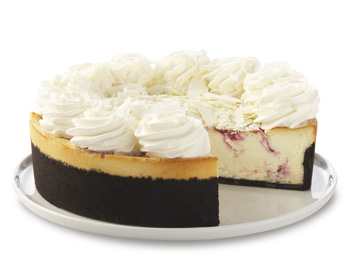 Pair this decadent cheesecake with the Gonzalez Byass "Matusalem" Oloroso, a sherry aged 30 years, which gives it a dark color with intense and multi-dimensional dried fruit and nut flavors which will make a great complement to the chocolatey-peanut butter goodness in this cheesecake!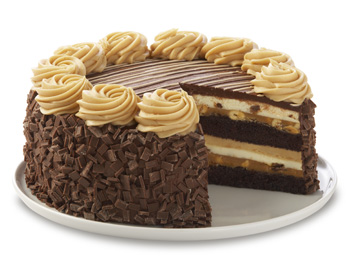 30th Anniversary Chocolate Cake Cheesecake – "Two layers of our Original Cheesecake and two layers of our creamy chocolate fudge cake filled with chocolate cream and finished with crunchy pearls of chocolate".
Pair with 2010 Bonny Doon 2010 Mourvèdre "Mon Doux".  This is a Port-like dessert wine made from the old-vine Mourvèdre(MORE-ved-DRUH).  Here's what Bonny Doon says about it…"We harvested the raisinated parts of the clusters, hand-scissoring them on our sorting table. The resultant sweet red has aromas of blackberry, dried black cherry, tea leaves. On the palate, it has sensuous dried plum, fig, candied cherry, and sweet spice balanced by lively acidity".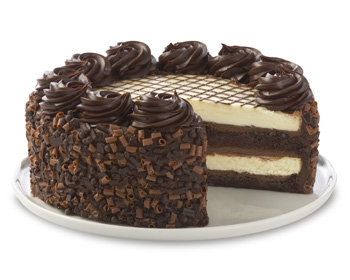 Godiva® Chocolate Cheesecake – "Flourless Godiva Chocolate Cake topped with a Layer of Godiva Chocolate Cheesecake loaded with Chunks of Godiva Milk Chocolate and topped with a layer of Godiva Chocolate Mousse. Godiva® is a registered trademark of Godiva Brands, Inc".
Pair with 2008 Barra Bella Dolce Petite Sirah, which is a Port-style wine made from Petite Sirah with fresh blueberry, mocha, and ground coffee aromas, and sweet spicy dark fruit flavors that will complement this rich cheesecake.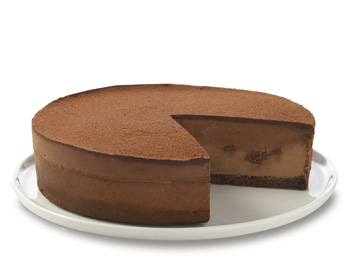 Pair with Broadbent 10 Year Malmsey Madeira. Madeira is a fortified wine made on an island off the coast of Portugal. It has wonderful toffee-caramel like character that is the result of heated aging. The Broadbent has a sweet rich chocolatey flavor that along with the toffee and caramel flavor will be perfect with this decadently sweet cheesecake.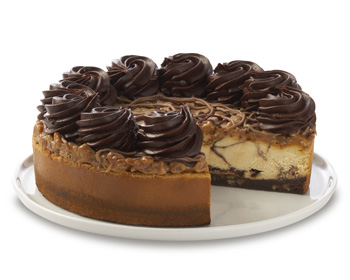 Chocolate Mousse Cheesecake – "Our smooth Chocolate Cheesecake topped with a Layer of Chocolate Mousse and Baked in a Chocolate Crust. Finished with Chocolate Shavings and Whipped Cream".
Pair with Churchill's 10 Year Tawny Port. Tawny ports are  smooth with a velvety texture and aromas of sweet fruit and roasted nuts. This is has a delicious sweet fig-like flavors and a caramel finish that will be a great match for this cheesecake.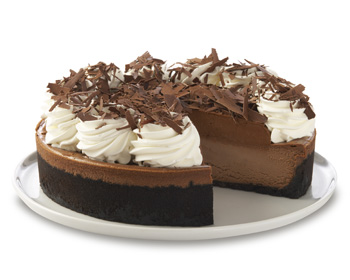 My favorite cheesecake and dessert wine pairing? Come on! It's impossible to pick one…it's a toss-up between Caramel Pecan Turtle Cheesecake/Madeira, and the Reese's Peanut Butter Chocolate/Oloroso.  And if you ask me tomorrow…you might get a different answer;-)!
Note: All images courtesy of the Cheesecake Factory
_________________________________________________________________
Martin Redmond is a Financial Executive by day, and a certified wine geek with latent foodie tendencies the rest of the time. In addition to the wine lifestyle and food he enjoys family, fitness and traveling. He likes to get thoughts of wine off his mind by sharing experiences on his ENOFYLZ Wine blog, which features wine reviews, wine country travel, and wine and food pairings.
Follow me on Twitter @martindredmond for all things wine. Since I'm a wino with latent foodie tendencies, you'll also find food and wine pairings, and food related stuff! Become a fan and join ENOFYLZ Wine Blog on Facebook. Cheers! This article is original to ENOFYLZ Wine Blog.com. Copyright 2015 ENOFYLZ Wine Blog. All rights reserved.