I was in Costco, and saw they had a "Kirkland" branded Champagne for $19.99.  That's the lowest price I've seen on the real stuff from France, and Costco has a good track record for wines in my book,  so I decided to pick up a bottle.
This Champagne is made by Manuel Janisson of Champagne Janisson & Fil  in the village of Verzenay, which is designated a Grand Cru village, located in the Cote de Sezanne region.  This wine is comparable to a second label Champagne,  meaning it's a less expensive wine made from grapes, or wine not considered worthy of the winery's primary label.  For example, in this case Champagne Janisson & Fil which used very few of their Grand Cru (their best vineyard), or Premier Cru ( second best vineyards) for this wine.  The grapes are sourced from other vineyards.  This is a common practice at wineries, so no heartburn for me there.  Frankly, that's why it can be sold for $20.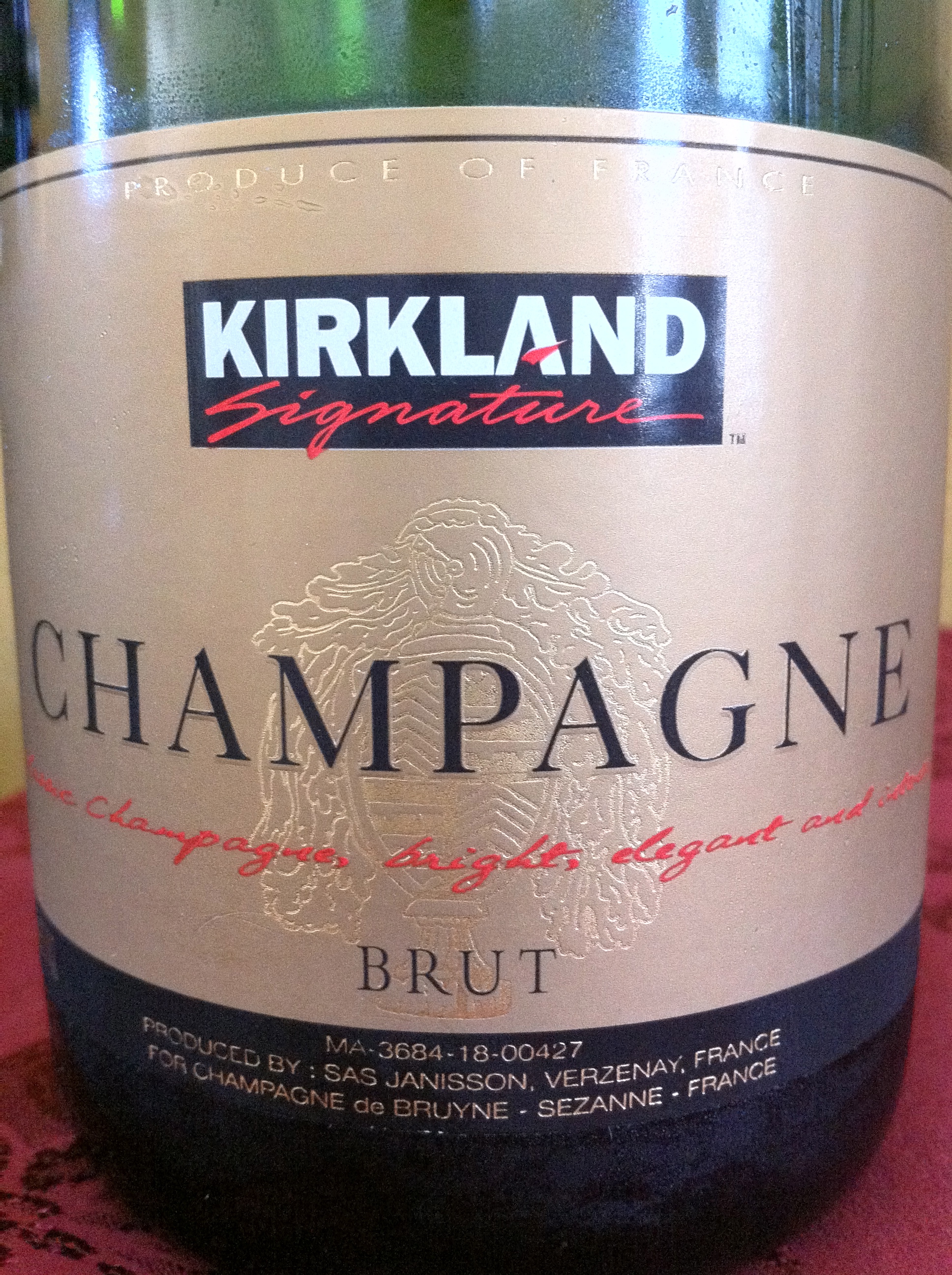 NV Kirkland Signature Champagne Brut De Bruyne – Janisson
Where it's from: France> Champagne> Cote de Sézanne> Champagne
The grape(s) Chardonnay (45%), Pinot Noir (40%), Pinot Meunier (5%)
Production method: Traditional Method 
Alcohol: 12%
Dosage: Brut
Aging: 20 months on lees
Retail: $19.99
My tasting notes follow:
Light golden-yellow straw color with lots of tiny, but dispersed bubbles, accompanied by toasty yeast, stone fruit and citrus aromas. On the palate, it's pleasantly creamy, but simple with tart stone fruit and cherry flavors.
Pair with: The beauty of sparkling wines is their versatility with food, because of their palate cleansing quality (think scrubbing bubbles;-).  This one will work both as an aperitif, and with lighter main course dishes without heavy sauces.  I bet this would be great with salty treats such as Ranch flavored potato chips, or side dish like mac and cheese,  or fish tacos.
Recommendation:  This is a good sparkling wine, that had some of the characteristics unique to Champagne such as a creamy mousse, and a nice pin-prick sized bubbles, but I found it lacked complexity.  The challenge for me is that I can think of several Cavas, American Sparklers, Crémants, etc. that are priced similarly, or below that I've enjoyed more.  This won't be a repeat purchase for me.
Related articles