I don't necessarily think of myself as being very patriotic, but each year around this time we sing "America The Beautiful" at my church, and it chokes me up each time! I truly appreciate this great nation of ours, and feel blessed to be an American.  And that's what the Fourth of July is about for me.  Okay – well that,  and it's a great reason to gather with family, and friends share great food and wine!
My food blogging friends have outdone themselves with this week's #SundaySupper theme – Celebrating Fourth of July with Family and Friends.  It's big fun, and an honor for a self-described "Wino with latent foodie tendencies" such as myself, to offer some wonderful wines recommendations to match these great recipes!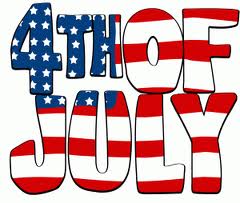 Here's a list of this week's recipes and my recommended wines!
Pair these main course dishes with Zinfandel, an All-American wine if there ever was one!  I recommend the 2009 Ridge Vineyard "Three Valleys" Sonoma Zinfandel Blend.  It's mostly Zinfandel with some Carignane, Petite Sirah, and Syrah invited to the party.  It's well-balanced with great fruit, acidity, and a bit of spice!
Pair these main course dishes with a Pinot Noir.  I recommend the 2009 MacMurray Ranch Central Coast Pinot Noir.  This one shows plenty of classic Pinot Noir red fruit flavors and acidity.  And Pinot Noir can take a chill.  Throw it in the ice bucket for 10-15 minutes and you'll have a delightfully chilled food partner!
What's the Fourth of July without some sparkle?!  A sparkling Rosé is a great wine for your Independence Day culinary festivities.  It'll do double duty with these salads/sides and main dishes. Try the Barefoot Bubbly Rosé Cuvée.
Riesling is the white wine version of a "Chef's wine" because it's so food friendly.  The 2010 Chateau Ste Michelle Columbia Valley Riesling will be a great match for these ethnic dishes!
Try these salads and sides with a Sauvignon Blanc.  It's one of the few wines that'll be a good match for asparagus.  Sauvignon Blanc (a.k.a. Fumé Blanc – it's the same wine) is a very versatile wine, and has a bold and forthright personality.  Look for the 2010 Dry Creek Vineyard Sonoma County Fumé Blanc. 
For these salads and sides, Chardonnay, America's favorite white wine, will be great match.  Look for the 2010 Napa Cellars Napa Valley Chardonnay.
Here's another bubbly that'll do double duty.  Try an Extra-Dry Sparkling wine with these salads/side and desserts.  The Chandon Extra Dry Riche has got a bit of sweetness that partners well with spicy fare as well as fruity desserts.
As for the last of the salads and sides?  This one needs no wine pairing because it's made with one of my favorite Fourth of July beverages – Sangria! 
These desserts will be a pair nicely with a late harvest Riesling.  Late harvest wines, as their description implies are wines produced from grapes that are picked late in the season  The extra "hang-time" means the grapes have a higher sugar content, and are therefore sweeter.  I recommend the 2008 Chateau Ste. Michelle Late Harvest White Riesling.  
For these desserts, I recommend a Port.  Look for Graham's "Six Grapes" Port.
I hereby raise a virtual glass, and I say to you – "Here's to making memories!"  – because that's what family, friends, great food and wine are all about! – Cheers!