My Wine of the Week ("WoW") for June 16-June 22 is the Gonzalez-Byass Jerez-Xéres-Sherry Apostoles Palo Cortado Muy Viejo 30 Anos (Phew…that's a long name!)
The Winery
Gonzalez-Byass was founded in 1835 by Manuel M. Gonzalez in the town of Jerez, Andalusia, Spain.   In 1855 the Byass family, distributors in the U.K., become shareholders of the Company, and the first cellars were established.  The Company changed its name to Gonzalez Byass in 1863.  The company is still run by the founding family (now in its 5th generation)  In addition to wines sold under the Gonzalez-Byass label, they also sell Sherry under the Tio Pepe label.   The Tio Pepe label was added in 1936.  In addition to Sherry,the Company also makes Brandy.
The Wine
Sherry is a fortified wine made in Spain.  As with in other European countries, the wine is named after a geographic region.  In this case, the city of Jerez in Andalucia.  Interestingly, the words Jerez, Xeres, and Sherry appear on each bottle of Sherry. Each is a different corrupted version of the area the Greeks called Xera.  Sherry is an anglicization of Xeres.
Sherry is arguably Spain's greatest wine.  I like what Karen MacNeil states in The Wine Bible…
"But no matter what you call it, if there were justice in the wine cosmos which there is not, Sherry would be one of the world's best-loved and oft-sipped wines. As it stands, Sherry is the unsung hero of the great classic wines, is misunderstood, underappreciated, and wrongly cast as the libation of old ladies"
As it stands today, it's mostly a wine geek's (guilty as charged) wine.  Because of its oxidative aromas, and the almost saline flavors of some styles of Sherry, it can certainly be an acquired taste.  That's why I believe it's underappreciated.
However, I think Sherry is among the most versatile wines when it comes to food pairings.  For that reason, I look for it, mostly when I'm dining out.  And that's how I came across this wine.  We were having dinner at Nopa in The City, and it was one of a bunch of Sherry their wine menu.   What caught my eye was "30yr".  I was also familiar with  Palo Cortado, the rarest style of Sherry, through my readings and I wanted to try some!  I'm glad I did.  This style of wine was a great match for not only our appetizers, but also for my main course.
Sherry is a unique product of terroir (in particular the microclimate in the Sherry Triangle), an aging process that includes using Soleras, and the Palomino grape, which is the primary grape used for making Sherry.  How Sherry is made is beyond the scope of this piece, but for good video about how Sherry is made click here.
There are essentially two broad categories of Sherry – Fino and Oloroso.  Fino's  are light, dry, and crisp, while olorosos are more full-bodied, darker in color, nutty, and sometimes sweet.  Palo Cortado, a rich, yet dry, or perhaps off-dry style falls between the a Fino and an Oloroso.  In fact, Palo Cortado begins life as a Fino, then evolves as an Oloroso, developing a rich nuttiness and darker color.
This wine is sourced from a solera created in 1862 in honor of a vineyard visit by Queen Isabel II!!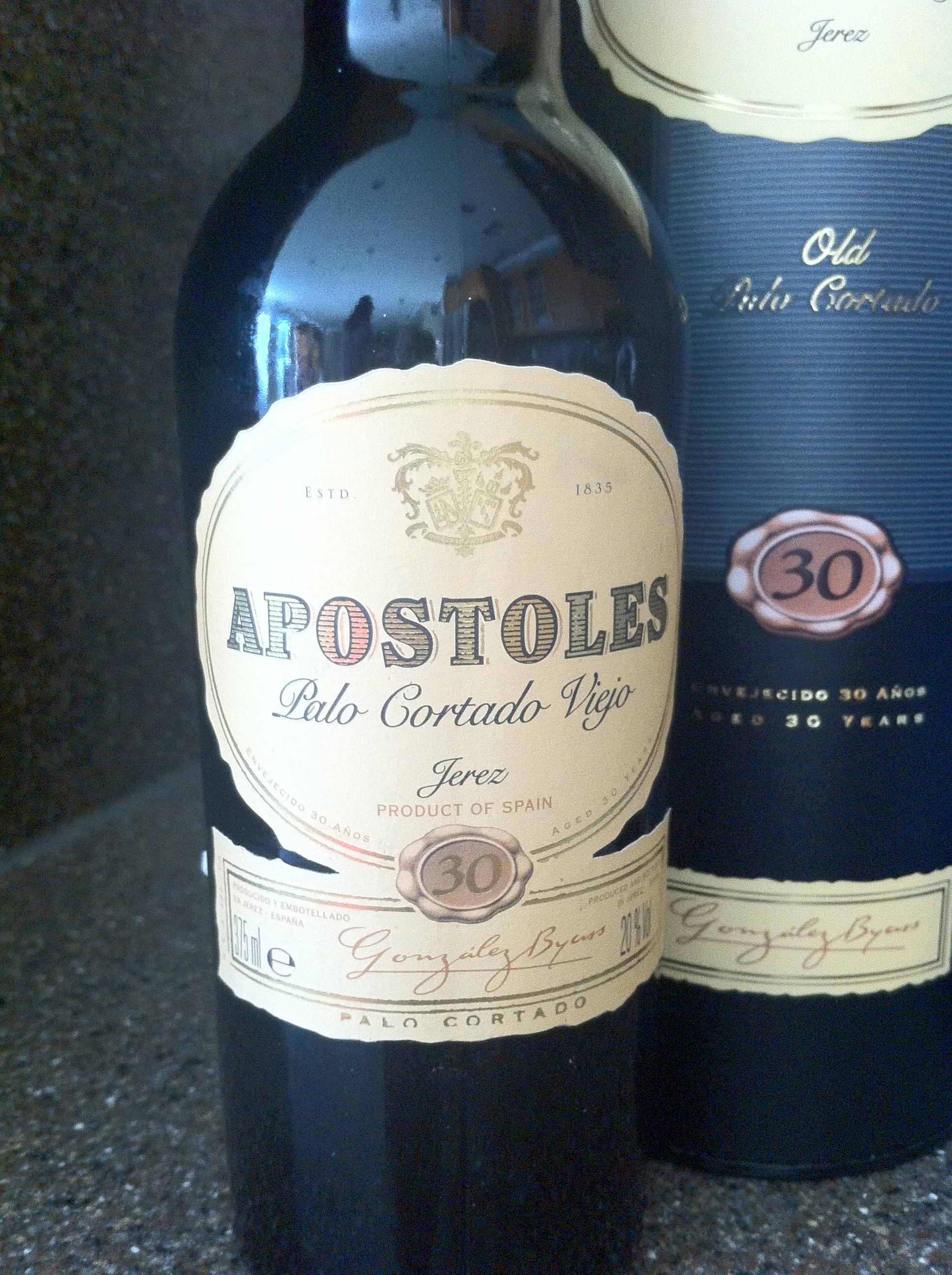 Qualitatively, Sherry may be classifed as "VOS", or "VORS" meaning the sherries are more than 20 and 30 years old respectively.  It was understanding that "VORS" stood for Very Old Rare Sherry, but looking at the label,  it literally means something else.  My Latin is rusty (Okay…damn near non-existent) but I don't think it's "Very Old Rare Sherry"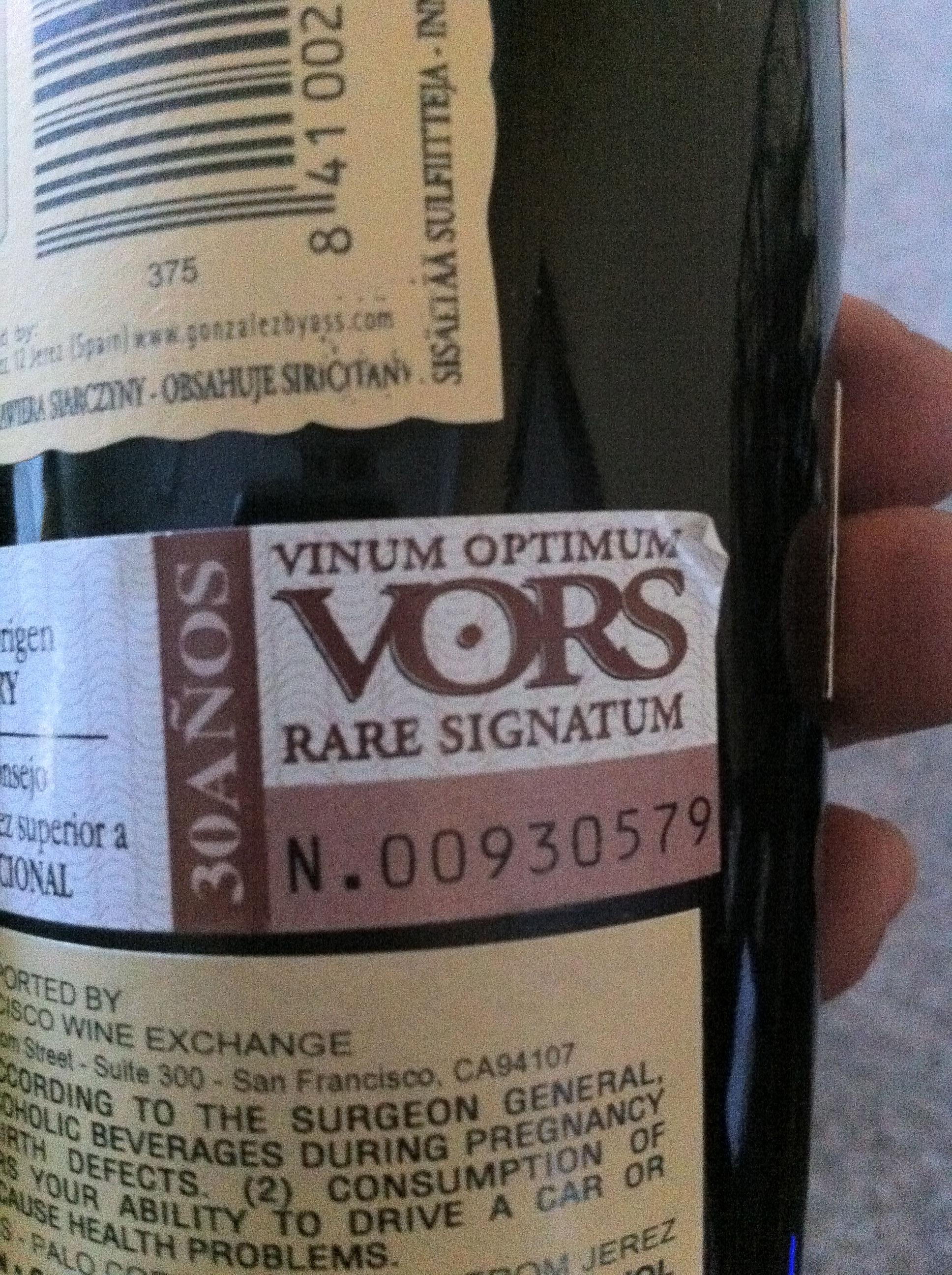 Sherry is aged a Solera like this:
My tasting notes follow:
Beautiful burnt umber color with aromatic complex aromas of toffee, caramel, hazelnuts, and sea air. Only slightly oxidative aroma. On the palate medium-bodied, off-dry (from the 13% PX) initially,but somehow drier on the back palate, silky smooth, and balanced with nutty, toffee and dried fruit flavors with a very long finish. – 93pts
Recommendation: Highly Recommended.  This is an excellent example of a Palo Cortado.  If you've been curious about Sherry, one that is an off-dry style such as this may be more to your liking.  It's a great match for cured meats, pate, many cheeses, and foods rich in garlic and spices.
Details:
Alcohol: 20% alcohol.
Closure: Cork closure.
AVA: Spain> Andalucía> Jerez-Xérès-Sherry
Varietal(s): 87% Palomino, 13% Pedro Ximenez
Oak: Average of 30 years in American oak barrels following the Solera system
Retail: $40 for half-bottle (375ml)
Cheers!