My Wine of the Week ("WoW") for June 2-June 8 is the 2011 Bedrock Wine Co. Mourvedre Ode to Lulu Rosé
The Winery
I previously did a post on the winery entitled Bedrock Wine Co: Where Old Vine Love And Transcendent Wine Making Come Together back in January, wherein I focused on the sources of Bedrock's grapes.   Morgan Twain-Peterson, the winemaker/owner of Bedrock.  You can check out his full bio here, but suffice it to say he's been making wine since he was "knee-high to a bug".  Here's what the "About" section of the Bedrock website says about the winery…
Bedrock is an itsy-bitsy winery making wine in a converted chicken coop. Fruit from only the most excellent vineyard sites is hand pitch-forked into the destemmer, fermented in open top redwood and stainless vats using only native yeasts, and are manually basket pressed by winemaker Morgan Twain-Peterson into the sexiest oak from the coldest French forests.
In terms of the wine making process itself at Bedrock, it's surprisingly Ole Skool (or as Morgan might put it "Cro-magnum").  Grapes are pitch-forked into a small Zambelli destemmer, the punch-downs are manual, after fermentation the wines are basket pressed in an Italian press that is manually operated.   It's a very manual and time-consuming process, but I can vouch for the results.  Peterson is making some spectacular wines!
The Wine
The wine is a blend of 91% Mourvedre sourced from the Bedrock, and Pagani RanchVineyards, along with 9% Grenache from the Annadel Vineyard.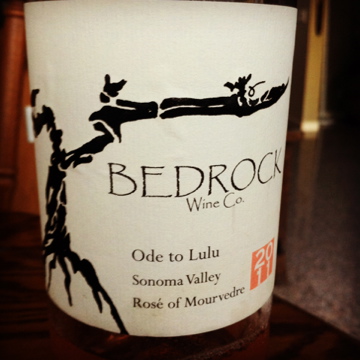 My tasting notes follow:
Lovely eye of the partridge color with stone fruit, melon, and mineral aromas. On the palate it's light-bodied, and nicely balanced with a wonderful crisp acidity, and white nectarine, melon, mineral, and a touch of strawberry flavors. Medium-long finish. 60% Mourvedre from Bedrock Vineyard planted in 1888! 31% Mourvedre from Pagani Ranch planted in 1922, and 9% Grenache from Annadel Vineyard. Whole cluster pressed. Fermented with native yeast.



Recommendation: Highly Recommended
Details:  12.3% alcohol.  Screwcap clousure.  AVA: Sonoma Valley. Varietal(s): 91% Mourvedre, 9% Grenache. Suggested Retail – $18 USD
Related articles