My wine of the week for April 14-April 20 is the 2008 Edward Sellers Vineyards and Wines Estate Blanc.
The Winery
Edward Sellers is an eponymous artisan winery producing small lots of  Rhone varietal wines, from their 30-acre vineyard in Paso Robles. Ed, who is an entrepreneur, sailor, and pilot, and his wife "discovered" Paso Robles in 2003, and instantly fell in love with the place.
I was introduced to Edward Sellers in 2010 when I attended the annual California Wine Festival in Santa Barbara.  Ed was pouring his wines at the Friday night "Sunset Rare And Reserve Wine Tasting". I distinctly remember his wines standing head and shoulders above the rest that evening.  We made it a point to drop in his tasting room, which at the time was in downtown Paso, on our way back to the Bay Area.  That's when I purchased a couple of bottles of this wine (and a few others).   Last year, after attending the same wine festival, again we made it a point to drop in at his new tasting room off  West Highway 46.
I most recently saw Ed again when he was pouring his wines the Rhone Rangers Grand Tasting in San Francisco (click here for my recap of the event).  I was only tasting red Rhone blends that day, so I missed the opportunity to taste 2009 version of this wine, Le Passage Estate.
Paso Robles has made a name for itself, especially for Rhône varietals.   According to edwardsellers.com:
It is Paso Robles's climate, soils and vineyard diversity that makes Paso Robles ideally suited for growing the Rhône varieties of Syrah, Grenache, Mourvedre, Cinsault, Counoise, Roussanne, Marsanne, Viognier and Grenache Blanc.
It's no wonder the annual Hospice du Rhone is held in Paso Robles annually.
The Wine
This wine is classic white Rhône blend of Grenache Blanc, Roussanne, and Marsanne.  What stand out for me about this wine is its outstanding balance.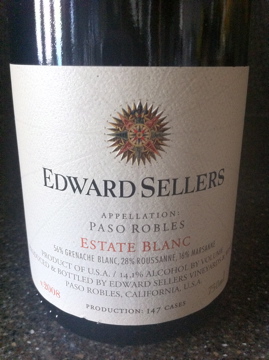 My tasting notes follow:
Pale yellow color with pungent stone fruit aromas. On the palate, it's full-bodied, and well-balanced with white peach, melon, and spice flavors. Medium long finish. Blend of Grenache Blanc(56%), Roussanne(28%), and Marsanne (16%). 14.1% Alcohol. 146 cases produced.
Pairing with food
White Rhône blends such as this wine are pretty versatile food wines.  They make fine sippers in the summertime, and but a wine such as this is hearty enough to be a great match with picnic fair, spicy Indian, and North African dishes.  Hmmm…I just recalled the Lobster Pot Pie, I had a Michael Mina a couple of years ago.  This would have been fabulous with it!
I really enjoyed this wine. I'm sorry I waited damn near 2 years to drink it though. Fortunately I've got another bottle.  It'll be lucky to see summer;-)