It's my pleasure to share this post of mine recently published by 12most.
12 Most Food-Friendly Wines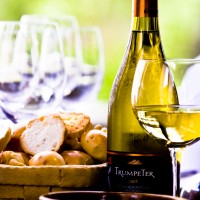 In my recent post entitled "12 Most Practical Wine and Food Pairing Guidelines", one my recommendations for sensibly pairing food and wine is to get to know "food-friendly" wines. Food-friendly wines have three primary characteristics 1) Palate-cleansing acidity, 2) Lots of fruitiness with low tannins, and 3) Balanced components (i.e. fruit, acidity, and tannins).
Try these wines for those times you don't want to put a lot of thought into what wine you're having with weeknight meals, or more casual gatherings. There's something here for everyone — Whites, Reds, Sparkling and Rosé. Keep in mind that each of the wines come in broad range of styles. Let your palate be your guide for the style you prefer.
Reds
1. Beaujolais
This wine, made from the Gamay grape is named for the region from which it hails. Think Beaujolais when you want a red that you'd normally have with a white wine. Many top crus go for around $20
Recommended Region(s): France – Cru Beaujolais (non-Nouveau)
Profile: Light-bodied with moderate to high acidity, and low tannins with aromatic red plum, cherry, raspberry, hints of black pepper aromas/flavors.
2. Pinot Noir
Pinot Noir is the most well-known food friendly red wine.
Recommended Region(s): France – Burgundy, California, Oregon, and New Zealand
Profile: Light/medium-bodied with high to very high acidity with aromatic with floral, cherry, red currant, raspberry, and sometimes gamey aromas/flavors when young, aging to vegetal and mushroom when mature
3. Sangiovese (san-jo-veh-zeh)
Generally speaking, Italy makes a plethora of food friendly wines, especially reds. Sangiovese is the most planted red grape in Italy, and the most important grape used in the great wines of Tuscany. It is one of the wine world's great gifts to the culinary world! It's a natural for dishes containing tomatoes, or acidic tomato sauces
Recommended Region(s): Italy (Tuscany), California
Profile: Light/medium-bodied with high to very high acidity with black cherry, spice, smoky, herbal savory aromas/flavors.
4. Zinfandel
Zinfandel can go far beyond burgers and BBQ. I've enjoyed with Mexican, and Pakistani dishes. The style of Zinfandel is crucial for matching it with food. Look for lighter "Beaujolais" style Zinfandel at around 14% a.b.v, and "Claret" style between 14% and 15% a.b.v. for maximum food pairing versatility. If prefer "bigger" Zinfandels, then opt for pairing with richer foods.
Recommended Region(s): California
Profile: Medium/Full bodied moderate to high acidity, and strawberry, raspberry, plum, blackberry, pepper, bramble, and spice aromas/flavors
5. Syrah
Syrah and Syrah based blends do a great job of striking a balance between finesse and power. It can be full-bodied and complex like Cabernet Sauvignon, but tend to be less tannic. Cool climate Syrah is especially food friendly. And many very good examples can be found for less than $20.
Recommended Region(s): France (Rhône), California, Washington, and Australia
Profile: Medium/full-bodied with moderate to high acidity, with blackcurrant, plum, blackberry, earthy, herbal, chocolate, and violet aromas/flavors
Whites
6. Riesling
Riesling is the most well-known white food friendly wine. Thanks to its food loving nature, it's on the upswing. If you're looking for one wine to serve with many dishes, Riesling is an excellent choice, especially if you're not into red wine. Look for dry and off-dry styles
Recommended Region(s): Germany, France (Alsace) Washington, New York, California
Profile: Light-bodied with high to very high acidity, and Intensely aromatic with floral, green apples, light spice aromas/flavors when you ageing to petrol and honey when mature
7. Sauvignon Blanc
Stylistically, Sauvignon Blanc tends to be the opposite of Chardonnay. That's because it tends not to see as much oak as Chardonnay and its acidity is more apparent. It's very versatile food wine, especially with dishes emphasizing, or enhanced with fresh herbs. Try it with guacamole!
Recommended Region(s): France (Loire, and Bordeaux), U.S., New Zealand,
Profile: Light-bodied with high to very high acidity, and aromatic, grassy, herbaceous, tropical, citrus, and gooseberries aromas/flavors
8. Grüner Vetliner
Grüner Vetliner (GROO-ner FELT-leen-ner) is indigenous to Austria, where it accounts for about a third Austria grape production. It's a favorite of many sommeliers because of its versatility with foods. Here in the US we often reach for red wine to accompany meat dishes, but in Austria, Grüner is served with game, beef, pork, poultry and veal. Looking for a wine for tough food matches like asparagus, and artichokes? Try Grüner. And it's great with fried chicken!
Recommended Region(s): Austria
Profile: Light/medium-bodied with high to very high acidity, with vanilla-dipped peach, grapefruit, and aromas/flavors with a distinctive spicy finish.
9. Chardonnay
This most popular wine has very good "foodability" if it is not overly oaked. In fact, more unoaked Chardonnay is being produced these days. While unoaked Chardonnay may be a bit more versatile food partner, oaked (used judiciously) Chardonnay typically makes a more full-bodied wine.
Recommended Region(s): France (Chablis, and Burgundy), California, Australia, Chile, and Argentina
Profile: Light/Medium-bodied with high to very high acidity, and floral, ripe apple, pineapple, butterscotch, lemon, vanilla, and custard aromas/flavors.
10. Sherry
Hear me out on this one. I'm not referring to your grandmother's Cream Sherry. I'm referring to dry Sherry. And thanks to adventurous wine geeks, and passionate sherry lovers, this fortified wine is gaining in popularity because of its food friendly nature and exceptional quality/price ratio.
True Sherry, is only produced in Spain's "Sherry Triangle". It's a singularly unique beverage because of its terroir, and the method by which it is produced. With its unique tangy, sometimes oxidative and saline flavors, it can be polarizing. It was a bit of an acquired taste for me, but I think it's fabulous with food!
The principles of pairing Sherry with food are like other wines, according to weight and texture. For Fino and Manzanillo think appetizers, seafood, and sushi, and sashimi. Pair Amontillado, with its rich nuttiness, with stronger flavored foods (including spicy foods) like oily fishes and chicken dishes. Serve chilled.
Recommended Region: Spain
Profile: The main styles of Sherry are light-bodied, straw colored, dry Fino, and fuller bodied darker Oloroso. Between Fino and Oloroso in body, and dryness are Manzanillo, and Amontillado.  Typical aromas and flavors of Finos are yeasty, toasted almond, green apples, and slightly oxidative.  Oloroso tend to be more aromatic with fresh mixed nuts, dried fruit, and citrus peel.
11. Rosé
Rosés (in particular dry Rosé) combine the best of white and red wines, while maintaining their own unique charm. They possess the crisp acidity, delicacy and freshness of white wines, and the body, and flavors of red wines. Rosés are diverse bunch, produced from a wide range of grapes, in various styles ranging from simple quaffable wines to complex gems in a wide palette of colors. Don't relegate these babies to warm weather months. Because of their versatility they're wonderful year-round!
Recommended Region(s): France, Spain, Italy, and U.S.
Profile: Light/medium bodied with strawberry, melon, and cherry aroma/flavors
Sparkling
12. Sparkling Wines
Sparkling wines are very versatile and food friendly because of their innately high acidity levels, and their palate cleansing "scrubbing bubbles" effect. They can be served throughout the day, and throughout a meal too. The driest ones are excellent as an aperitif and with shellfish and caviar. Off-dry bubbly is suitable for brunch, lunch, salads, and many dinner entrees. The sweeter ones pair nicely with fruit- based desserts.
Recommended Region(s): France, US, Spain (Cava), Italy (Prosecco)
Profile: Light to medium-full bodied, and bone-dry Extra Brut to sweet "doux".  Typical aromas and flavors are yeast, apple, citrus, stone fruit, and cherry depending on the blend of grape varieties used
With these 12 wines in your vinous arsenal, you'll overcome many a gastronomic challenge! Are there any favorites of yours that I left out?
Featured image courtesy of jinhai via Creative Commons.
Related articles