This week's sparkler is produced by Roederer Estate, owned by Louis Roederer Champagne, which is renowned for producing the luxury Champagne Cristal.  The California operation is located in Anderson Valley, north of the Napa Valley.  My last visit to Anderson Valley was a few years ago.  I really enjoyed it.  It doesn't have cachet of Napa, or Sonoma, but the tasting rooms are much more intimate, the locals are friendly, it truly beautiful, and there are some great wines, especially Pinot Noir, Chards, and Alsatian varietals.  I highly recommend a visit.  I'll be sure to stop in a Roederer my next trip up. Besides various holdings in France, the Roederer group also includes Scharffenberger Cellars, another sparkling wine house in Anderson Valley.
This sparkler was the first produced by Roederer Estate in Anderson Valley in 1988.  All their sparklers are made from Chardonnay, and Pinot Noir sourced from their 580 acre estate vineyards.   Additionally, each cuvée includes some portion of reserve wines which are selected from the best wines each year and aged in French oak casks.   Since the top of the line "L' Ermitage vintage sparkling wines contain about 4% of these reserve wine, I think it's a safe assumption this non-vintage cuvee contains less.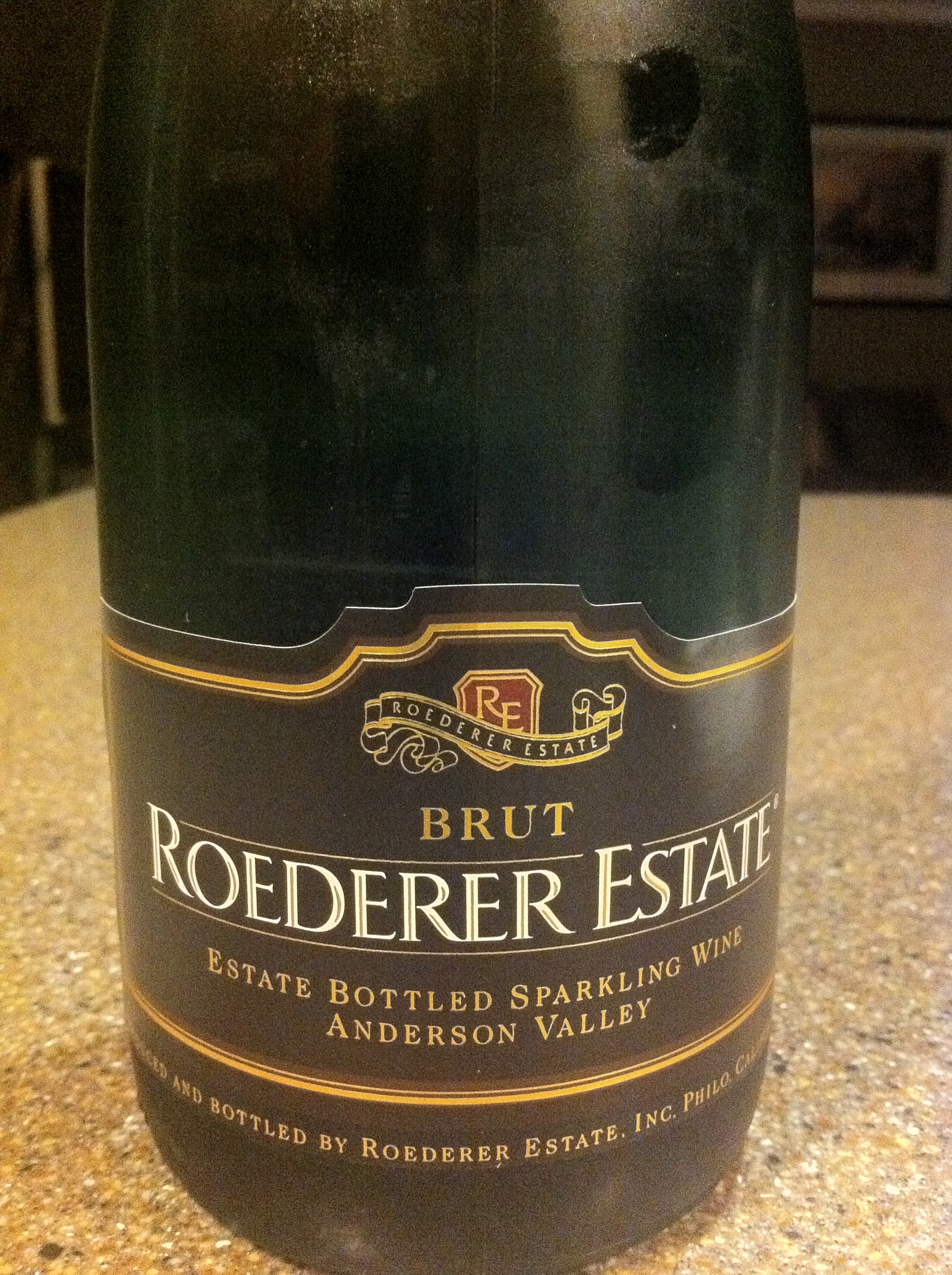 NV Roederer Estate Brut
Region: California>Napa Valley
Variety – 60% Chardonnay, and 40% Pinot Noir
Dosage – 1.2% residual sugar
Production method: Méthode Champenoise;  Aged a minimum of 2 years on lees
Alcohol by volume: 12%
Cost: $18 (on sale) Retail: $25
My tasting notes follow:
Appearance: Light golden straw color with plentiful persistent stream of tiny bubbles
Aromas: Sweet yeast, fresh-cut green apples
Body:  Medium-bodied with soft texture, and zippy acidity
Taste: Between dry and off-dry with sweet green apples, a bit of pear, hazelnut and vanilla
Finish: Short
Pair with: The beauty of sparkling wines is their pairing versatility with a variety of foods.  This one would be a very nice aperitif, and also pair with nicely with wide variety of foods.  Pair with Sole Meunier, Fish and Chips, or Sushi/Sashimi. This would make a good sparkler for your Thanksgiving table too!
This is a very good sparkling wine, especially for a non-vintage.  It has a bit of complexity, is very enjoyable, and it's widely available.  I'll buy again whenever I find it only sale, which is frequently. I'm looking forward to trying the Rosé!  (89 pts).
"May your glass always be filled with warm memories, and the taste of a life well lived linger on your tongue" – Unknown
Related articles