For this week's "T.G.I.F. Champagne and the like" tasting, "I'm going back to Cali".
Korbel, was founded in 1882.  They are one of the few US producers that include "Champagne" in the name of their products, rather than sparkling wine.  That's because of a loophole in US laws that allows "semi-generic" products such as sparkling wine to be referred to as "Champagne" as long it's labeled such that the name of the appellation of the place of origin is on the label.  Thus, you'll find Korbel refers to its sparkling wines as "California Champagne", ostensibly to prevent consumer confusion, in this case, with "Champagne" produced in France in the region with the same name.
They sell over 1 million cases of "California Champagne" produced using the Méthode Champenois, so they can rightfully claim to be America's most popular Champagne.  I found the following factoid from Korbel to be interesting:
Korbel Natural has been served exclusively at the last five presidential inaugurations and is one of the few things both political parties agree on.
Korbel may need to revise their marketing collateral, because nowadays, I doubt it 😉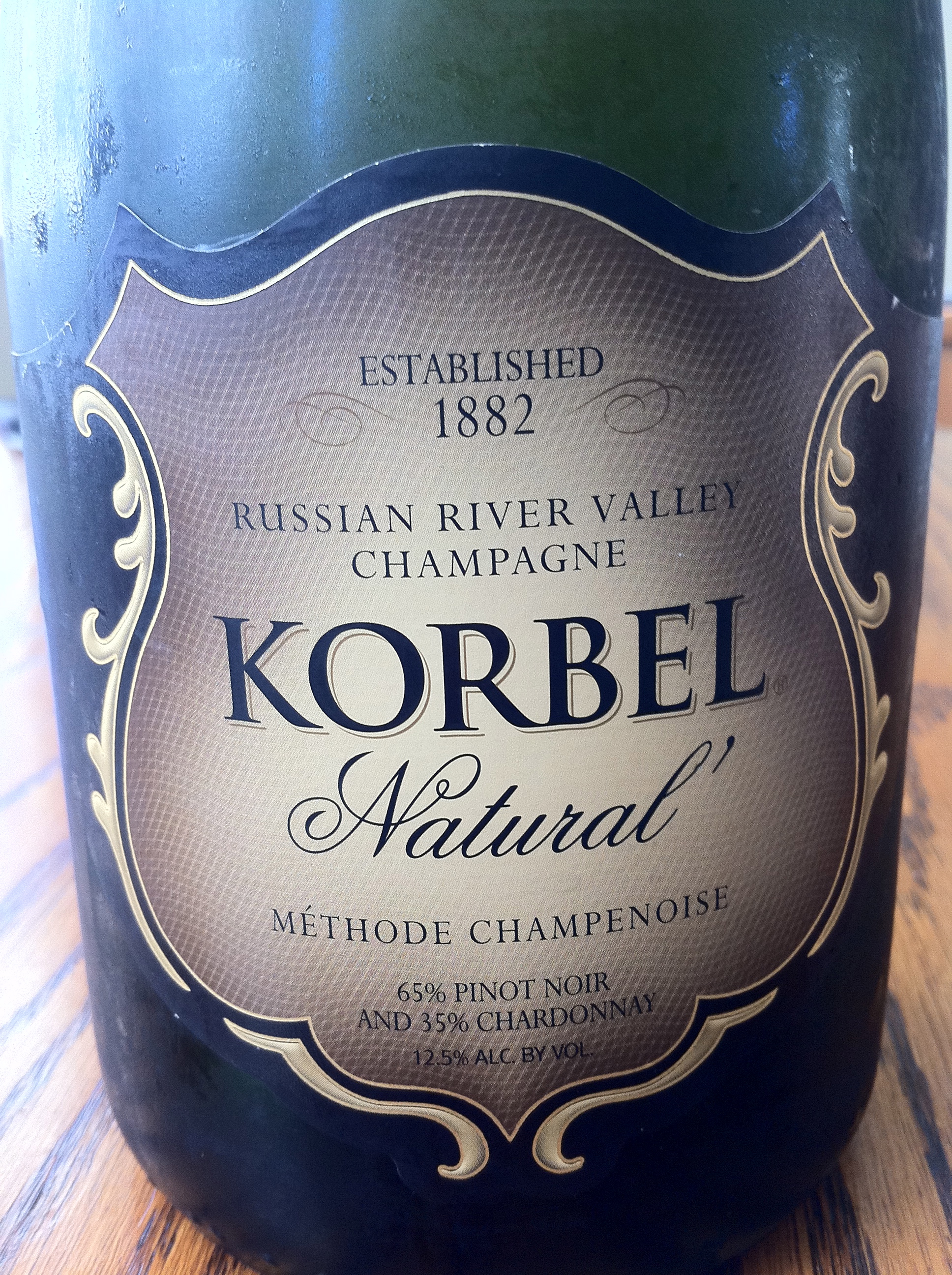 Region: California>Sonoma>Russian River Valley
Variety – 65% Pinot Noir; 35% Chardonnay
Dosage – 0.75%
Production method: Méthode Champenoise;
Alcohol by volume: 12.5%
Cost:$14
My tasting notes follow:
Appearance: Pale golden yellow
Aromas: Yeast ,red fruit, and apples
Body: Light bodied, crisp, between dry and off-dry.  Straight-forward with somewhat large bubbles.
Taste:  Cherry, apples, minerals, and a touch of honey
Finish: Short-medium
Pair with: The beauty of sparkling wines is their pairing versatility with a variety of foods.  This one would be a good aperitif, and also pair with light fare such as grilled shrimp, poached seafood, or salads.
I enjoyed this more than I have most Korbel sparklers.  But, there's a lot of competition in the under $15 sparkling wine space.  I can think of a few Cavas I've enjoyed just as much, if not more, that cost less.  On the other hand, they're not as widely available, and that's a distinct advantage for Korbel.  (86 pts)  
Related articles