My virtual trip around the wide world of sparklers continues this week with a sparkler from Graham Beck of South Africa, which has over a three-hundred year history of grape growing.  Although, until relatively recently, most of the grapes were used to make cheap distilled spirits, or grape juice concentrate of which South Africa is the world's largest producer.
The eponymous Graham Beck was founded in 1983.  The first sparkling wine was produced 8 years later in 1991.  In 1994 Graham Beck was served at the inauguration of Nelson Mandela.  Once apartheid and isolationism were gone, the wine industry in South Africa made great strides.  In addition to 5 others sparkling wines (both vintage and non-vintage), they produce a diverse line of reds, whites, and a rosé that's a blend of Malbec and Sangiovese.
In South Africa, the Méthode Champenoise is referred to as the Methode Cap Classique ("MCC"), and the sparkling wines go by the same initials.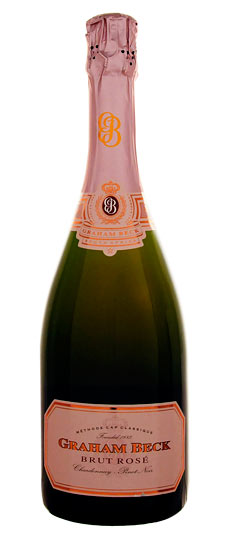 Cost: $15
Region:>South Africa>Western Cape
Variety – Pinot Noir (51%);Chardonnay (49%)
Residual sugar – 13.80 g/l
12% abv
Production method: Méthode Champenoise
My tasting notes follow:
Appearance: Watermelon pink with a hint of silver.
Aromas: Yeast, and raspberries.
Body: Tiny dispersed bubbles, with a creamy mousse. Fruity yet dry with crisp acidity.  
Taste: Raspberries, cherries, with a slight mineral notes.  There's a bit of citrus on the back palate for me.
Finish: Short-medium
Pair with: The beauty of sparkling wines is their versatility with food, especially Rosé sparklers.  For example, we enjoyed this with a variety of Turkish food to include grilled chicken kebabs, along with Beef and Lamb Doner Kebab.   Both dishes were a bit spicy, and a sparkling rosé was just the ticket for the mix of red and white meats.
I recommend! 88 pts