This week's sparkling wine is a Rosé  from "America's First House of Sparkling Wine" – Schramsberg, which was founded in 1862.  I had the pleasure of going on a tour of Schramsberg's historical caves a few months ago.  I found the tour to be educational, interesting and fun all at once.  I learned a great deal about the production of sparkling wine.  It's a much more labor intensive than I'd previously thought, particularly the better sparklers, which are still riddled by hand.  Don't know what riddling is? Click here for detailed explanation. There were a couple of facts mentioned that left me impressed:
The first is that according to our tour guide, the record for riddling is 48,000 bottles in one day!  That feat was accomplished by a gentleman who recently retired.  The "new guy"  currently riddles 25-30,000 bottles a day.
 The other factoid is that Schramsberg stores 2.5 million bottles of sparkling wine in the caves!
Click here for pictures from the tour.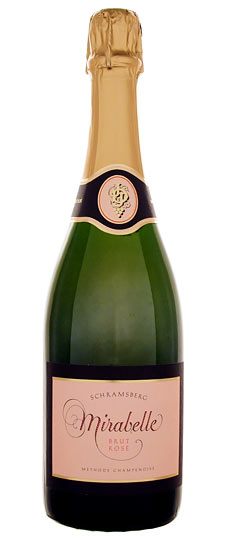 N.V. Schramsberg "Mirabelle" Brut Rose

Region: California>North Coast (48% Napa/34% Sonoma/15% Mendocino/2% Marin)
Varietal(s) – 53% Chardonnay, 47% Pinot Noir
Dosage – 1.09 g/100mL
$20, 13.5% abv
Production method: Méthode Traditionnelle; Aged 24 months, sur lie

My tasting notes follow:
Appearance: Delicate pink color.
Aromas: Strawberries and bread dough.
Body: A creamy mousse with tiny, delicate bubbles. On the palate – Lively, fruity, dry and balanced with crisp acidity. 
Taste: Strawberries, raspberries, citrus, and touch of spice.
Finish: Medium
Pair with: The beauty of sparkling wines is their versatility with food. We enjoyed this with both seafood paella, and oven roasted salmon with a BBQ rub, and it paired fabulously with both. This one would be enjoyable both as an aperitif, and with food.
I highly recommend – 90 pts
Related Articles