This month the French #Winophiles, a group of wine and food writers with a passion for French food, wine and travel, are diving into French Wine and Cheese!
Given my regular participation in the French #Winophiles group events, it's not a stretch to imagine I have a bunch of French wine at my fingertips.
I do not.
Let's just say I'm a "think global, drink local" kind of guy and I live within a 90 minute drive of the Livermore, Lodi, Napa, Sonoma, and Santa Cruz Mountain AVAs.
But there is one type of French wine I always have on hand – Champagne!  As such, picking a wine for this month's theme was easy.
The Wine
This multi-vintage Drappier Champagne Rosé de Saignée Brut was made using the saignée method with maceration in vats lasting 3 days.  It underwent natural malolactic fermentation.  It is unfiltered, and there is minimal use of sulfur.  After bottling the cuvée is aged for 2 to 3 years sur lattes (on laths) Dosage: 7.5 g/l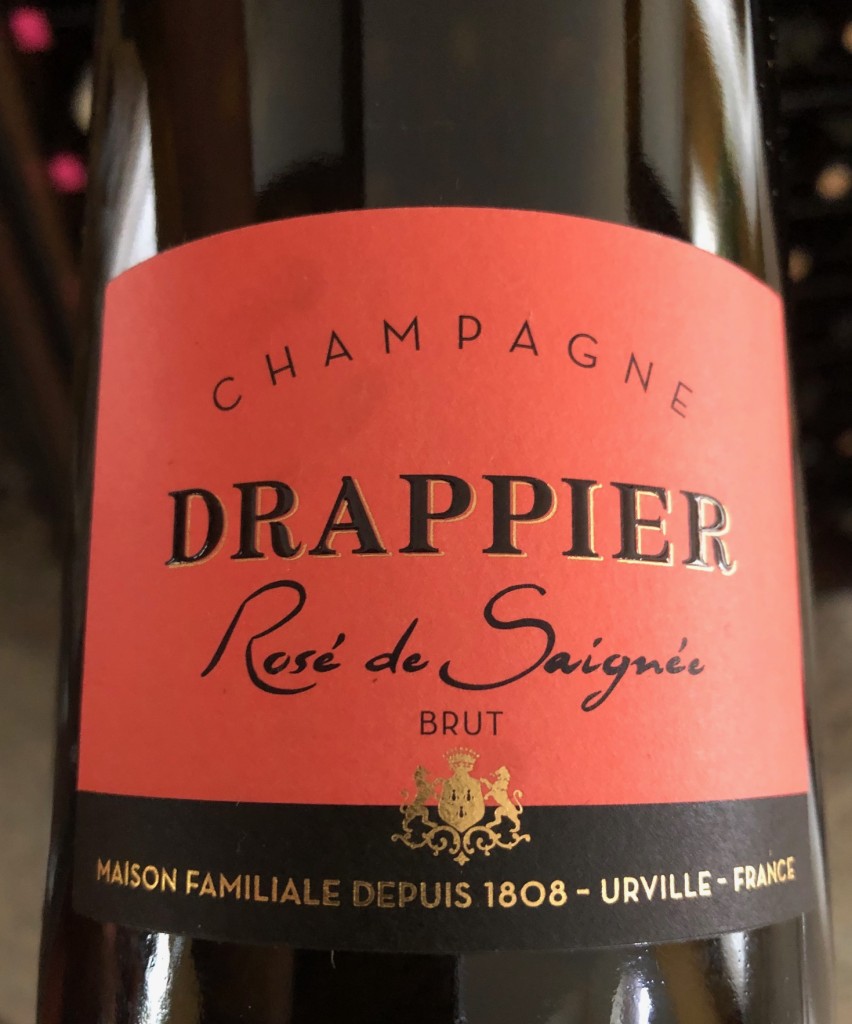 My tasting notes follow:
Color – Deep pink
Aromas – Red fruits, citrus zest, fresh biscuit dough, and subtle floral notes
Body – Medium-bodied, dry and very fresh with a delicate creamy mousse and an appealing vinous character
Taste – Raspberries, rainier cherry, ripe strawberry,  blood orange, spice and a hint of candied ginger underpinned with a chalky minerality
Finish – Long
12% abv. |100% Pinot Noir | 90pts
I purchased this bottle at my local Costco for $29.99.  Under $30 for a  Rosé Champagne of this quality?  Yes, please!
The Wine and Cheese Pairing
The most well-known French grilled cheese sandwich is the Croque Monsieur, made with ham and Gruyère on pain au levain, with a béchamel sauce covering it all.  I opted for a meatless version based a Food Republic French Grilled Cheese recipe. The recipe captures the spirit of the classic Croque Monsieur, with roasted red peppers standing in for the ham and no sauce.
I used two French cheeses – 15 month aged Comté  and Chaumes.
Comté is  a semi-hard cheese made from unpasteurized cow's milk in the Franche-Comté  province of eastern France.  It is the highest production of all French AOC cheeses, at around 64,000 tons annually.
Chaumes is a soft cheese made in the southwest of France in the village of St Antoine, at the foothills of the French Pyrénées. The washed rind and soft-ripened cheese are made using ancestral methods with pasteurized cow's milk. I chose the Chaumes thinking it might be a bit of a substitute for the béchamel.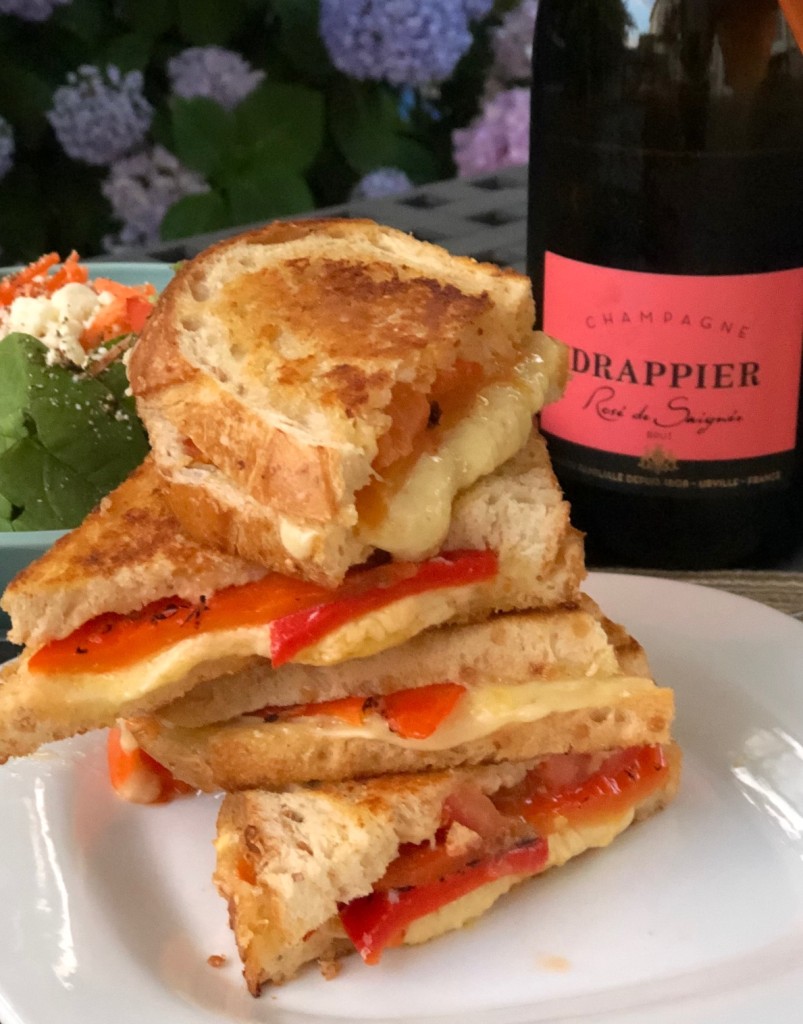 I cooked the sandwiches in a cast iron skillet and they turned out very well. This is a rich, almost decadent grilled cheese sandwich and it was wonderful paired with the Drappier Rosé de Saignée Brut!   
Looking for French wine and cheese pairing inspiration?  Look no further than these delicious posts!
If you're up early enough, we'll be chatting about French Wine and Cheese on Saturday, June 11th at 8a PT/11a ET.  We love visitors and this promises to be a yummy chat.  Just follow the #winophiles hashtag on Twitter to join the conversation! À votre santé!
________________________________________________________________________
Follow me on Twitter, Facebook, Instagram, Vivino and for all things wine.  As a wino with latent foodie tendencies, you'll also find plenty of food and wine pairings, and wine related travel stuff!  Become a fan and join ENOFYLZ Wine Blog on Facebook. Cheers!
Copyright Notice: This entire site is Copyrighted 2010-2019. All Rights Reserved. No unauthorized copying of any section of this site is permitted. If you wish to use any part of this site, contact me. For information on Copyright Law, see the official U.S. Copyright Office home page.