If you haven't had an exceptional mature champagne like this, you're missing a treat!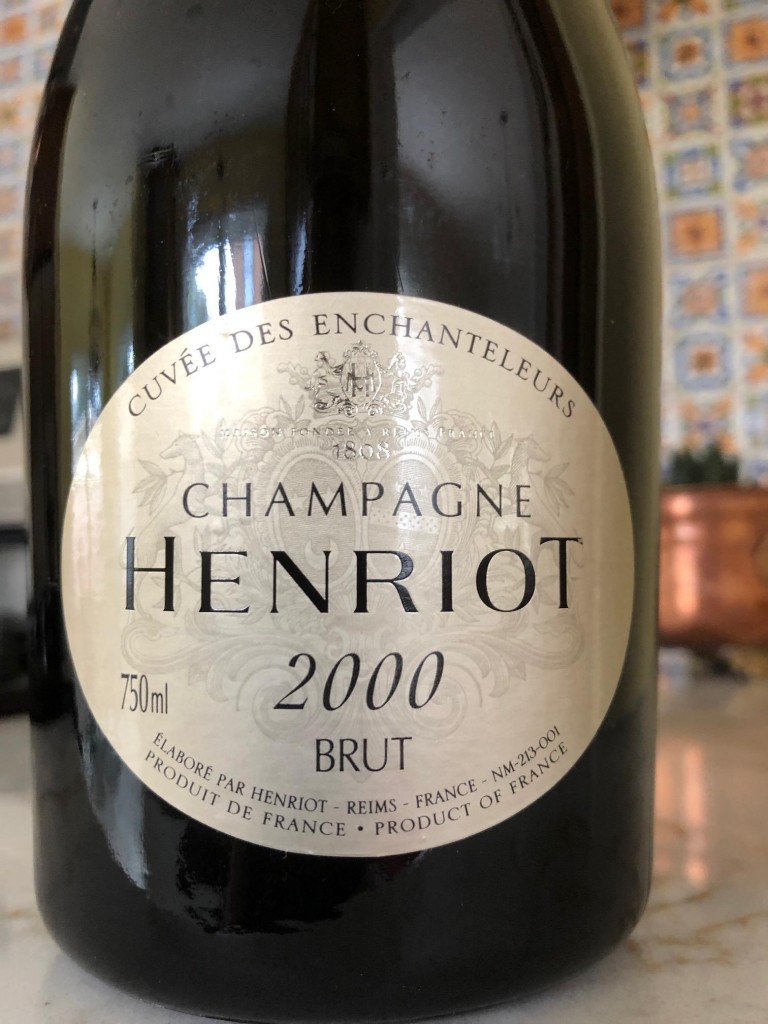 The Cuvée des Enchanteleurs" was Champagne Henriot's  Tête de cuvée, which in Champagne, refers to the top of the range of a specific house or grower's wines.   I say "was" because 2000 was the last vintage for this prestige cuvée.  It has been replaced by Cuvée Hemera.
The Cuvée des Enchanteleurs is a 50/50 blend of Pinot Noir and Chardonnay sourced from six of Champagne's 17 Grand Crus.  For Pinot Noir: the villages of Mailly, Verzy, and Verzenay from the lime-stone rich soils of Montagne de Reims.  For Chardonnay: Mesnil-sur-Oger, Avize, and Chouilly from the chalky soils of the  Côte des Blancs.
Henriot has historically aged their Champagne much longer than the regional laws require. For a vintage Champagne, law requires a minimum three years of aging, but the 2000 "Cuvée des Enchanteleurs" rested for over 12 years in Henriot's dark, 60-foot-deep cellars that holds a steady temperature in the low 50s.  After disgorgement, a dosage of 8.5 grams/liter was added in order to mirror the vintage and opulent style of the house according to Somm Select.
My tasting notes follow:
Color – Concentrated yellow color with golden highlights
Aromas – Buttered toast, roasted hazelnuts, quince paste, apricot preserves, lemon curd, honey with hints of mushroom. and yellow flowers.
Body – Full-bodied, elegant, complex and harmonious with a very delicate creamy mousse.
Taste – With some time in the glass and approaching cellar temperature, there are layers flavors including apricot preserves, lemon curd, honey, and yellow plum. The generous character of this champagne is nicely balanced with a slightly oxidative character that I very much enjoy and lingering minerality.
Finish – Long finish
12% abv| 93pts
We shared this bottle of wine with friends on Open That Bottle Night.  If you haven't had an exceptional mature champagne like this, you're missing a treat!
 About Champagne Henriot
"Founded in Reims in 1808, Champagne Henriot is one of the few remaining family-owned houses with over two hundred years of independence. Over the years, the house has cultivated an audacious approach and a distinctive, luminous style of its own, guided by the pursuit of the purest expression of Chardonnay.
The Henriot family's strong relationship with Cellar Master Laurent Fresnet and partner growers is essential in creating each Henriot cuvée and maintaining its uncompromising quality standards. With the use of an exceptionally high proportion of reserve wines, as well as predominantly Premier and Grand Cru vineyards, Champagne Henriot produces a distinguishable freshness and quality in each cuvée.
Today, the Henriot family's expertise is backed not only by their storied history in Champagne but also in their celebrated triumphs in both Burgundy and Chablis with Bouchard Père & Fils, William Fèvre and Château de Poncié" according to Wine.com
 ________________________________________________________________________
Follow me on Twitter, Facebook, Instagram, Vivino and for all things wine.  As a wino with latent foodie tendencies, you'll also find plenty of food and wine pairings, and wine related travel stuff! Become a fan and join ENOFYLZ Wine Blog on Facebook. Cheers!
Copyright Notice: This entire site is Copyrighted 2010-2019. All Rights Reserved. No unauthorized copying of any section of this site is permitted. If you wish to use any part of this site, contact me. For information on Copyright Law, see the official U.S. Copyright Office home page.