Thank you to Domaine Bousquet for providing these complimentary media samples. I was not compensated for this post.  Opinions are my own.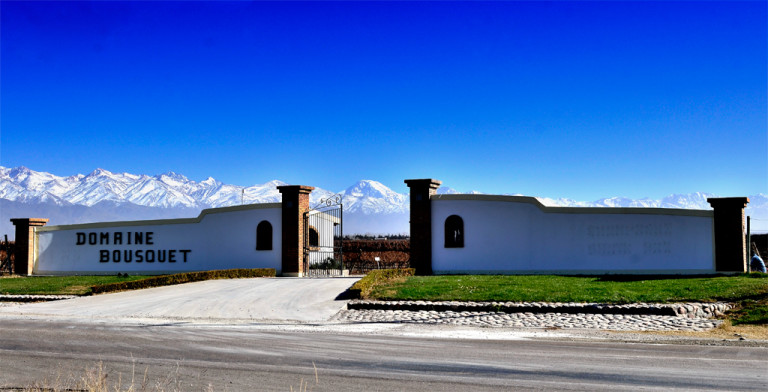 I'm a sparkling wine lover.  I always have a bottle of sparkling wine in the fridge.  In part because it's a "life of the party" wine for me that can elevate any occasion special or otherwise.
But just as importantly for me, it's a go-to wine for wine and food pairing.  That's because  sparkling wines are very versatile at the table and food friendly because of their innately high acidity levels, and their palate cleansing "scrubbing bubbles" effect.
They can be served throughout the day (a good friend of mine tells me it's the only socially acceptable wine to have at breakfast, lunch and dinner – I agree!),  and throughout a meal too. The driest ones are excellent as an aperitif and with shellfish and caviar. Off-dry bubbly is suitable for brunch, lunch, salads, and many dinner entrees. The sweeter ones pair nicely with fruit- based desserts.
That's why I was thrilled to receive sparkling wine samples from Domaine Bousquet.
About Domaine Bousquet
During a vacation to Argentina in 1990, third-generation  French winemaker Jean Bousquet (Boo-SKAY) fell in love with the  Gualtallary Valley, a scenic, remote, arid (dessert really) terrain high in the Tupungato district of the Uco Valley in Argentina's Mendoza region, close to the border with Chile.   With altitudes ranging up to 5,249 feet, Gualtallary occupies the highest extremes of Mendoza's viticultural limits.
Bousquet was so convinced of the potential of the region, he began divesting himself, bit by bit, of virtually everything he owned, including the family winery and vineyards in Pennautier, near Carcassonne in Southwest France.
In 1997 Bousquet purchased about a 1,000 acres of under developed land:  tracts of semi-desert, nothing planted, no water above ground, no electricity and a single dirt track by way of access.  Locals dismissed the area as too cold for growing grapes. Bousquet, on the other hand, reckoned he'd found the perfect blend between his French homeland (high acidity, cool climate) and the New World (sunny, with a potential for relatively fruit-forward wines).
Whenever,  the need arose, Bousquet would sell off portions of his initial 988 acres, retaining just 173 acres by the time he released his first vintage in 2005. Bottle by bottle, money was raised to buy a vat or equipment. Today, Domaine Bousquet is housed in a striking modern winery, complete with a hospitality area and restaurant.
Since 2011 Bousquet's, daughter economist Anne Bousquet, and her husband Labid Al Ameri, a successful trader with Fidelity in Boston gave been owner of Domaine Bousquet.
The Wines
I received two wine samples. Both are Brut, one white, one rosé.  Both are made using the  Martinotti/Charmat method.  Each retails for about $13 apiece. In keeping with all Domaine Bousquet wines, both are made from certified organic fruit harvested in Domaine Bousquet's high-altitude vineyards in the Gualtallary zone of Mendoza's Tupungato Valley.  Extending to over 5,000 feet above sea level, Gualtallary occupies the highest extremes of Mendoza's viticultural limits.
It's only recently that Argentina's producers have started to export their sparkling wines abroad.  Although, sparkling wines have long been the wine of choice in Argentina. Good times or bad, Argentinians are passionate about their bubbles (a people after my own heart!) and number among the highest per capita consumers of bubbly in the world.  Much of their bubbly is home-grown and much of the best coming from the lower reaches of Tupungato.
The point is, the Argentinians don't reserve bubbly for just a handful of special occasions like New Years, Valentine's, and anniversaries.  Needing no particular cause to celebrate, they enjoy it all year round.  I think we  should too!
These are two delightful every-day bottles of sparkling wine that are sure to please and are worth seeking out!
________________________________________________________________________
Follow me on Twitter, Facebook, Instagram, Vivino and for all things wine.  As a wino with latent foodie tendencies, you'll also find plenty of food and wine pairings, and wine related travel stuff! Become a fan and join ENOFYLZ Wine Blog on Facebook. Cheers!
Copyright Notice: This entire site is Copyrighted 2010-2018. All Rights Reserved. No unauthorized copying of any section of this site is permitted. If you wish to use any part of this site, contact me. For information on Copyright Law, see the official U.S. Copyright Office home page.