This month the French Winophiles are exploring Occitanie – formerly Languedoc-Rousillion; and  in particular the AOPs of Minervois and Corbières.   And what better way to explore a wine region that simultaneously exploring its gastronomy.
Certain wines are always paired with certain dishes because they come from the same "paese" or region, and therefore have traditionally been served together. Joyce Goldstein
And speaking of food and wine, I'm a believer in the food and wine pairing axiom "what grow together, goes together".  Whenever, I think of the phrase, I think of pairing the food and wines because they have traditionally been served together.  Though the phrase might also refer foods that grow together seasonally being compatible at the table, or  the way foods and wines express the soil, climate and topography of a region.
In the case of the famous French dish, cassoulet,  which originated in the Occitanie (formerly Languedoc) region, all of the above are likely true to one extent or another.
And that is why many of my fellow #Winophiles and I are making this quintessential French casserole!
On My Plate
Perhaps there is no dish in the Southwest France more iconic, cherished, and controversial than the cassoulet. Cassoulet was originally food of peasants–a simple assemblage of what ingredients were available: white beans with pork, sausage, duck confit, gizzards, cooked together for a long time. Since its composition is based on availability, cassoulet varies from town to town in Southwest France according to D'Artagnan who recently sponsored Cassoulet Day.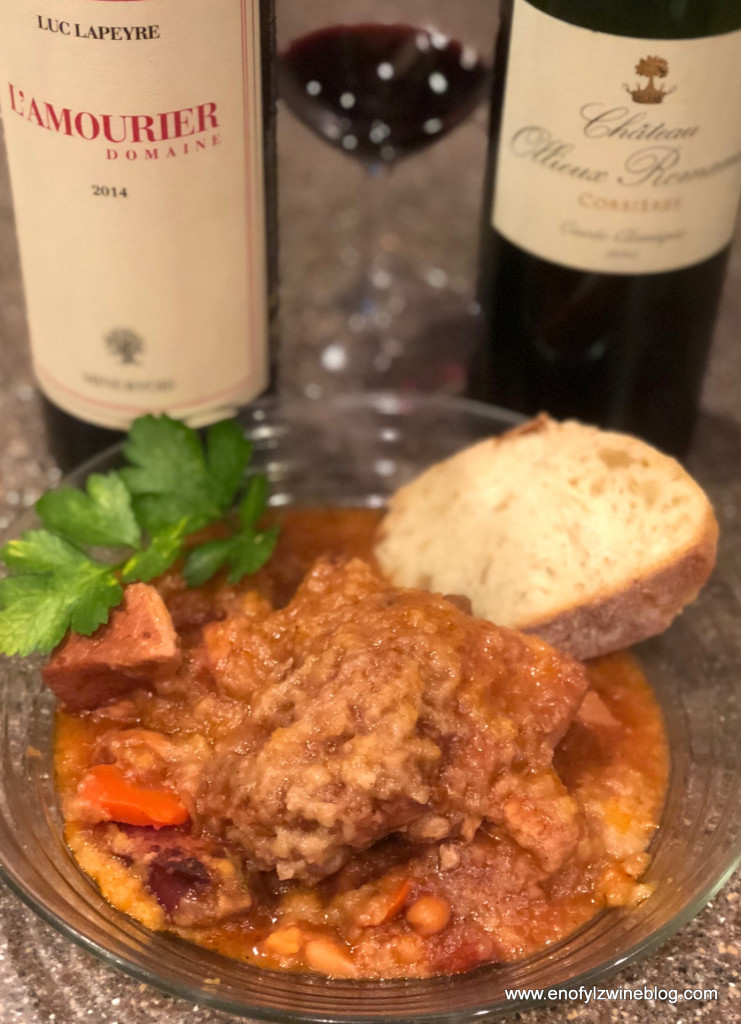 I used the crock pot version of the Genius Kitchen Cheats French Cassoulet (click here for recipe) because it had all the elements of a traditional French Cassoulet – assorted meats, beans, carrots, tomatoes and wine.  I modified the recipe a bit by adding chicken thighs and caramelized tomato paste to add some depth to the sauce.
The recipe turned out very well.  And like, seemingly all ethnic stews, the cassoulet was even better a day or two later!
In My Glass
I received two sample wines (I received no other compensation. Thoughts, opinions are my own) for this event; one each from the featured regions for this month's event – Corbieres and Minervois, which are sub-regions of Occitanie.
Never heard of Occitanie?  Neither had I until late last year, when I wrote about a great wine from the Minervois La Liviniere.  
About Occitanie
Occitanie (Occitania) is the official name of one of the new regions of France which was formed by combining the  neighboring regions of Languedoc-Roussillon and Midi-Pyrénées, during the restructuring of France's regions in January 2016.  (The term, which dates to the Middle Ages, refers to a large southern European realm where people spoke a Latin derived language called Occitan).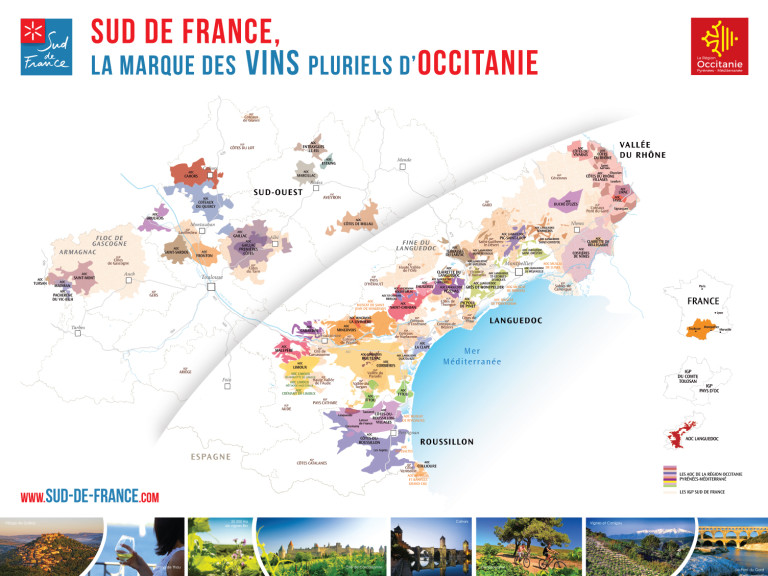 Both Languedoc-Roussillon and Midi-Pyrénées regions are very complementary and their combined strength means that Occitanie is now the largest region in France for wine, agriculture and organic agriculture – Isabelle Kanaan, executive director of Sud de France
I think you'll continue to see Languedoc or Languedoc-Roussillon for some time because it will take time for Occitanie to take hold.  
Check out the Sud de France website to learn more about the region's export ambitions, wine culture, products and tourist
Image courtesy of
The first of the two wine tasted (and the one I used for my recipe) was from the Corbieres.
The Corbieres appellation covers a large, roughly square area, 37 miles (57km) wide, to the south and west of Narbonne. The terrain and climate here vary considerably, ranging from the Pyrenean foothills in the south and west, to the flatter, lower-lying areas of the coastal plain near Narbonne. Because of this the zone has been divided into various sub-appellations – terroirs – which may add their names to that of the Corbieres appellation on labels according to Wine-Searcher.com.  The region, which was granted AOP status in 2005, is most renown for its rich, herb-scented wines, made from Grenache, Syrah, Mourvedre and Carignan.
My tasting notes on the wine follow:
2015 Château Ollieux Romanis Corbières Cuvée Classique – France, Languedoc Roussillon, Languedoc, Corbières
Color – Opaque violet
Aromas – Red fruit, licorice, garrigue and spice
Body – Medium-bodied and fruity with mouth-watering acidity and a supple mouth feel with well-integrated velvety tannins
Taste – Black cherry, black raspberry, spice with some nice savory notes
Finish – Medium
A wonderful value at $14 for this delightful weeknight wine.  It's a blend of 40% Carignan, 30%Grenache, 30% Syrah. 14.5% abv (89 pts.)
The second wine was from the Minervois region.
The appellation takes its name from Minerve, a village 25 miles (40km) from the Mediterranean coast and surrounded by the southern French foothills. The village was named after the Greek goddess Minerva.  It is located just to the north of the Corbieres region.  Granted AOP status in 1985, the predominant grape varieties are 
Grenache
, 
Syrah
 and 
Mourvedre
.  They must collectively make up at least 60% of the blend, possibly complemented by 
Carignan
 and 
Cinsaut
.  In addition to dry red, white wines, and rose wines,  the area has a historical sweet-wine-making tradition.
My tasting notes on the wine follow:
2014 Luc Lapeyre Minervois L'Amourier – France, Languedoc-Roussillon, Languedoc, Minervois
Color – Opaque purple
Aromas – Black and red fruit, lavender, spice, and black licorice with hints of dusty earth and espresso
Body – Medium-bodied, dry and fresh with well-integrated dusty tannins and a supple mouth-feel
Taste – Juicy blackberry, black cherry, raspberry and warm spice
Finish – Medium+
Another wonderful weeknight wine that offers  wonderful value at $15.  It's a blend of 40% Syrah, 20% Grenache, 20% Carignan, 20% Mourvèdre. 13.5% abv.  L'Amourier means "blackberry" in the ancient Occitan language of southern France. (90 pts.)
Both wines paired wonderfully with my cassoulet!
Check out other wines and cassoulet my fellow #winophiles are bringing to our virtual table this month!
JOIN US ON TWITTER FOR A LIVE CHAT THIS SATURDAY JANUARY, 20TH AT 8AM PACIFIC – WE USE THE HASHTAG #WINOPHILES AND WE'LL BE OPEN FOR OCCITANIE AND CASSOULET QUESTIONS.
________________________________________________________________________
Follow me on Twitter, Facebook, Instagram, Vivino and Delectable, for all things wine.  As a wino with latent foodie tendencies, you'll also find food and wine pairings, and food related stuff! Become a fan and join ENOFYLZ Wine Blog on Facebook. Cheers!
Copyright Notice: This entire site is Copyrighted 2010-2018. All Rights Reserved. No unauthorized copying of any section of this site is permitted. If you wish to use any part of this site, contact me. For information on Copyright Law, see the official U.S. Copyright Office home page.