…definitely one of the best Grenache in recent memory for me!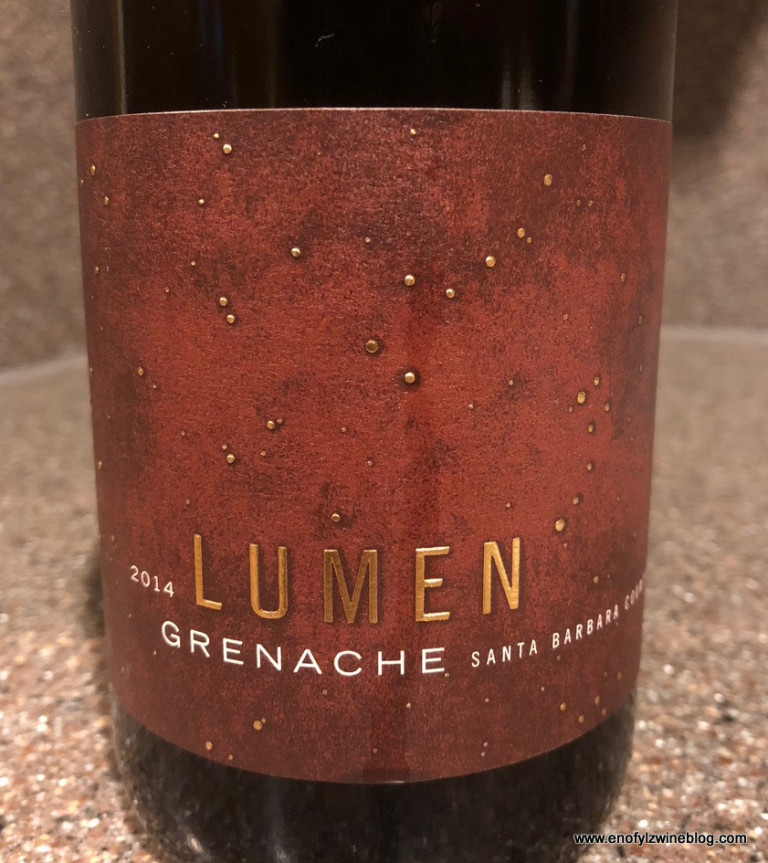 This wine is 100% Grenache sourced from Martian Vineyard (54%) and Camp 4 Vineyard(46%) in Northern Santa Barbara County.  It was fermented in open top vats and aged in small oak barrels
Color – Translucent ruby
Aromas – Enticing rose petals, cranberry, strawberry pie, wet clay and a hint of white pepper
Body – Medium-bodied with focused harmonious character featuring mouth-watering acidity, and well-integrated velvety tannins
Taste – Alluring raspberry, baked strawberry, cranberry, blood orange zest and sweet spice
Finish – Long
This wine is so delicious, complex and fresh!  It was definitely one of the best Grenache in recent memory for me!
92pts|14.8% abv| SRP – $25|450 cases
Pair with:  The wine paired well with an Asian-inspired Seared Chicken with Miso Kale and Roasted Vegetables from Blue Apron. The dish included a creamy sauce made with mayonnaise and sushi. The wine paired especially well with that sauce which was used as a dipping sauce for the vegetables and over the chicken.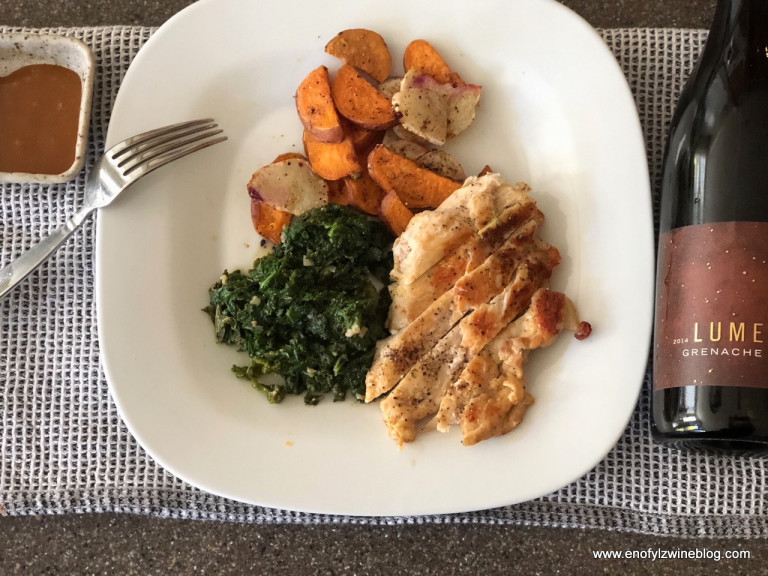 About Lumen Wines
In 2012 Will Henry and Lane Tanner ran into each other in the Santa Maria Valley, and realized that they shared a common vision: to make wines from the best cool-climate vineyards in Santa Barbara County, and to follow a regimen consistent with California's early days of hands-on, honest winemaking. The duo asserts that the most balanced (and thus memorable) wines are made from fruit that is picked relatively early on the harvest calendar, the end result being a wine that is livelier on the palate, deeper in complexity, lower in alcohol, and more worthy of cellaring.
Lane Tanner was one of the first female winemakers in Central California, and the first to dedicate her entire winery to Santa Barbara County Pinot Noir. Her knowledge of the Santa Maria Valley dates back to her first vintage in 1981, as oenologist for Firestone, a job that the legendary Andre Tchelistcheff recommended her for.  She later made wine for Zaca Mesa and the Hitching Post, and finally under her own label in 1989. Her wines are notable for being low in alcohol and sulfites, a practice that she continues to this day.
Will Henry entered the wine business shortly after college in 1989 and worked at Leeuwin Estate Winery in Western Australia. He then entered wine sales and worked for The Henry Wine Group, his family's wine distribution company, on and off for the following 20 years. In the meantime he became a widely-published journalist and photographer, and also founded the non-profit organization Save The Waves Coalition. His knowledge of sales and marketing is the perfect complement to Lane's winemaking skills. Both Will and Lane make the wines together in Santa Maria, CA. (Source – Wine.com)
________________________________________________________________________
Follow me on Twitter, Facebook, Instagram, Vivino and Delectable, for all things wine.  As a wino with latent foodie tendencies, you'll also find food and wine pairings, and food related stuff! Become a fan and join ENOFYLZ Wine Blog on Facebook. Cheers!
Copyright Notice: This entire site is Copyrighted 2010-2018. All Rights Reserved. No unauthorized copying of any section of this site is permitted. If you wish to use any part of this site, contact me. For information on Copyright Law, see the official U.S. Copyright Office home page.