One sip of Madeira and I asked myself "why don't I buy and drink this wine more regularly?"
That  question was the first thing that popped into my head when, after five years (according to my tasting notes) I opened a bottle of Blandy's 10  Year Malmsey  Madeira .   
It was one of two sample wines I recently received (the other was Blandy's 10 Year Sercial – which I'm looking forward to trying – it'll be my first Sercial!) .
About Madeira
Madeira is a Portuguese-owned archipelago in the Atlantic Ocean, 600 miles (970km) southwest of Lisbon and 450 miles due west of the north African coast. It gives its name to one of the world's great fortified wines. Both the wine and the island hold unique places in the history of wine, and the United States.
Historians estimate that during Colonial times, the Colonies were importing 25 percent of all the Madeira the Portuguese were producing during the period.   In fact , it is believed that Madeira was the drink of choice to toast the signing of the Declaration of Independence in July of 1776. George Washington was a huge fan of the wine and it was again the drink of choice to celebrate when he was sworn in as the first President of the United States in 1789.
The early Madeira wines were produced in the image of those from the Portuguese mainland, and lacked the structure and stability required to survive long sea voyages. Over time, it was discovered that an addition of high-proof spirit solved this problem, and by the middle of the 18th Century such fortification had become the norm. A second discovery – that this new style of fortified Madeira acquired complex, desirable flavors on long, hot voyages – led to the Madeira wine style that exists today. Wines which had pitched and rolled in the subtropical heat were known as vinho do roda("wine of the round trip"). The wine's very high acidity added to its appeal in hot climates according to winesearcher.com
Nowadays, the cheaper, more efficient estufagem method is used for large-scale production. Depending on context estufa can mean "kiln", "hothouse", or "incubator", but the common factor is clear: deliberate heat. An estufa, or cuba de calor ("heat box"), is a stainless steel tank with heated pipes running through it. This heats the wine to 120°F (50°C) for roughly three months – an accelerated imitation of what happened to Madeira barrels during tropical voyages. During this time, the wine ages to a point that would require five years or so using the more traditional canteiro method (see below). The advantage of the estufagem method is that it significantly reduces production costs, making Madeira accessible at relatively affordable prices. The tangible downside is that the intensive heating causes some of the sugar to caramelize, creating a slightly bitter, burnt-sugar flavor in the wine.
High-quality Madeira is aged in large barrels placed on trestles (canteiros in Portuguese). These are stored for anywhere from 20 years to a century, in rooms heated only by the sun (some producers have even installed large windows to let in as much sunshine as possible). A compromise between the two methods is to age the barrels for between six and 12 months in an armazem de calor – an artificially heated warehouse.
Although deliberate oxidation is pivotal to various wine styles around the world (notably oloroso Sherry from Jerez, vin jaune from the Jura and the rancio wines of Banyuls), the practice was so strongly associated with Madeira that it became known as "maderization". The term, when applied to lower alcohol wines, usually references a fault. (Source)
Here's a great infographic from Wine Folly that provides an "At A Glance" overview of the grape varieties, quality levels and styles of production for Madeira.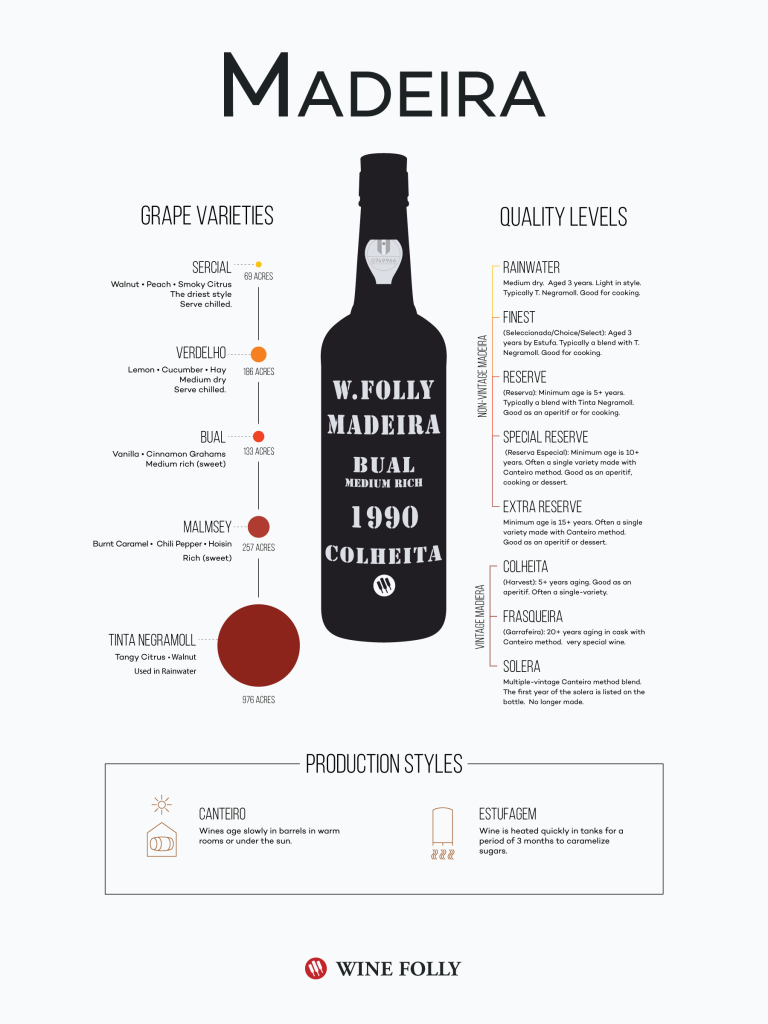 …an opened bottle of Madeira lasts nearly forever. After everything it's been through  – fortification, extreme heat, long aging in the presence of oxygen – Madeira is pretty indestructible – Karen MacNeil, The Wine Bible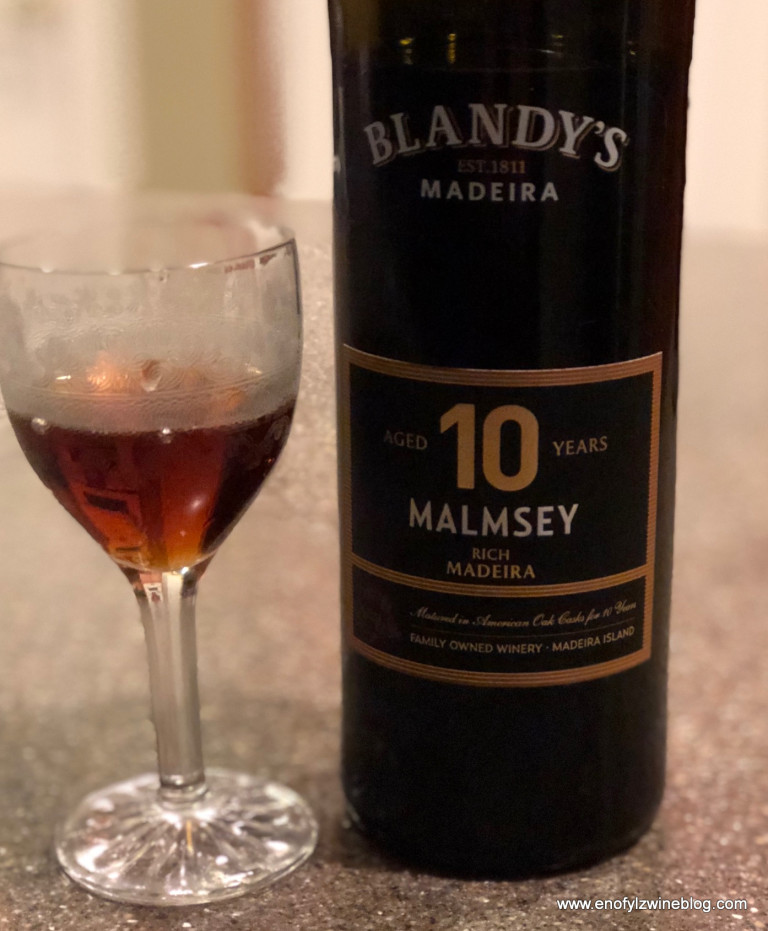 Blandy's 10 year old Malmsey is a blend of wines with an average of 10 years in seasoned American oak casks.  It it made from 100% Malvasia,  or as it known on the island of Madeira, "Malmsey" grape.  The grapes were  fermented with native yeasts.  The wines were aged at the family's Lodge in Funchal  using the traditional 'Canteiro' system, whereby the wine is gradually transferred from the higher floors where the temperatures are higher, to the middle floors and eventually to the ground floor where temperatures are cooler. The process of transferring the barrels is absolutely critical to ensure the right balance of ullage (loss of volume due to evaporation) and concentration. All through the ageing process, the primary fruit flavors of the wine are gently transformed into tertiary dried fruit notes that produce the unique Madeira hallmark aromas.   The wine was regularly racked during the ageing process and was fined before bottling.
My tasting notes follow:
Color: Burnt orange
Aromas: Enticing toffee, orange marmalade, roasted nuts, dried figs, caramel, honeycomb
Body:Full-bodied and rich with very good acidity that keeps it from being cloying
Taste: Toffee, honey, dried fig, orange marmalade, burnt brown sugar with hints of coffee and roasted nuts
Finish: Long, and sweet
90pts| 19% abv.| SRP – $30  | 500ml|Sample
Last month we invited friends from Venezuela for Thanksgiving.  They brought a dessert that looked like Flan, but is called Quesillo.  While it has a taste similar to the French-Spanish dessert known as Crème Caramel or Flan it has a richer, creamier texture.  See her recipe below:

Quesillo
Ingredients
10 tablespoon sugar
¼ cup water
1 (14 oz.) can sweetened condensed milk
1 (14 oz.) can whole milk (you can use the condensed's milk can)
4 eggs
2 teaspoon vanilla extract
Instructions
You will need a Quesillera (a pot with a close fitting lid). In the quesillera add the sugar and water to medium fire, move the pan to mix them, watch until you have a brown caramel, remove from the heat and leave to cool. Blend together the sweetened condensed milk, whole milk, eggs and vanilla extract. Poor the mix in the quesillera with the cold caramel, close it very well. Preheat oven to 350 ̊ F. Put the close quesillera in a big pan with a little of water and cook it in bain-marie (double boiler) inside the oven for about 1 hour and 15 minutes. Check by inserting a knife on the quesillo, if it comes out clean it is ready, if not keep cooking for 10 more minutes and check it again. Once it's ready let the quesillera rest until gets cool, then put it in the fridge over night or at least 5 hours. When the quesillo is cold, turn it onto a plate by putting the plate in the top of the open quesillera and turn it upside down. Now you are ready to enjoy your quesillo.
The Madeira paired with the Quesillo exceptionally well!  Its toffee, burnt brown sugar notes perfectly complimented comparable notes in the Quesillo, while its acidity cut through the richness of the dessert and prepared the palate for the next delicious bite!
It's a pairing I very highly recommend!
Serving tips
Serve at cellar temperature
Serve in a regular wine glass, but I don't recommend a 5 ounce pour.  The wines are typically 19-20% alcohol so it won't take long to sneak up on you?
Sercial is dry enough to drink with meals. Try it with grilled meats.
Malmsey is quite sweet. It pairs wonderfully with cheese and chocolate.. Or have a small glass as dessert.
The Bual is somewhere in between:  Try it with savory and sweet flavors
After the bottle is opened it's fine to store it upright in a cool place. An opened bottle will last for months!
Related post you might enjoy:
________________________________________________________________________
Follow me onTwitter, Facebook, Instagram, Vivino and Delectable, for all things wine.  As a wino with latent foodie tendencies, you'll also find food and wine pairings, and food related stuff! Become a fan and join ENOFYLZ Wine Blog on Facebook. Cheers!
Copyright Notice: This entire site is Copyrighted 2010-2017. All Rights Reserved. No unauthorized copying of any section of this site is permitted. If you wish to use any part of this site, contact me. For information on Copyright Law, see the official U.S. Copyright Office home page.