This is a delicious, complex and distinguished wine I won't soon forget.  I wish I had more!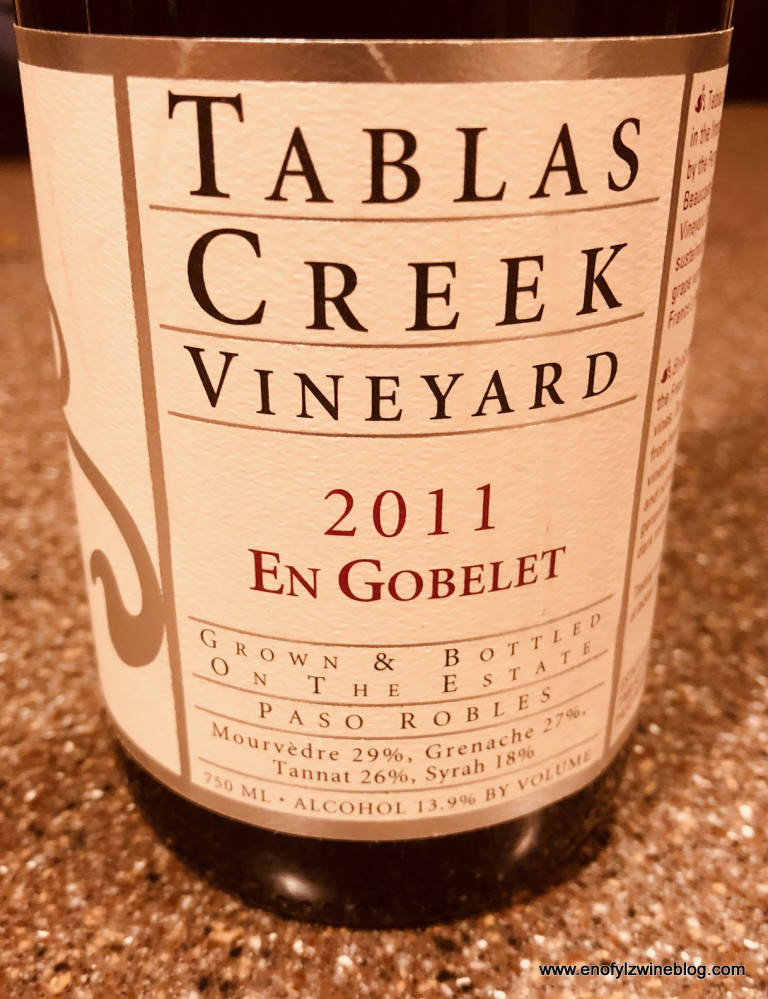 The Tablas Creek Vineyard En Gobelet 2011 is a unique blend (29% Mourvedre, 27% Grenache, 26% Tannat and 18% Syrah) of four estate-grown varietals, selected from head-pruned, dry-farmed sections of their 120-acre certified organic estate vineyard.  The grapes were largely harvested together from the section of the vineyard called "Scruffy Hill" and co-fermented in an upright oak fermenter using native yeasts. After pressing, the wine was moved into one 1200-gallon French oak foudre, as well as a couple of older oak puncheons. It was re-blended and bottled in April 2013.
We have felt for some time that the lots from head-pruned blocks share an elegance and a clarity that was noteworthy. Beginning in 2007, we created our non-traditional (but delicious) blend En Gobelet which combines the fruit, approachability and lushness of Grenache, the structure, earth, and mid-palate richness of Mourvèdre, the dark color and minerality of Syrah, and the dark smokiness of Tannat – Tablas Creek Vineyard
My tasting notes follow:
Color: Garnet fading to ruby at the edges
Aromas: Black fruit and red fruit, smoked meat, iron and intriguing and very appealing floral notes.
Body: Medium-bodied and fresh with medium-plus acidity and firm but well integrated tannins
Taste:  Boysenberry, black cherry, black currant, espresso and dark chocolate with a very appealing minerality
Finish: Long and delicious!
This is a delicious, complex and distinguished wine I won't soon forget.  I wish I had more!
92 pts| 13.9%abv | SRP – $45|750 cases|Sample purchased for review
Pair with: Boneless Beef Short Ribs, Tenderloin Of Pork With Apricots, Boeuf Provencal.
About Tablas Creek
Tablas Creek Vineyard ("TCV") is probably the best-known of all Paso Robles wineries specializing in Rhone style wines.  It is a partnership between Robert Haas, and the Perrin Family of Chateau de Beaucastel in the Chateauneuf du Pape region in France. What I find interesting about TCV is that they specifically chose to establish themselves in Paso Robles because of the similarities of the soil conditions and climate of Paso Robles to Chateauneuf du Pape.  They went as far as to import vines from Chateauneuf du Pape.  The vines were propagated and grafted in their on-site nursery and used to plant their 120 acre organic vineyard.  Check the full story here.
________________________________________________________________________
Follow me onTwitter, Facebook, Instagram, Vivino and Delectable, for all things wine.  As a wino with latent foodie tendencies, you'll also find food and wine pairings, and food related stuff! Become a fan and join ENOFYLZ Wine Blog on Facebook. Cheers!
Copyright Notice: This entire site is Copyrighted 2010-2017. All Rights Reserved. No unauthorized copying of any section of this site is permitted. If you wish to use any part of this site, contact me. For information on Copyright Law, see the official U.S. Copyright Office home page.