"This wine was  pure joy to drink…It's my favorite Chardonnay this year!"
The 45-acre Quail Hill Vineyard includes 4 distinct blocks of Chardonnay. The largest – Block 14 – was planted in 1972 to the Rued Chardonnay Clone – known for its stunning floral notes; the remaining vines are Old Wente Clone, adding a weighty round richness to the finished wine.
My tasting notes follow:
Color – Beautiful clear golden color, salmon color
Aromas – Aromatic spiced dried apricot, orange marmalade, pie crust, yellow apple, orange blossom and wet stone, and a quite appealing hint of oxidation
Body – Full-bodied rich and harmonious with vibrant acidity
Taste– Quince,yellow apple, peach apricot, citrus, spice, vanilla, and a bit of butterscotch flavors with an intriguing character that show both minerality and some savory bits for me.
Finish – long
92pts| 14.3% abv| SRP – $40
This wine was  pure joy to drink that very much reminded me of an aged Côte de Beaune! It's my favorite Chardonnay this year!
Pair with: After 3 years in our cellar, we pulled this wine hoping it would pair well with our Thanksgiving meal.  It was fantastic paired with Mt. Tam Triple Creme Cheese, but not so much with most of the rest of the meal.  Lesson learned.
Pair with richer fish dishes, pork, chicken and anything in a cream sauce or with fungi.  Hmmm…and oh yeah…I can't get 40 Cloves and a Chicken out of my mind!
About Lynmar Estate
Lynn Fritz first purchased Quail Hill Ranch and Vineyards in 1980, drawn to the maritime climate and the authenticity of the rolling Russian River vineyards. The property has some of the oldest Pinot Noir and Chardonnay vines planted in the Russian River Valley.
The grapes from these early vines were bought by Tony Soter and Merry Edwards to make wines considered to be some of the best in the Russian River Valley. Lynmar began a small winemaking activity in the early 1990s and produced small amounts of Pinot Noir and Chardonnay, which were extremely well received. Over the next 35 years, Lynn purchased several contiguous properties, which have been amalgamated into a single stunning estate bordered by the Laguna de Santa Rosa watershed.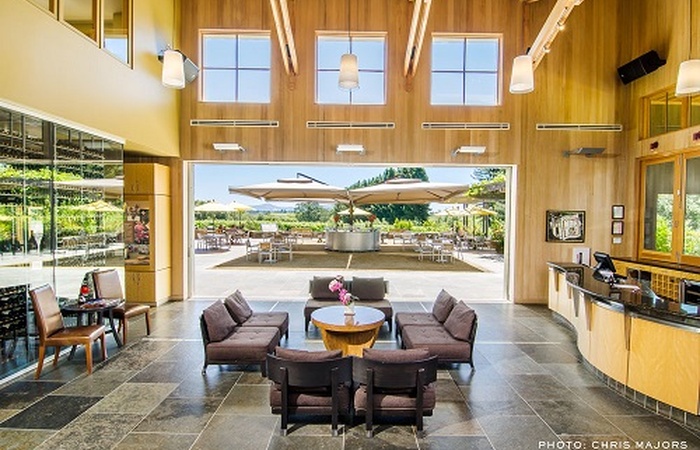 The estate is  composed of three vineyards with  fifteen clones of Pinot Noir and 4 clones of Chardonnay.   They have a state-of-the-art, gravity-flow winery and caves designed for creating the the ideal environment for crafting and aging ultra-premium wine.   They have one of Sonoma County's most beautiful hospitality centers and gardens.
________________________________________________________________________
Follow me onTwitter, Facebook, Instagram, Vivino and Delectable, for all things wine.  As a wino with latent foodie tendencies, you'll also find food and wine pairings, and food related stuff! Become a fan and join ENOFYLZ Wine Blog on Facebook. Cheers!
Copyright Notice: This entire site is Copyrighted 2010-2017. All Rights Reserved. No unauthorized copying of any section of this site is permitted. If you wish to use any part of this site, contact me. For information on Copyright Law, see the official U.S. Copyright Office home page.