Every year, on the third Thursday in November, the world's fastest wine, from picking to bottling, hits the world-wide market with tsunami of marketing hype.
That wine is Beaujolais Nouveau.
Beaujolais Nouveau Day is marked in France with fireworks, music and festivals.  And it's not just France.  It's  worldwide phenomenon.  In fact in Japan, which imports nearly 8 million bottles Beaujolais Nouveau,  there's even a bathhouse near Tokyo that offers a hot Beaujolais Nouveau bath!
I think of Beaujolais Nouveau as a simple, fun, flirty and fruity wine, but if the only Beaujolais you're drinking is Nouveau, you're barely scratching the surface of  the beautiful, food friendly and affordable wines of Beaujolais!
So after you've had your fling with a chilled bottle of Beaujolais Nouveau, it's time to seek out a deeper more meaningful relationship with the rest of Beaujolais!
As many wine regions in France, there is a pyramid of quality in the Beaujolais region.  Consider Nouveau Beaujolais as the base. Then you ascend to (normal) Beaujolais, Beaujolais-Villages, then on to the named Crus of Beaujolais. – Jeff Burrows, FoodWineClick
About Beaujolais Beyond Nouveau
Located north of Lyon in eastern France, Beaujolais overlaps Burgundy (of which it is sometimes considered to be a part) in the north and Rhône in the south. The picturesque Beaujolais vineyards run along the Saône River. Winemakers have crafted deliciously supple and fruity wines in the region since the days of Ancient Rome.
The Gamay Noir grape, a cross between Pinot Noir and Gouais, is used to make  ninety-nine percent with Beaujolais wines. The exception is Beaujolais Blanc, which is made of Chardonnay  and Aligote grapes.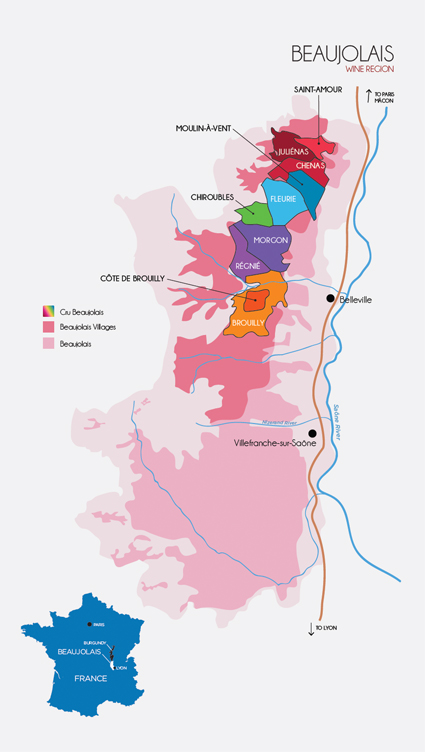 The traditional "Beaujolais" style of winemaking is unique and original.  Grapes are hand-picked then subjected to semi-carbonic maceration.   There are other methods of vinification, including thermovinification (a quick fix, where the grapes and must are heated to near boiling prior to fermentation) or traditional Burgundian winemaking methods. There are 2,000 winegrowers producing red, white and rosé  wines.  There are 12 appellations (in ascending order of quality; Beaujolais, Beaujolais Villages, and  10 designated vineyard areas – or "crus", which are considered to produce the best Beaujolais wines.
The northern part of Beaujolais is made up of rolling granite hills with patches of clay and limestone, while the south is dominated by richer clay- and sandstone-based soils, and much flatter topography. This differing terroir is a dominant factor in the north, producing typically aromatic, structured and complex wines in contrast to the lighter, younger-drinking and fruitier style of the south. (Source)
Check out the fun and informative Discover Beaujolais website, including the Top 3 reasons to try Beaujolais, for more information.
My Exploration of Beaujolais – In The Glass And At The Table
Over the course of a week or so, I tried four different wines from Beaujolais region, including a Beaujolais Villages, and three Cru Beaujolais – Brouilly, Côte de Brouilly, and Morgon.
I rarely enjoy wine without food, so I paired the wines with a variety of meals.
2016 Vignerons de Bel Air Beaujolais-Villages Natural
My tasting notes and the pairing(s) follow:
Color: Medium ruby
Aromas:  Appealing black and red fruit, damp earth, black currant leaf and rosehips
Body: Between light and medium-bodied with vibrant acidity and a solid structure
Taste: Black raspberries, cherries, a dollop of fresh strawberries and spice
Finish: Medium
2015 Domaine Baron de l'Ecluse Côte de Brouilly Le Garances
My tasting notes and the pairing(s) follow:
Color: Opaque violet
Aromas: Aromatic and appealing black fruit, floral, wet clay, and a hint of damp earth
Body: Medium-bodied and fresh with firm well-integrated tannins, and a polished appealing texture
Taste: Plum, black cherry, and black raspberry
Finish: Medium-long
2015 Domaine de Briante – Brouilly Tradition 
Color: Translucent crimson
Aromas: Black berries, Kirsch, roast mushrooms, forest floor, and dried roses
Body: Medium-bodied and fresh with a very appealing supple texture and well-integrated tannins
Taste: Black cherry, blackberry, black currant, with sweet and savory spice
Finish:  Medium-long
2015 Domaines Piron – Morgon Côte du Py 
Color:  Nearly opaque violet
Aromas: Black fruit, black currant leaf, mint and violet
Body: Medium bodied, elegant  and well structured with tangy acidity and perceptible well-integrated tannins
Taste: Black currant, black berry, strawberries,  and violets with savory spice and an appealing minerality
Finish: Long
My favorite of the wines was the 2015 Domaines Piron – Morgon Côte du Py.  I considered all the wines to be very good to outstanding, and I love the value offered! 
My favorite pairing was the Beaujolais Village with the Mole Poblano Chicken Enchiladas (followed very closely by the Broilly  with the Chicken Mushroom pot pie with roasted hen of the woods mushrooms)!  Likewise all the pairings were good to very good.  You'll find that Beaujolais wines pair well with virtually anything that pairs well with Pinot Noir, one of the most food friendly red wines (please add Beaujolais to that list!) such as mushrooms and pork dishes.  (check out the Beaujolais website for more pairing ideas)
But it'll be a real challenge to find a bottle of Pinot Noir that offers comparable quality for the price!
My week with Beaujolais wine beyond Nouveau reaffirmed why it is one of my favorite "every day" red wines.  The wines are very versatile at the table, and they offer excellent value.  Beaujolais wines offer something for every budget and you can find an impressive bottle without breaking the bank!
Here's a compilation of posts  also related to Beaujolais beyond Nouveau which will go live over the next few days.  And please remember to join our chat!
Join our chat on Saturday November 18 at 8a-9am PST (11am EST, 10am CST, and 1700 hours in France)! See what we think of Beaujolais, and tell us about your experiences! Simply log into Twitter and search for the #winophiles tag, and you're in!
Disclosure: I received the four wines free of charge.  I was not required to write a positive review and the opinions I have expressed are entirely my own
You might also like: Exploring Cru Beaujolais; A Great Everyday Red Wine
________________________________________________________________________
Follow me onTwitter, Facebook, Instagram, Vivino and Delectable, for all things wine.  As a wino with latent foodie tendencies, you'll also find food and wine pairings, and food related stuff! Become a fan and join ENOFYLZ Wine Blog on Facebook. Cheers!
Copyright Notice: This entire site is Copyrighted 2010-2017. All Rights Reserved. No unauthorized copying of any section of this site is permitted. If you wish to use any part of this site, contact me. For information on Copyright Law, see the official U.S. Copyright Office home page.