Happy National Zinfandel Day!  I can't think of  better way to celebrate than tasting "Old Vine" Zinfandel from the self-proclaimed "Zinfandel Capital of the World" – Lodi!
The Zinfandel Advocates & Producers (a.k.a. ZAP) are the driving force behind the annual observation of National Zinfandel Day (#ZinDay) Not only do they host Zinfandel themed events that celebrate the grape in cities across the country throughout the year, they also directly contribute to research aimed at preserving old-vine heritage Zinfandel plantings throughout the state.
Check out this ZAP video about "America's Grape, America's Wine"
Zinfandel: Our Grape. Our Wine. from Zinfandel Advocates & Producers on Vimeo.
Why Lodi Zinfandel?
Lodi is the self-proclaimed Zinfandel Capital of the World for good reason. Lodi is California's largest grower of premium Zinfandel; crushing 40% of the state's crop each year. But it goes beyond that. The region's combination of unique soils and climate allows Lodi grapes to develop rich fruit characters while retaining their all-important acidity. The results are characterful, balanced wines crafted in diverse styles bursting with red and black fruit flavors of cherries, raspberries, and blackberries.  The region has a rich heritage of Zinfandel sourced from plants cultivated for more than 100 years.  In fact, Lodi has more acres of old vine (including historic old-vine vineyards) than any other wine region in California.  You'll also find Lodi Zinfandel hard to beat for value.  You'll typically pay much more for a Napa, or Sonoma Zinfandel of comparable quality. Finally, Lodi is the leader in sustainable winegrowing in California, and you can taste the difference!
What's So Special About Old Vines?
So what's the difference between Old Vines and young vines? According to Matt Kramer of Wine Spectator…
"The deep roots of old vines are their greatest asset. In a rainy harvest, a young vine's shallow root system sucks up surface water, bloating the grapes and diluting the juice. Yet old vines are often surprisingly unaffected, as their deeper roots are untouched by the passing rainstorm. And in drought conditions those same deep roots can tap into water reserves in the subsoil unreachable by younger vines."
That deep root system also results in consistent production of evenly ripened grapes from vintage to vintage. And Old Vines Zinfandel vines produce smaller yields which results in wines of greater structure, concentration, and complexity.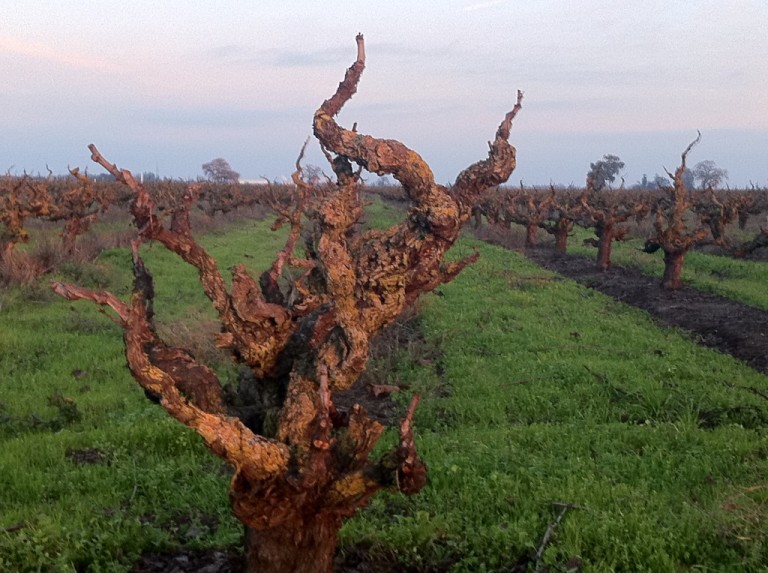 Some say Old Vines Zinfandel wines also age better, developing a more layered complexity over time. Unfortunately, I may never know.  Whenever I purchase an Old Vines  Zinfandel it never lasted longer than a couple of years in my cellar!
2013 Fields Family Wines Old Vine Zinfandel Family Vineyard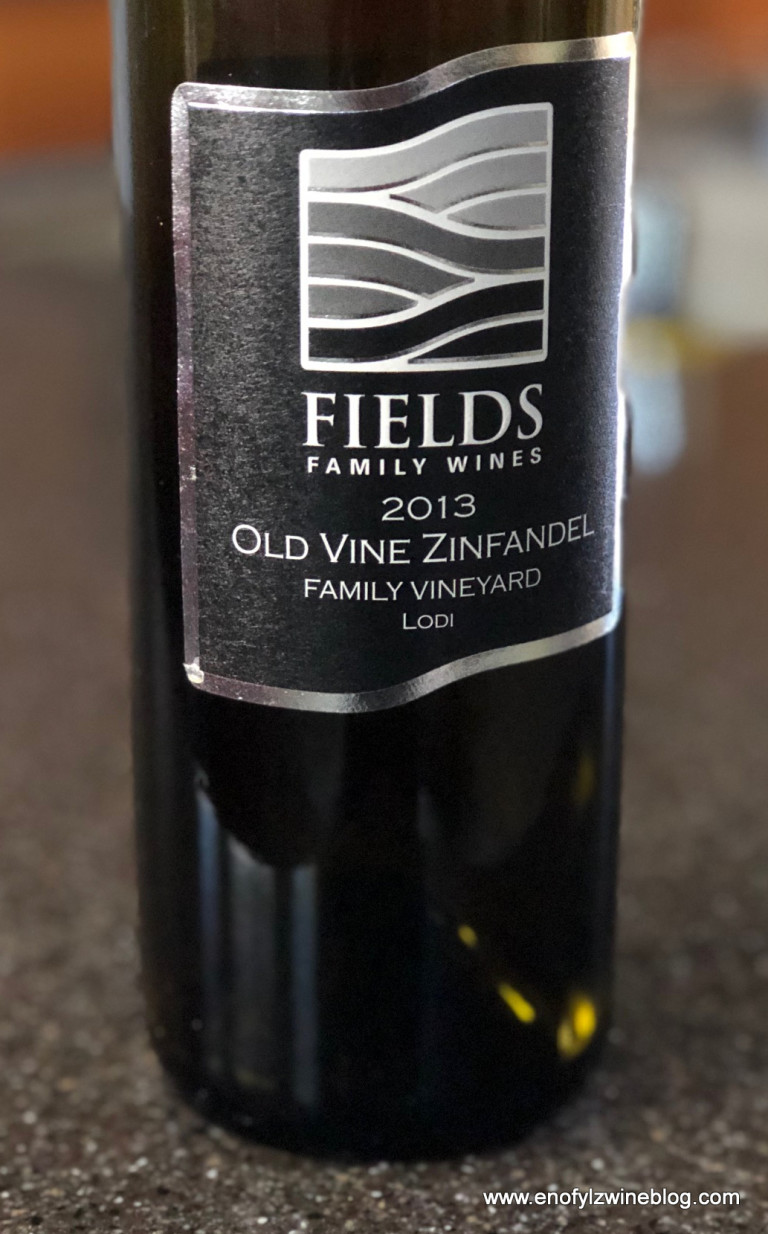 The meticulously farmed Family Vineyard is comprised of a beautiful  block of Zinfandel surrounded by two different family homes.  The vine are 60-70 years grown on St. George rootstock.   It is situated less than 1/2 mile from the Mokelumne River with deep,  and well drained sandy loam soils. The wine was raised in French (less than 25% new) oak. My tasting notes follow:
Color: Dark ruby
Aromas: Savory red fruits- black cherry, pomegranate, bramble, spice, and a hint of mint
Body: Medium-bodied, harmonious, elegant and very fresh with well integrated silky tannins and a great mouth feel
Taste: Black cherry, pomegranate, red currant, cacao and sweet spice
Finish: Long, and savory
90pts|14.4%abv | 10 barrels produced| $28 (sample; opinions are my own)
About Fields Family Wines
Fields Family Winery is a small family owned and operated winery.  It is owned by Russ Fields (an Attorney by day) and his wife Melinda.  Winemaker Ryan Sherman (a Realtor by day) and his wife Jaylynn are partners in the winery.  The  Fields and Sherman met in 2004, when Fields was looking to purchase a vineyard, and Sherman helped him with his search.
Fields purchased a certified organic vineyard planted to Syrah in 2005 and immediately got to work on the restoration of the property,  and construction of the Winery, the Main House and second residence.  Today, the Fields Family Estate vineyard is planted to Syrah, Mourvèdre, Tempranillo, Grenache Blanc, and Vermentino.
Fields Family Wines'  first release  of 350 cases was the 2008 vintage (released in 2010).  Over the years they have gradually increased production. They produced 1,600 cased in 2013.  According to Sherman..that's just about max of what we can do while keeping our day jobs and not getting divorce papers in the process….
Their plan for now is to continue to focus on small lots ( 125 to 200 case production) mostly from local vineyards the east side of the Mokelumne River AVA.  Working in small lots enables Sherman does most of the work himself to maintain high quality.
Our goal is to craft wines that showcase the vineyards from where they come and employ a minimalistic approach to winemaking. Grape growing and winemaking should go hand in hand – as winegrowers we seek to enhance this relationship. 
Sherman is self-taught and self-trained as a winemaker,  but having grown up in Lodi he was in a position to seek the advice and guidance of some of the area's best growers and winemakers.
2013 Jessie's Grove Winery Zinfandel Royal Tee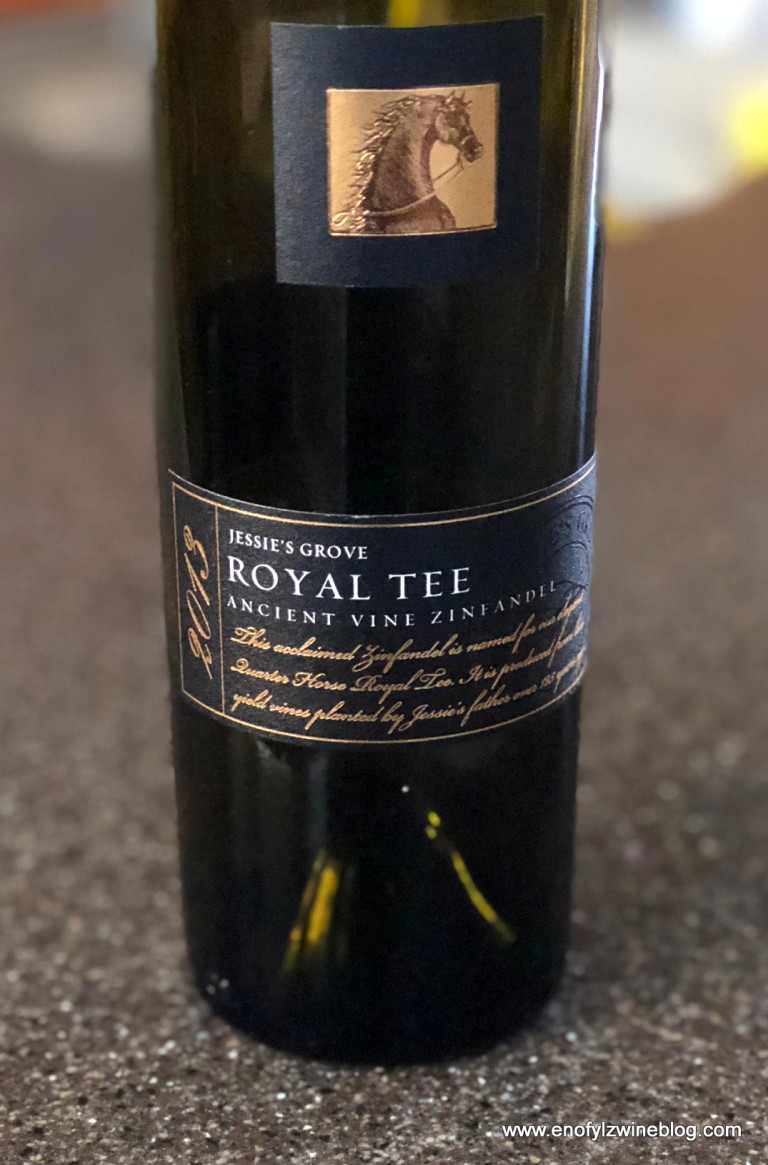 Made from a rare block of 131 year old Zinfandel vines, the Royal Tee vineyard has the oldest Zinfandel vines in the Lodi appellation still producing today. The wine is Certified Green under the Lodi Rules Sustainability program.  My tasting notes follow:
Color: Garnet
Aromas:Kirsch, licorice, fig, sweet spice, accented with a bit of savory spice
Body: Full-bodied and delicious with ample fruit, and appealing supple texture
Taste: Mouth filling kirsch, fig, black cherry, vanilla and sweet spices
Finish: Medium-long
88pts| 15.5%abv | 100% Zinfandel| (sample; opinions are my own)
About Jessie's Grove
Jessie's Grove was founded by and named after Jessie Spenker, daughter of Joseph and Anna Spenker who founded the Ranch and Estate in 1868.  The first vineyard was planted in 1888.  Throughout the years, the ranch and farm have endured The Great Depression, prohibition, and the extreme conditions unique to this time in history.
Their property is currently 320 acres, with 265 acres of premium vineyards. Some of these vines were planted in the 1800's making them the oldest Zinfandel vines in the Lodi Appellation still producing today. And these ancient vines are still producing fabulous wines.
My Takeaways
These two wines are a great examples of the diversity of Lodi Old Vine Zinfandel.  The Field Family Zinfandel is a lighter zestier style of Zinfandel  with a  more savory character., On the other hand the Jessie's Grove is a bigger, fuller style of Zinfandel that is absolutely delicious.   Which style you prefer is up to you, but the beauty of Lodi Old Vine Zinfandel, especially for Zinfandel lovers is that you'll undoubtedly find a style you like.
Cheers to my fellow Zinfandel lovers!
You Might Also Enjoy These Related Articles:
________________________________________________________________________
Follow me on Twitter, Facebook,Instagram, Vivino and Delectable, for all things wine. As a wino with latent foodie tendencies, you'll also find food and wine pairings, and food related stuff! Become a fan and join ENOFYLZ Wine Blog on Facebook. Cheers!
Copyright Notice: This entire site is Copyrighted 2010-2017. All Rights Reserved. No unauthorized copying of any section of this site is permitted. If you wish to use any part of this site, contact me. For information on Copyright Law, see the official U.S. Copyright Office home page.