Last month I participated in the #winestudio Conegliano-Valdobbiadene ("CV")program.  The program was about painting a picture of the history, terroir and people associated with this Prosecco Superiore D.O.C.G zone.    
This is the fourth of four posts about the CV program.  You'll find links to the previous weeks below:
Week 1, held October 3rd was an overview of  Conegliano Valdobbiadene (Click here to read my post)
Week 2, held October 10th was about the Rive sub-category of Conegliano Valdobbiadene (Click here to read my post)
Week 3, held October 17th was about second fermentation in bottle – Methodo Classico and Col Fòndo (Click here to read my post)
The  four-week program featured a region, that until last year, I was unfamiliar with.
While attending  the 2016 Wine Bloggers Conference, I attended a session put on by the Consortium of Italian Wine and Food.  One of the wines, I tried was a Conegliano Valdobbiadene Prosecco Superiore DOCG .   It was the Masottina Rive di Ogliano (coincidentally, a wine featured in Week 2 of the program – see schedule below).  It was a memorable wine with more character and depth than almost any Prosecco that I'd had before.  In fact, the only other comparable Prosecco I'd had was from Sorelle Bronca, which is also from Valdobbiadene (though I didn't realize it at the time) ! With those experiences in mind, I jumped at the opportunity to participate in the October program and learn more!
About Conegliano Valdobbiadene
The area of Conegliano Valdobbiadene lies in hilly countryside situated 50 km from Venice and around 100 km from the Dolomites. Here vine-growing has extremely ancient origins, but the first written document linking Prosecco to this area dates back to 1772. Ever since the introduction of the D.O.C. in 1969, the historic production area has remained limited to just 15 communes. Two of these give it its name: Conegliano and Valdobbiadene, one being the zone's cultural capital and the other the heart of its production.
Due to its complex, extremely diverse and dramatic terrain, long viticultural history and hand-crafted nature, the Conegliano Valdobbiadene has the potential to produce wines of particular interest and diversity closely tied to the place of origin.- Alan Tardi, US Ambassador of ConVal Prosecco DOCG
The vineyards are situated an altitude of between 50 and 500 meters above sea level with abundant southern exposure on  stony, glacial-era morainic  subsoil.  With a breeze that arrives from the Adriatic to the east, the Conegliano-Valdobbiadene  region offers ideal conditions for producing fresh wines with vibrant acidity and signature minerality.
The sparkling wines of the region may be labeled as either Valdobbiadene (generally preferred because it is perceived to be more prestigious), Conegliano, or both.
The region is currently shortlisted for inclusion as a UNESCO World Heritage Site.
Conegliano Valdobbiadene Prosecco Superiore D.O.C.G. At A Glance
Soil Types: Conegliano –  Primarily clay and limestone with a mix of alluvial and glacial deposits; Valdobbiadene – Mix of moraines, sandstone and clay
Grapes planted: Glera is the predominant grape; but Verdiso, Perera, Bianchetta
Styles: 95% is Spumante ( fully sparkling); Frizzante (fizzy) which is less bubbly; and Tranquillo, a still wine
Production Method: Martinotti Method (a.k.a  "Charmat" method outside of Italy) whereby secondary fermentation takes place in pressurized steel tanks known as autoclaves.
Sub regions: DOCG, DOCG Rive and Cartizze (see Prosecco quality pyramid below)
Levels of Sweetness : Brut, the driest style, Extra Dry, the most traditional, and Dry, with a higher level of residual sugar.
Production: Only 25% of Prosecco produced earns the DOCG designation
As you can see from the quality pyramid below,  if Cartizze is the "Grand Cru" of Prosecco, then the Rive are the Premier Crus of Prosecco.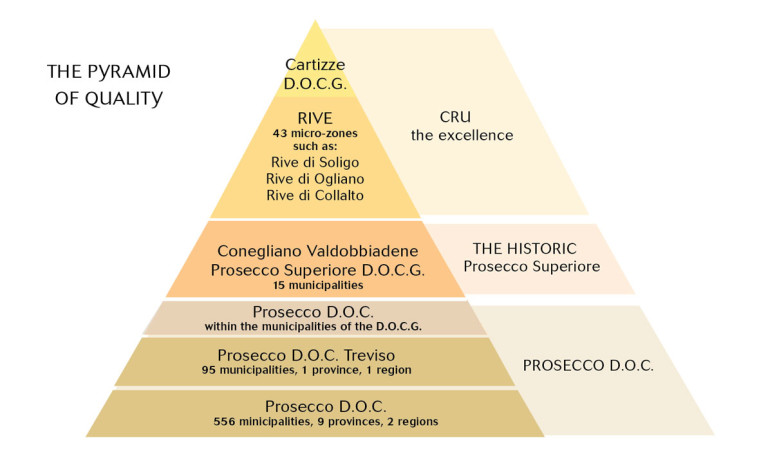 You might ask what the difference between Prosecco DOC and Prosecco DOCG?  Prosecco DOCG grown in Valdobbiadene, and Conegliano is hillside Prosecco while the Prosecco grown in the greater Veneto and Friuli is valley-floor Prosecco.  Prosecco grapes grown on hillside  must be hand-farmed because the slopes of the hills in those areas are very steep. Valley-floor Prosecco is generally machine farmed.  Furthermore there is more flexibility  in terms of both quality control and farming practices (including yields) in the valley for Prosecco DOC wines.   On the other hand, Prosecco DOCG wines have more rigorous quality controls and farming practices. Bottom line?  Higher quality fruit  = higher quality wine!
About Superiore di Cartizze
Superiore di Cartizze is a sub-denomination covering a very small area of  composed of about 107 hectares (approximately 264 acres) vineyards located in Valdobbiadene among the steepest hills of the hamlets of San Pietra di Barbozza, Santo Stefano and Saccol.  It is a tiny amphitheater  of south-facing steep hills 300 meters above the valley floor consisting of marl, sandstone and clay soils that allows Glera grapes to achieve full maturation.  The result is  that Cartizze Glera grapes are riper with a fuller, more rounded flavor profile and more concentrated aromas.
Superiore di Cartizze is produced in a well-defined area of almost 107 hectares of vineyards, managed by 131 wine growers #winestudio pic.twitter.com/eArPPGZXMb

— Prosecco Superiore (@ProseccoCV) October 25, 2017
It is the de facto "Grand Cru" of Prosecco.
At €1.8m, the price for a hectare of land in Cartizze is higher than the average price of a hectare in Champagne, which currently stands at around €1.2m.  Additionally, grape prices in Cartizze are also much higher than the rest of the Prosecco DOCG region at around €4.50 per kilo verses around €2.50. (Source)
Wines Tasted
Colesel Valdobbiadene Superiore di Cartizze DOCG Brut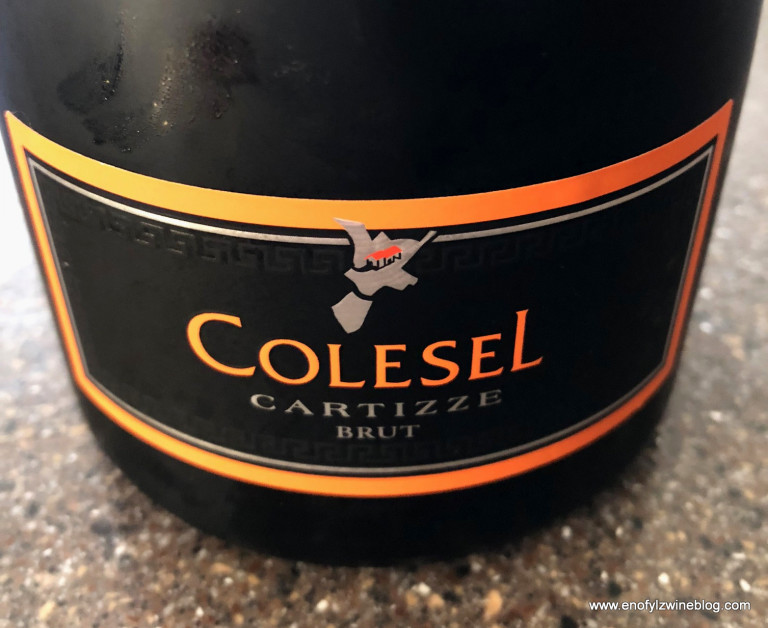 Tasting Notes
Color – Very pale straw
Aromas – Peach skin, Asian pear, white flower, fresh biscuit dough and a bit of chalk
Body – Medium-bodied,  harmonious, fresh and elegant with delicate silky soft mousse
Taste – White peach, ripe pear, yellow apple, mandarin orange with hints of hazelnut and an appealing minerality
Finish – Long
90pts – Outstanding; 12% ABV; Residual Sugar; 8 g/L
Colesel was among the first producers to make Cartizze in brut style. Traditionally, it's a Dry ( sweeter) spumante.  Ironically, this wine which was a higher amount of residual sugar than the Le Colture tasted drier (less sweet), but not too "brutish".
​Le Colture Valdobbiadene Superiore di Cartizze DOCG Dry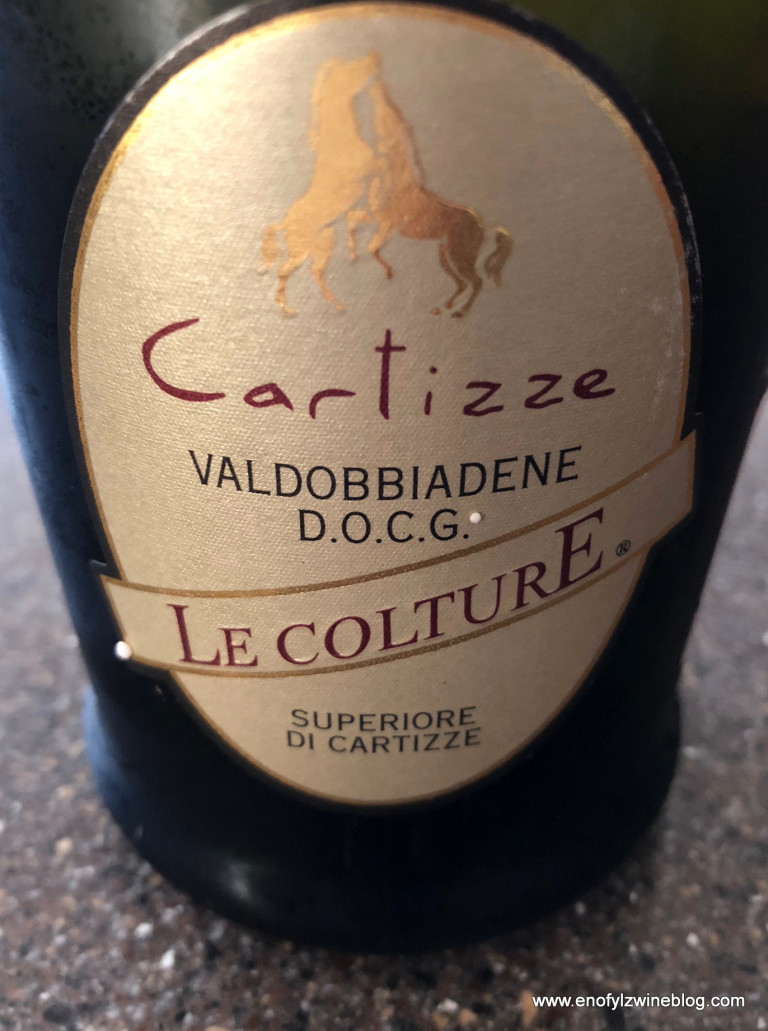 Tasting Notes
Color – Pale yellow
Aromas – Ripe pear, almond,  lemon, white flowers, and wet stones
Body – Medium bodied,  dry and dense with creamy mousse
Taste – Ripe pear, vanilla, dried apricot,  and almond with an appealing minerality in the background
Finish – Long
90pts – Outstanding; 11.5% ABV; Residual Sugar; 4.13 g/L
Conversely, juxtaposed against the Colesel, this wine which has less residual sugar, is classified as "dry", but it drank drier most DOC Prosecco I've had – undoubtedly a result of the Cartizze terroir and its minerality!
My Takeaways
Re: Cartizze – In 2015, Superiore di Cartizze production was 1.37 million bottles, made by 60 producers. 93% has been sold in Italy.  That means Superiore di Cartizze wines can be a challenge to find, but  they are definitely worth seeking out!
Overall – Candidly, with a couple of exceptions, I've mostly been using Prosecco for blending one of my favorite drinks, the Aperol Spritz.
But Conegliano-Valdobbiadene DOCG Prosecco are distinctive, terroir driven sparkling wines that brilliantly stand on their own as aperitif and at the table (I certainly had fun pairing them with various meals). They're high quality sparkling wines that offer compelling value!
About #winestudio
#winestudio is a wine education program produced by Tina Morey. Its message is interactive wine education, thus a better understanding of our world through wine and our part in that world. Questions and comments are encouraged!  You can become involved in the #winestudio conversation through Twitter, Facebook and Instagram and meet new wine folks from all over the world!
________________________________________________________________________
Follow me on Twitter, Facebook, Instagram, Vivino and Delectable, for all things wine.  As a wino with latent foodie tendencies, you'll also find food and wine pairings, and food related stuff! Become a fan and join ENOFYLZ Wine Blog on Facebook. Cheers!
Copyright Notice: This entire site is Copyrighted 2010-2017. All Rights Reserved. No unauthorized copying of any section of this site is permitted. If you wish to use any part of this site, contact me. For information on Copyright Law, see the official U.S. Copyright Office home page.