This month, the French Winophiles are making a virtual trip to the Languedoc-Roussillion region of France (which is now part of a newly formed region called the "Occitanie" – more on that later).  I've chosen a wine from Minervois La Livinière appellation – the 2014 Domaine L'Ostal Cazes "Grand Vin" and pairing it with vegan chili!
About Minervois La Livinière
Minervois La Liviniere is a red wine appellation of the Languedoc region in southern France. La Liviniere is a commune in the north of the area covered by the Minervois appellation, with a reputation for producing some of the finest red wines of the region.
After their wines were classified as AOC Minervois in 1985, the producers of La Liviniere spent 10 years lobbying the INAO (the government body in charge of France's appellation system) for their own, more-specific appellation; eventually they were successful. They were granted AOC status in 1999.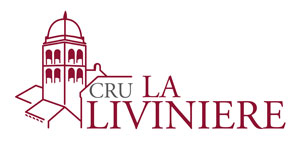 The Minervois La Liviniere title is uniquely for the local dry red wines produced from traditional Carignan and Cinsaut grapes, assisted by classic Rhone varieties Grenache, Syrah and Mourvedre. The latter three are cepages ameliorateurs ('improver varieties') and are being widely used across the region to make the traditional Carignan-based wines more complex and approachable. Syrah and Mourvedre must form a minimum of 40% of any wine made under the La Liviniere name, while Carignan and Cinsaut are limited to a maximum of 40%.
The area's terroir is characterized by a Mediterranean climate and classic southern-French garrigue landscape. Garrigue is the quintessential Provencal landscape of dry, limestone-based scrub land, populated by hardy herbs such as rosemary and lavender. It is this soil make-up which sets La Liviniere apart from the rest of Minervois. (Source)
Domaine L'Ostal
From K&L Wine Merchants…
For many years Jean-Michel Cazes, owner of Lynch-Bages in Pauillac, scoured the countryside of the Languedoc in search of a great property. It wasn't until he came across the village of La Liviniere in 2002, at the foot of the Montagne Noire, when his search ended. La Liviniere is the Cru appellation of Minervois producing some of the deepest and most powerful reds in this region. Jean-Michel with the help of his son Jean-Charles found a property suitable to their standards and rechristened the estate L'Ostal, meaning both "house" and "family group" in the ancient Occitan language. The domaine comprises some 150 hectares, 60 planted to vineyards and 25 to olive trees. Sunny days and cool night breezes coming off the Montagne distinguish this Cru from the rest of Minervois. The surrounding terroir is composed of layers of limestone and sandy marl, a calcareous soil great for drainage making the roots of the vines dig deep in search of water and nutrients. This terroir is ideal for preserving freshness and acidity in Syrah and Grenache the two primary grapes of the estate
In My Glass
The Grand Vin is composed of 70% Syrah,  15% Carignan, 10% Grenache, and 5% Mourvedre The wine sees about 15 months in French oak barrels before bottling and rests at the estate until it is ready to be released.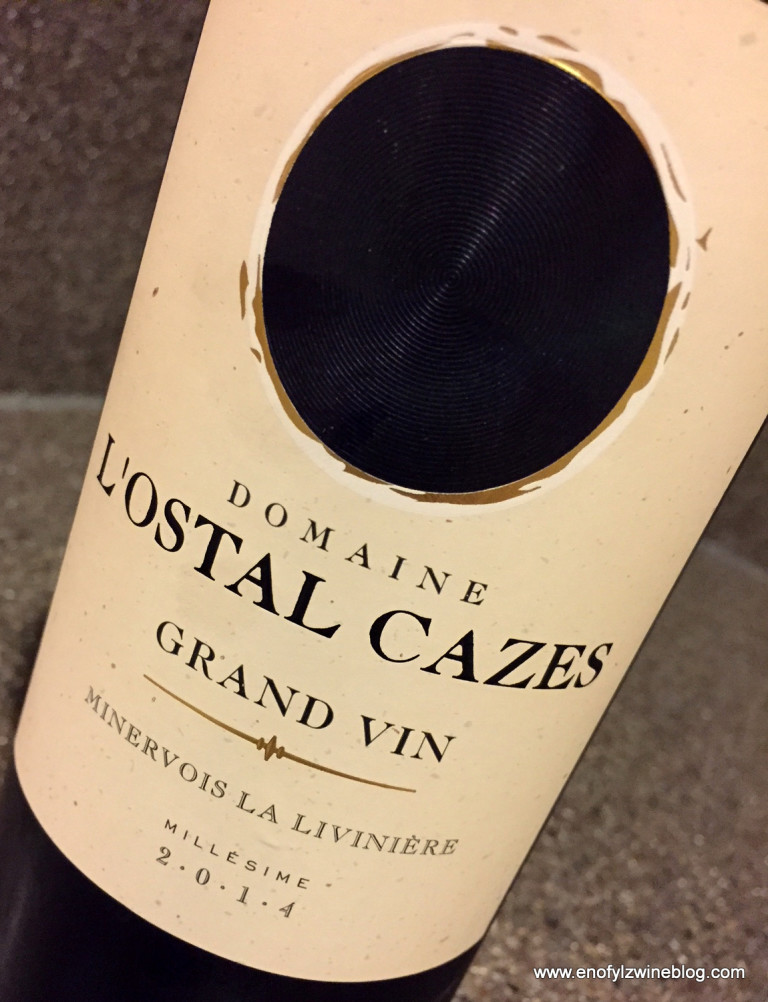 My tasting notes
Color – Opaque violet
Aromas – Aromatic garrigue, black fruit, cedar, cracked black pepper, and a hint of lavender
Body – Medium-bodied, concentrated and harmonious with ample fruit, balancing acidity and velvety tannins. Great mouth feel!
Taste – Black currant, blackberry, black cherry, vanilla spice, pepper and a hint of cacao
Finish – Long
91 pts – 14.5% abv| SRP – $19.99| Sample purchased for review 
This wine drinks well above its price point!  It's drinking beautifully now, but should age for well for 7-10 years.  Will buy more!
In my bowl
One of my favorite pairings is Chili  and Syrah.  Given this wine's high percentage of Syrah, I decided to pair it with Smoky Black Bean and Sweet Potato Chili topped with avocado!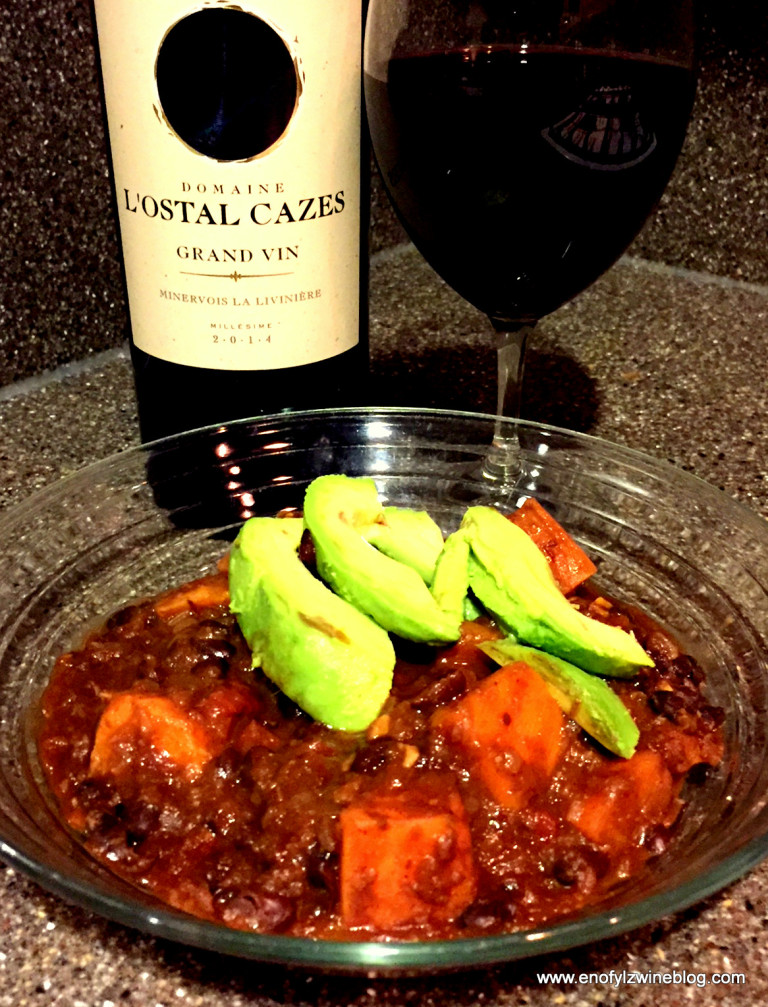 It was a fabulous pairing! The wine played very well with the smoky, spice and tomato character of the chili!  And the recipe is a winner in my book too!
About Occitanie
Occitanie (Occitania) is the official name of one of the new regions of France which was formed by combining the  neighboring regions of Languedoc-Roussillon and Midi-Pyrénées, during the restructuring of France's regions in January 2016.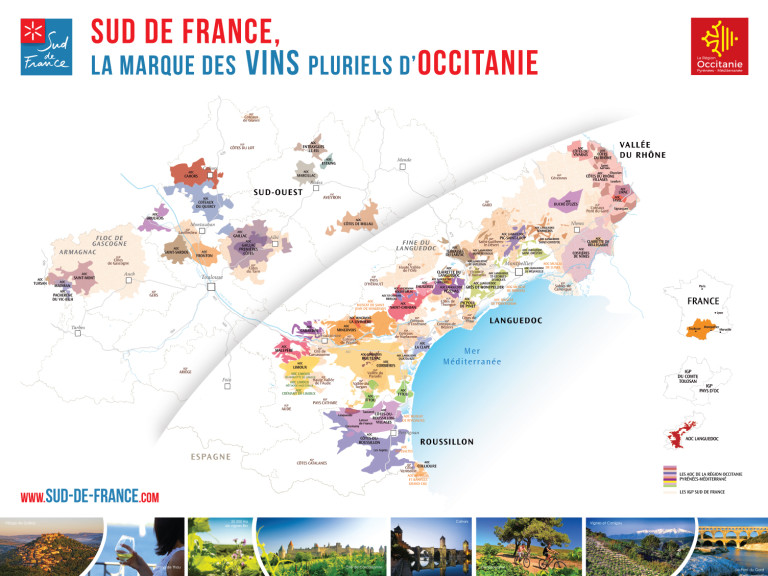 Both Languedoc-Roussillon and Midi-Pyrénées regions are very complementary and their combined strength means that Occitanie is now the largest region in France for wine, agriculture and organic agriculture – Isabelle Kanaan, executive director of Sud de France
Check out the Sud de France website to learn more about the region's export ambitions, wine culture, products and tourist destinations!
And be sure to have a look at what other Occitanie delights my fellow #Winophiles have discovered!
JOIN US ON TWITTER FOR A LIVE CHAT THIS SATURDAY 10/21 AT 8AM PACIFIC – WE USE THE HASHTAG #WINOPHILES AND WE'LL BE OPEN FOR OCCITANIE QUESTIONS.
________________________________________________________________________
Follow me on Twitter, Facebook, Instagram, Vivino and Delectable, for all things wine.  As a wino with latent foodie tendencies, you'll also find food and wine pairings, and food related stuff! Become a fan and join ENOFYLZ Wine Blog on Facebook. Cheers!
Copyright Notice: This entire site is Copyrighted 2010-2017. All Rights Reserved. No unauthorized copying of any section of this site is permitted. If you wish to use any part of this site, contact me. For information on Copyright Law, see the official U.S. Copyright Office home page.