2013 Carlisle Grenache Rossi Ranch – This delicious and distinctive wine  shows a depth I've seldom experienced with Grenache!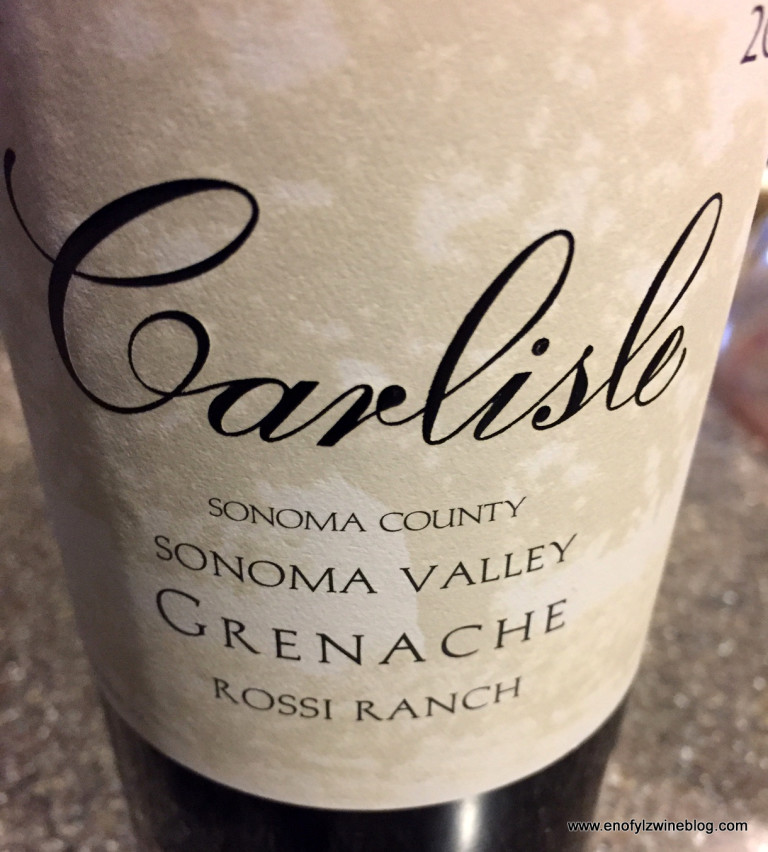 This wine is a blend of 91% Grenache and 9% Mourvèdre  sourced from the Rossi Ranch Vineyard, which was planted in 1910's by Carlo Rossi.
From the winery.…This wine is one of several surprises in 2013.  Normally we use the Grenache from Rossi Ranch as a base for our Chateauneuf-du-Pape-inspired "Three Birds", a traditional blend of Grenache, Mourvèdre, and Syrah.  But when it came time to do blending trials, despite the Grenache being better than ever (un-freakin'-believable!) no matter what we tried, we could not improve upon the Grenache by itself.  Eventually we got the message.  This Grenache didn't want to play with others; it wanted to be bottled on its own!  As a result, Carlisle's first Grenache.  (Truth be told, it was co-fermented with a small amount of whole cluster Mourvèdre so it's not quite 100% Grenache.)  No new oak.  Unfined and unfiltered. 
My tasting notes follow:
Color – Medium-dark ruby
Aromas – Exuberant kirsch, strawberry, sandalwood, rose petal, Asian five spice and hint of smoked meat
Body – Medium-full bodied, fresh, medium plus acidity, refined with well-integrated supple, sweet tannins
Taste – Kirsch, strawberry, raspberry, spice and  with an appealing kiss of minerality.
Finish – Long
92 pts – 14.9% abv| SRP – $38|216 cases produced|Sample purchased for review 
This delicious and distinctive wine  shows a depth I've seldom experienced with Grenache!
About Carlisle Winery and Vineyards
Carlisle Winery & Vineyards is a small Sonoma County based winery  based in Santa Rosa. According their website they specialize in the..
…production of old-vine, vineyard designated Zinfandels and red Rhone varieties (Syrah, Grenache, Mourvèdre, and Petite Sirah).
Mike Officer is the Owner/Winemaker.  He caught the wine "bug" early – at age 19 – when he tasted a late-harvest Riesling (It seems like we all start with sweet wines doesn't it?) After graduating from college, he worked in software development for five years, but realized that was not his passion.  He knew the answer would involve wine, but he wasn't sure in what capacity.
Full-bodied. Concentrated. Opulent. These are some of the descriptors we often hear applied to our wines. However, we also hear the words elegant, balanced, complex. 
He decided to try winemaking,  starting with making 5 gallons of Zinfandel in his kitchen.  Some years later, he  and his wife Kendall found themselves making 300 cases of "garage" wine.  They decided to jump in with both feet and established Carlisle Winery & Vineyards in 1998.  They've focused on old-vine Zinfandel, and red Rhône blends, until the 2010 vintage, when they made their first white wines.
In addition to their own estate vineyard, they source grapes from Sonoma County, primarily the Russian River, and Dry Creek AVAs.  Officer always been a fan of old-vine vineyards.   In fact, of the 16 vineyard sources listed on their website, half ( Gold Mine Ranch, Martinelli Road Vineyard, Montafi Ranch, Pagani Ranch Vineyard, Papera Ranch, Rossi Ranch Vineyard, Saitone Ranch, and Two Acres) are considered historic vineyards by the Historic Vineyard Society.
________________________________________________________________________
Follow me on Twitter, Facebook, Instagram, Vivino and Delectable, for all things wine.  As a wino with latent foodie tendencies, you'll also find food and wine pairings, and food related stuff! Become a fan and join ENOFYLZ Wine Blog on Facebook. Cheers!
Copyright Notice: This entire site is Copyrighted 2010-2017. All Rights Reserved. No unauthorized copying of any section of this site is permitted. If you wish to use any part of this site, contact me. For information on Copyright Law, see the official U.S. Copyright Office home page.