2014 Tercero Mourvedre Rosé Vogelzang Vineyard – The wine has held up beautifully…It's taken on a savory element that I adore and wish I found in more Rosé wines!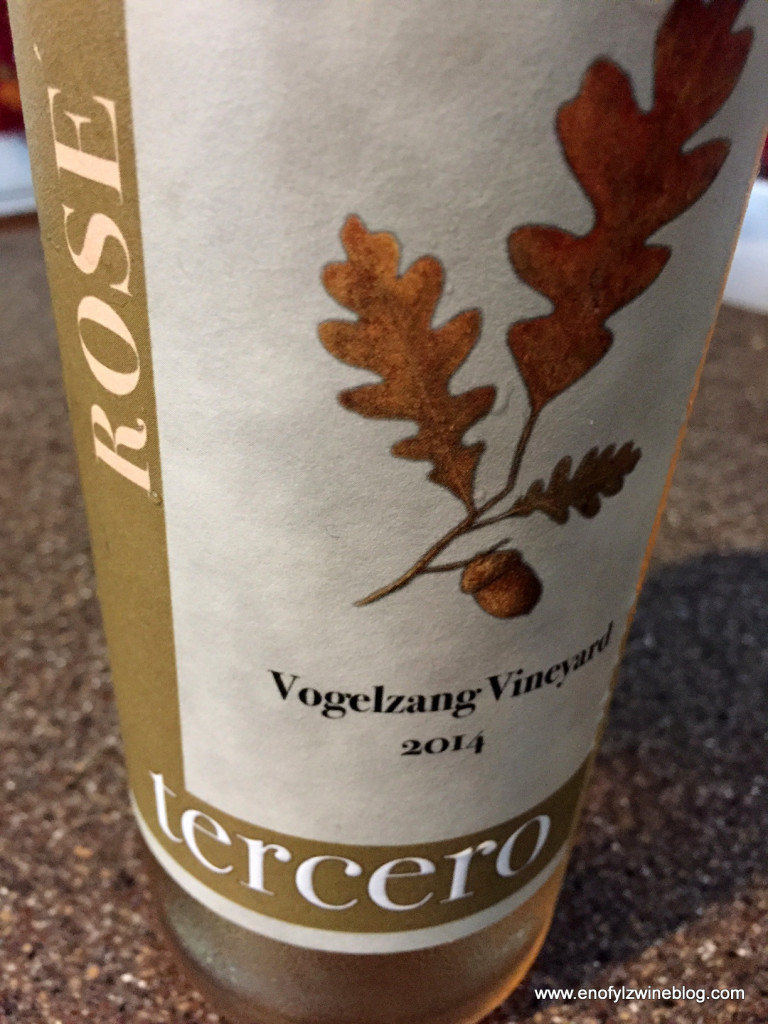 Fruit for this wine was sourced from the biodynamically farmed Vogelzang Vineyard in the Happy Canyon AVA, east of the the city of Los Olivos. The grapes were picked specifically for rosé in mid-September, and foot trodden.   The juice  was in contact with the crushed skins for about an hour before going to press.  They were pressed directly to a cooled stainless steel tank.  Thereafter, it was raised in older French oak barrels for about 3 1/2 months.
My tasting notes follow:
Color – Pale salmon
Aromas – Peach skin, red fruit, orchard fruit, orange peel with some funky, meaty notes and a hint of wet stone
Body – Dry, medium-bodied and fresh with medium-plus acidity
Taste – Strawberry, watermelon, Rainier cherry, citrus, and a hint of cantaloupe
Finish – Medium-long with a very appealing savory element
91 pts – 12.9% abv| SRP – $22 
I purchased a few bottles of this wine back in 2015.  I drank one that summer, so it's been a couple of years. The wine has held up beautifully and to my palate, has improved.  It's taken on a savory element that I adore and wish I wine I found in more Rosé wines!
Pair with: I paired this wine with a Smoked Salmon Sandwich with Goat Cheese Spread. It was a fantastic pairing! But this is such a food friendly wine, and in my book the a great example of Rosé you drink all year around.  I think I 'll save my last bottle for Thanksgiving!
About Tercero
Tercero Wines is located in Los Olivos, California.  Larry Schaffer is the owner/winemaker.  Schaffer left a successful career in publishing to pursue his dream of becoming a winemaker.  He earned a degree in Viticulture and Enology from UC Davis.  Thereafter he got winemaking career started as an enologist at Fess Parker Winery.  While at Fess Parker he started Tercero.  He focuses on Rhone varietal wines.
I first meet Larry a many years ago at what was one of my favorite events – Dark & Delicious – a food and wine event featuring the under appreciate Petite Sirah grape variety.  Initially, he caught my attention because he was aerating his wines in Erlenmeyer flasks rather than traditional decanters. I thought – How cool is that (note to self – buy some lab beakers; they cost less and work as well!)?
I tried his wines, and came away very impressed.
Since then, I've tasted his wines at a many other events. I've also had a chance to visit the winery in Los Olivos.
I continue to be very impressed with the harmonious character of his wines.  `
Tercero Wines offers a range of (mostly Rhone varietal) wines including varietal bottlings of Syrah, Grenache, Mourvèdre, a red Rhône blend, Grenache Blanc, Viognier, Rosé,  a dry Gewürztraminer, Grenache Blanc, and a late harvest Viognier.  All wines are bottled under screwcap (extra points in my book!)
The wines are definitely worth seeking out, and if you get a chance, I heartily recommend a visit to the winery!
________________________________________________________________________
Follow me on Twitter, Facebook, Instagram, Vivino and Delectable, for all things wine.  As a wino with latent foodie tendencies, you'll also find food and wine pairings, and food related stuff! Become a fan and join ENOFYLZ Wine Blog on Facebook. Cheers!
Copyright Notice: This entire site is Copyrighted 2010-2017. All Rights Reserved. No unauthorized copying of any section of this site is permitted. If you wish to use any part of this site, contact me. For information on Copyright Law, see the official U.S. Copyright Office home page.