2013 Abadia Retuerta Selección Especial Sardon de Duero…if this a well-balanced wine, harmonious and very expressive wine is any indication of the quality of wines coming out of the region, it's a region I'll be seeking out!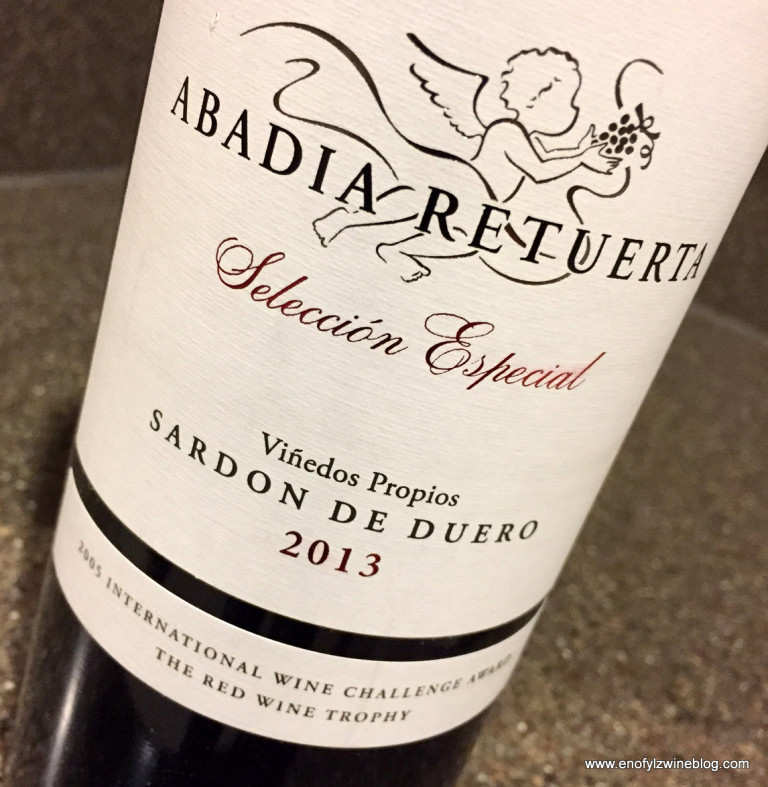 A blend of 75% Tempranillo, 15% Cabernet Sauvignon, 10% Syrah and other red varieties such as Merlot and Petit Verdot from the Sardon de Duero, a wine-growing area in northern Spain, to the west of more well-known, Ribera del Duero region in northern Spain.   It was aged 13 Months in French and American oak barrels.
It is part of the prestigious 'Golden Mile' (La Milla de Oro) of wineries located along the Duero river in the autonomous community of Castilla y Leon. La Milla de Oro is said to have a special microclimate and is home to some of Spain's most renowned wineries, including Vega Sicilia, Dominio de Pingus and Bodegas Mauro. The area has an ancient winemaking tradition, established by the Romans, but Sardon de Duero's name has really only recently gained a reputation, despite not being an official appellation. (Source)
Tasting notes:
Color – Opaque black red
Aromas – Aromatic cassis blackberry, kirsch, licorice, dark chocolate covered espresso beans, tobacco and cedar
Body – Medium bodied with medium plus acidity and firm well-integrated tannins
Taste – Cassis, blackberry, spice, tobacco and a hint of blueberry
Finish – Long
Sardon de Duero is a new to me wine region, but if this a well-balanced wine, harmonious and very expressive wine is any indication of the quality of wines coming out of the region, it's a region I'll be seeking out!
90 pts – 13.5% abv| SRP – $30 |27,100 cased produced|Sample
About Abadia Retuerta
Bodega Abadía Retuerta is a winery to the west of Ribera del Duero in the autonomous region of Castilla y León. It is known for its red blended and varietal wines made from Tempranillo, Cabernet Sauvignon, Merlot, Syrah and Petit Verdot. The estate is specifically located in Sardon de Duero, and Abadía Retuerta has been influential in increasing the profile and recognition of the area.  Technically outside the Ribera del Duero DO, all of the company's wines carry the Vino de la Tierra de Castilla y León designation, although many include 'Viñedos Propios Sardon de Duero' on the label as well.
The winery was founded in 1996 with the construction of a patented state-of-the-art winery. The building and gravity-led winemaking techniques were designed by Pascal Delbeck, an oenologist and consultant who also works in the vineyards of prestigious Saint-Émilion estate Château Ausone. Abadía Retuerta also has a 12th century fortified monastery on its property that was restored and converted into a hotel by Abadía Retuerta's parent company Novartis, a Swiss pharmaceutical company.
The estate has over 200 hectares (500 acres) under vine with the majority planted to Tempranillo. A total of 54 different plots are each planted with individual varieties. Vineyards are spread across the property from the banks of the Duero River to hillside slopes at elevations of 2700ft (825m) above sea level. The climate is strongly continental with high diurnal and seasonal temperature ranges. The soil composition also varies from plot to plot from gravel, alluvium, limestone, sand and clay. (Source)
________________________________________________________________________
Follow me on Twitter, Facebook, Instagram, Vivino and Delectable, for all things wine.  As a wino with latent foodie tendencies, you'll also find food and wine pairings, and food related stuff! Become a fan and join ENOFYLZ Wine Blog on Facebook. Cheers!
Copyright Notice: This entire site is Copyrighted 2010-2017. All Rights Reserved. No unauthorized copying of any section of this site is permitted. If you wish to use any part of this site, contact me. For information on Copyright Law, see the official U.S. Copyright Office home page.