2016 Gen del Alma "Ji Ji Ji"; This lithe, interesting, delicious and structured wine brings to mind Cru Beaujolais!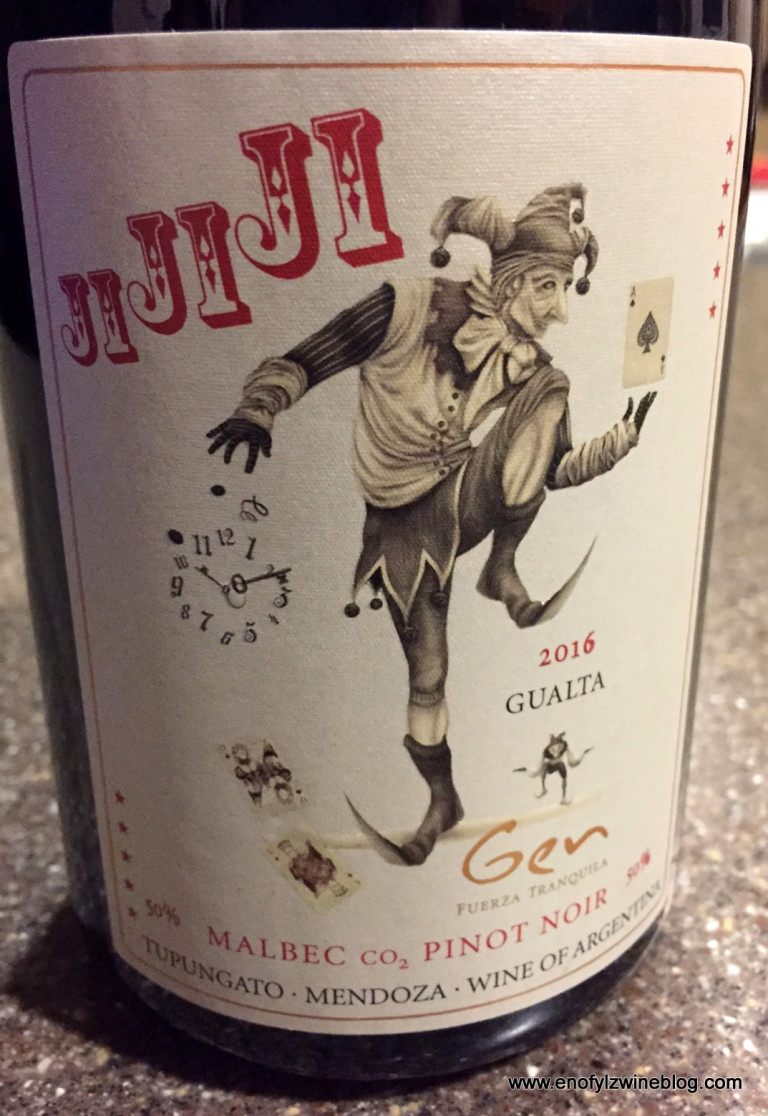 This blend of 50% Malbec and 50% Pinot Noir was all hand harvested from a single vineyard in Gualtallary, a high-altitude wine region situated within Tupungato in the northern reaches of Argentina's Uco Valley.  The vineyard, planted in 2007, is situated at 4,600 ft elevation on granite and limestone soils with a 20-centimeter layer of sand.  The wine was made with very minimal intervention, all grape clusters go in whole with no pump overs.  There is no wood,  it was produced in concrete eggs. The wine does see some carbonic maceration.
My tasting note follows:
Opaque violet color with red fruit, violets and a bit of chalk aromas. On the palate it's light-bodied with mouth-watering, vibrant acidity and surprising complexity at this price point. It shows fruity sour cherry, pomegranate, sarsaparilla, crushed rock, and subtle orange peel and spice flavors with some savory bits and  very satisfying finish medium+ finish
This lithe, interesting, delicious and structured wine brings to mind Cru Beaujolais!
89 pts – 12.1% abv| SRP – $15 |300 cased produced|Sample purchased for review
About Gen del Alma
Gen del Alma is a new project started in 2012 by Gerardo Michelini, of Zorzal, and his wife and winemaker Andrea Mufatto. Gerardo and Andrea have planted vines on their individually owned property adjacent to the Zorzal winery. Their focal concept is to showcase the purity, minerality, and freshness of Gualtallary terroir. Their minimal vinification process allows the fruit to shine on its own. They use concrete eggs, used barrique, and in some cases carbonic maceration in the winery.
Aside from this wine they produce 3 other wines – a Bordeaux blend,  a Cabernet Franc/Cabernet Sauvignon/Pinot Noir blend, and an unfiltered, unfined Chenin Blanc. The wines have received high praise from the Wine Advocate and Decanter magazine.
________________________________________________________________________
Follow me on Twitter, Facebook, Instagram, Vivino and Delectable, for all things wine.  As a wino with latent foodie tendencies, you'll also find food and wine pairings, and food related stuff! Become a fan and join ENOFYLZ Wine Blog on Facebook. Cheers!
Copyright Notice: This entire site is Copyrighted 2010-2017. All Rights Reserved. No unauthorized copying of any section of this site is permitted. If you wish to use any part of this site, contact me. For information on Copyright Law, see the official U.S. Copyright Office home page.