2016 M. Chapoutier Les Vignes de Bila-Haut Rosé; This wine embodied everything I love about rosé ! It's crisp, refreshing, utterly quaffable and delicious!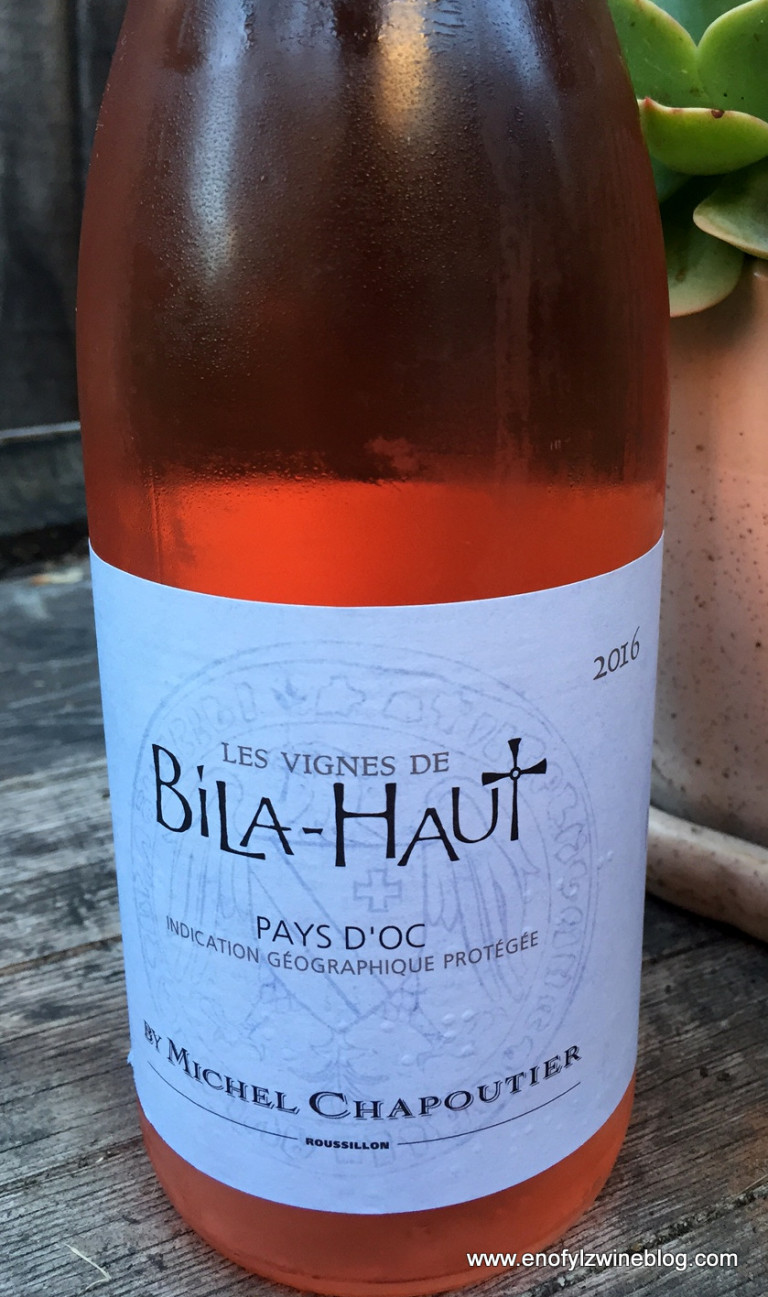 My tasting notes follow
Pale pink color with salmon highlights and strawberry, watermelon, white peach, wet stone and a kiss of garrigue aromas. On the palate it's between light-bodied, dry, crisp and refreshing with some nice mid-palate weight. It shows wild strawberry, Rainier cherry, citrus and bit of watermelon flavors nicely complemented by a kiss of minerality with a satisfying lengthy finish. Blend of 78% Grenache, 14% Cinsault, and 8% Syrah. 
This wine embodied everything I love about rosé ! It's crisp, refreshing, utterly quaffable and delicious!  and so food friendly.  We enjoyed it with Mexican take-out.  I had a shrimp ceviche tostada and my wife had chicken burrito.  The wine easily found peaceful coexistence with both;  though it paired better with the ceviche tostada.
88 pts – 13% abv| SRP – $15 |Sample
About M. Chapoutier
"No name is more closely associated with the greatness of the Rhone valley than M. Chapoutier.  The history of the Chapoutier family stretches back to the early nineteenth century when current owner Michel Chapoutier's great-, great-, great-grandfather Marius purchased an estate and some vineyards in the now famous village of Tain l'Hermitage in the Northern Rhône Valley. Marius Chapoutier made history in the region when he became the first grape grower there to vinify his own fruit. Marius had tasted wines other winemakers produced using his fruit and he realized that something was lost in translation, so to speak. He knew that he owned some of the best growing sites in the appellation and he believed — rightly — that the grapes grown in his vineyards could produce long-lived world-class wines. In a move unusual at the time, he decided that he should make the wine himself. Not only did the quality of the wines increase greatly, but this move provided the capital to expand the Chapoutiers' already legendary estate.
A visionary and pioneer in biodynamic winemaking, his restless energy and unconditional commitment to quality have produced tremendous success, with the most 90+ point ratings of all Rhône producers and 16 "100 point" rated wines.
Domaine Bila-Haut is owned by the well-known Rhone Valley Oenologist, Michel Chapoutier. The name refers to an old farm villa which was built high into the mountain slopes , among some old vineyards. The Domaine comprises 75 hectares of land cultivated under bio-dynamic farming techniques and is characterized by steep pebbly slopes rising from almost 150 meters above sea level.  The Domaine is located in the commune of Latour-de-France…just about as close as you can be to Spain, but still be located in France:" (Source)
________________________________________________________________________
Follow me on Twitter, Facebook, Instagram, Vivino and Delectable, for all things wine.  As a wino with latent foodie tendencies, you'll also find food and wine pairings, and food related stuff! Become a fan and join ENOFYLZ Wine Blog on Facebook. Cheers!
Copyright Notice: This entire site is Copyrighted 2010-2017. All Rights Reserved. No unauthorized copying of any section of this site is permitted. If you wish to use any part of this site, contact me. For information on Copyright Law, see the official U.S. Copyright Office home page.