This month the French Winophiles are exploring affordable ($20 or less) French wines. I must confess that when it comes to affordable wines, Spain and Chile are top of mind for me.   France is not; with two exceptions – the Loire Valley and Beaujolais.  For this month, I turn to the Loire Valley for my affordable French wine – the   Domaine Patrice Colin Perles Grises.
An Accident With A Very Happy Ending!
Last week my wife and I went to Portland with friends to do some wine tasting, check out the food scene, and do some hiking.  We arrived Saturday afternoon, and the first stop on our itinerary after lunch was a highly rated urban winery and wine bar in the Division-Clinton neighborhood of South East Portland.  Mostly likely due to user error, we ended up walking into Division Wines –  a charming wine bar and wine shop located kitty-corner from the place we intended to go.  Proprietor Danyelle Prouty  must have sensed we were not where we intended to be and told us that place was across the street.  We promptly headed over to the other place.  Alas, they didn't want to serve us because we didn't have a reservation and were told they were "busy".  We promptly headed back over to Division Wines, where Danyelle greeted us with open arms.   We went on to have a fantastic experience at Division Wines and didn't miss the other place a bit (It was so good we returned a few days later before we returned home)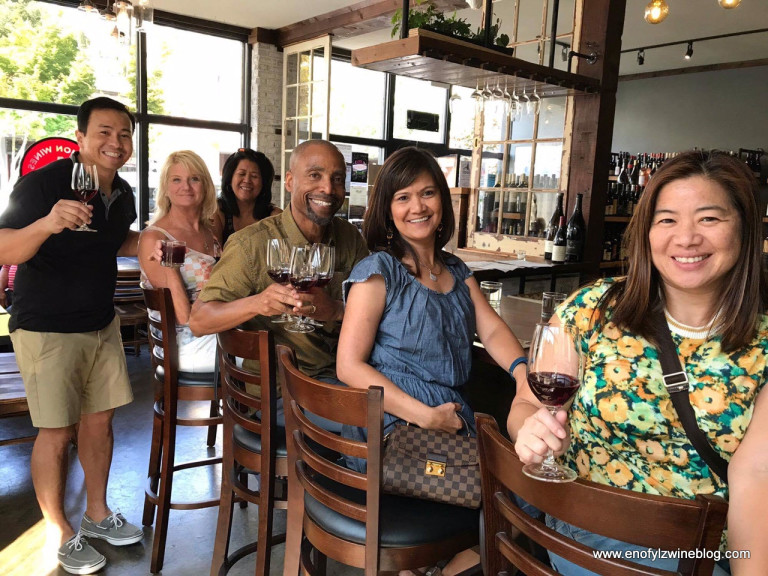 Division has a diverse and nicely curated  wine list.  Wine is available by the glass or flight.  You can make you own flight and half glasses are available.  If you like a wine you can buy it since it's a wine shop too.  Great service and fair prices.  Highly recommended if  you're in PDX!
We ordered various flights of wine.  Included in a sparkling wine flight our friend had was the  Domaine Patrice Colin's Perles Grises.  She offered my wife and I a sip and we thrilled with it.  I knew I had to share it with you this week!  My friend purchased a couple of bottles and we enjoyed it with dinner that night! 
In My Glass
Patrice Colin manages 48 acres close to the city of Vendome in the Middle Loire area of Touraine. He is the 8th generation of wine makers from this unique wine region. The AOC Coteaux du Vendomois is well-known for its grapes: Pineau d'Aunis, an ancient dark-skinned grape variety dating from the 13th century.  Colin has been farming biodynamically since 2008. Some of his vines are more than 80 years old.
This delightful sparkling wine from Coteaux du Vendomois is 100% Pineau d'Aunis (a.k.a. Chenin Noir), which is almost exclusively grown in the central Loire region.    The Perles Grises (gray pearls) is a Vin Gris, meaning  it is made from red grapes used to make a nearly white wine.
It is a "Pét-Nat".  Not familiar with the term?   It is slang for pétillant-naturel, a French term that basically means naturally sparkling.  They're considered "natural" because the wines are fermented on native yeasts naturally present in the winery or on the grape skins.  Winemakers then bottle the unfinished wine while it is still fermenting ( as opposed to Champagne, which is made from a finished wine). There is no "dosage".  The bottle is then capped (typically a crown-cap) and fermentation continues in the bottle.  Carbon dioxide gas, a fermentation by-product, is trapped in the bottle, creating natural bubbles.  Once fermentation is complete, you've got Pét-Nat!  While the Pét-Nat trend is relatively new, the truth is that natural sparkling wines have been made in the Loire valley for about 500 years!
I dig Pét-Nats because of their natural wine character, soft effervescence and balanced acidity.  They're crisp, light, refreshing and lower in alcohol than many wines.  I've found them to be both very food-friendly and great on its own.
Certainly that was the case when we enjoyed this wine with dinner.  It was a wonderful as an aperitif while we waited for our orders.  And it also paired well with my entrée – grilled bone marrow, and a few apps we shared.
You know what else I appreciate about this wine?  There are quite a few Pét-Nats being produced in California, but I've yet to find one for under $20!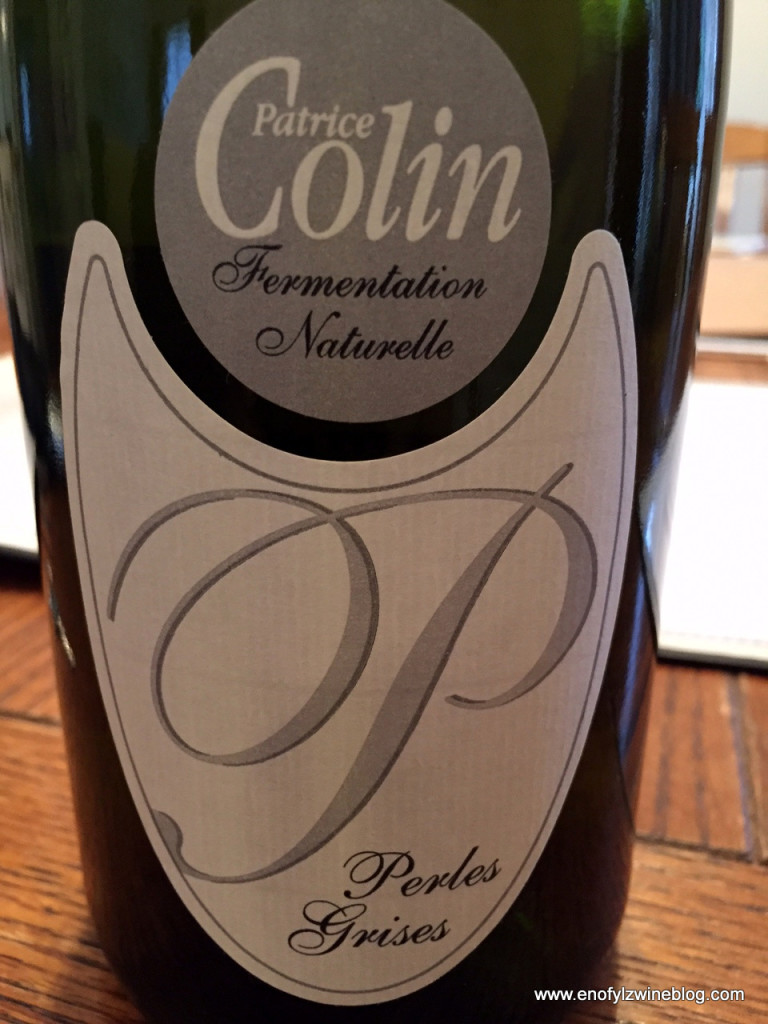 My tasting notes follow:
Very pale coppery salmon color with enticing strawberry jam covered toast, dried rose and a hint of pencil shavings aromas. On the palate it's between light and medium-bodied and moderately complex with a very appealing delicate creamy mousse and a zesty balanced soft acidity with strawberry, raspberry coulis, cherry Jolly rancher, flinty mineral, and savory spice flavors with a hint of blood orange. Medium finish. 100% Pineau d'Aunis 11.3% abv; SRP-$19
Pair with: Light white meats, seafood and shellfish as well as appetizers and fruit based desserts
Of course, while Loire and Beaujolais are top of mind affordable French wines for me, value can most certainly be found if France if you know where to look for it.  And my fellow French #Winophiles most certainly do! Check out their suggestions for affordable French wines!
If you're up early enough, please join us August 19th as we explore affordable French wines from 8-9 a PST via Twitter using hashtag: #Winophiles.
________________________________________________________________________
Follow me onTwitter, Facebook, Instagram, Vivino and Delectable, for all things wine. As a wino with latent foodie tendencies, you'll also find food and wine pairings, and food related stuff! Become a fan and join ENOFYLZ Wine Blog on Facebook. Cheers!
Copyright Notice: This entire site is Copyrighted 2010-2017. All Rights Reserved. No unauthorized copying of any section of this site is permitted. If you wish to use any part of this site, contact me. For information on Copyright Law, see the official U.S. Copyright Office home page.