I adore Rosé wine!  Here's why.   Rosés are such a versatile wines at the table, they give me a break from thinking about, or in some cases over-thinking food and wine pairings.  Consequently whether one is a professional, such as a sommelier or chef; wine enthusiast, or a novice, when it comes to food and wine pairing,  rosés are always in the conversation of the most food friendly wines!  
I keep versatile wines at the ready because they work with a wide range of foods. If you're not sure which wine to enjoy with your meal, and you're looking to avoid the brain damage wine and food pairing may cause, then get to know food friendly wines
So when I say the theme for this month's Wine Pairing Weekend is "Rosé and…", I was thrilled because at the time the theme was announced, we were enduring a record-breaking heat wave here in the San Francisco Bay, and I'd just had back to back easy summer meals  that I'd paired with Rosés – one still and one sparkling.  Perfect timing!     
About Wine Pairing Weekend
For the uninitiated, the Wine Pairing Weekend (#WinePW) is a group of bloggers who virtually gather once a month to create food and wine pairings around a theme. David Crowley of Cooking Chat started the group in June 2014 and #WinePW has been going strong ever since!
What Makes Rosés So Food Friendly?
In a nutshell,  rosés are so food friendly because of their refreshing acidity, lower alcohol, low tannin red fruit character.  While still  rosés are the most popular style of rosé, sparkling rose is even more versatile and food friendly in my book because of its effervescence and typically higher acidity.  And when it come to pairing food and wine, acidity is your best friend.
You'll find a wonderful diversity of styles of rosé.  The diversity comes from both the types of grape varieties used, and method of production (primarily direct press or saignee) which can affect both the color and the body of the finished wine.  In terms of the grape varieties, rosé can be made from virtually any red grape variety, so the possibilities are endless and there is an incredible amount of diversity –  a rosé may be a single varietal (100% of one type of grape variety) wine or a blend of grape varieties.  In terms of a rosé's color and body, they can range from the pale light-bodied Provençal style rosé to darker and more full-bodied rosés.
Phew!  Don't think about it too much.  Try a bunch of them.  The more you try, the more you'll figure out what you like and what you don't.
And you've got all year to discover what you like because such a food friendly wine shouldn't be limited to summer (we always have a rosé at our Thanksgiving table)!
Pro Tip: Pair light bodied fare such as a salad with a lighter colored rosé, and more substantial fare such as BBQ chicken or burgers with a darker colored rosé.
Here are the two easy peasy meal paired with two outstanding rosés!
Summer Meal #1 – Grilled Salmon with Sautéed Eggplant and Black Beans
My wife put this quick dinner together by simply grilling the salmon in our grill pan, sautéing some cut-up fresh eggplant from our garden, and heating up a can of lightly seasoned black beans!  A quick and delicious meal, but the diversity of flavors and textures could be challenging.  With that in mind, I selected a sparkling  rosé from one of my favorite California sparkling wine producers Iron Horse Vineyards.  Their estate sparkling wines produced in the Green Valley AVA of the Russian River Valley have a minerality that very much reminds me of Champagne.
Plus, when the hotter it gets the more I crave bubbles!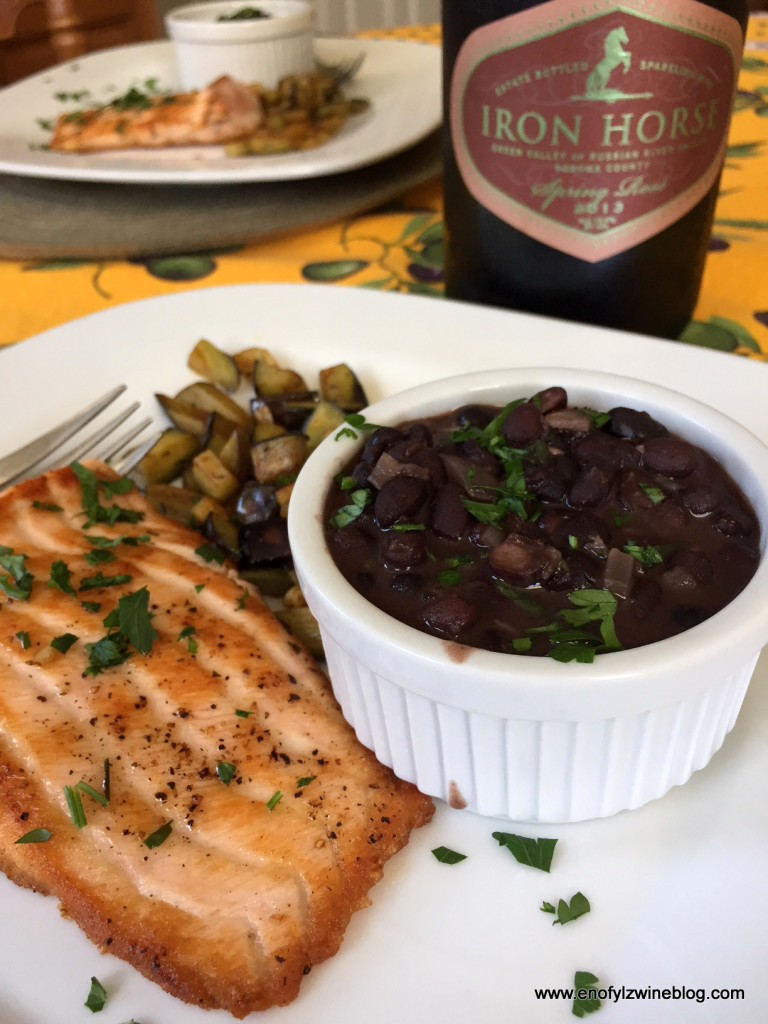 In My Glass – 2013 Iron Horse Vineyards Spring Rosé
Summer Meal #2 – Assorted Charcuterie, Caprese Salad W/Heirloom Tomatoes and Truffled Marcona Almonds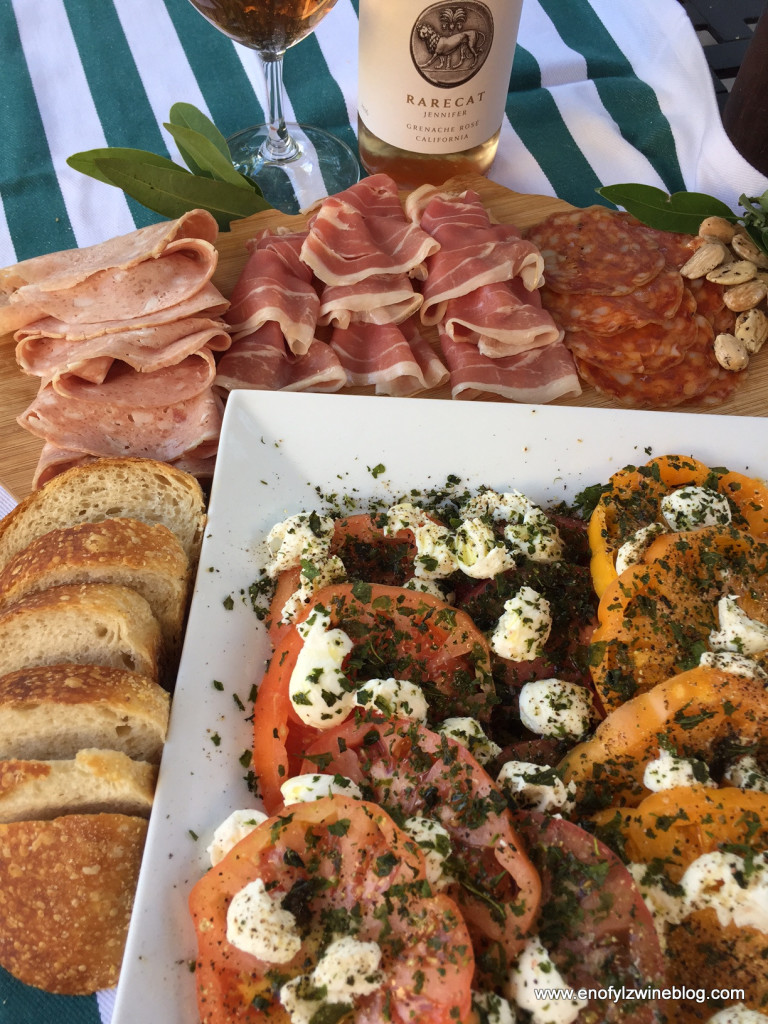 Do  you know what I love most about Caprese Salad? Sopping up the fresh tomato juices with a piece of crusty baguette after I gobble down the tomatoes and fresh mozzarella!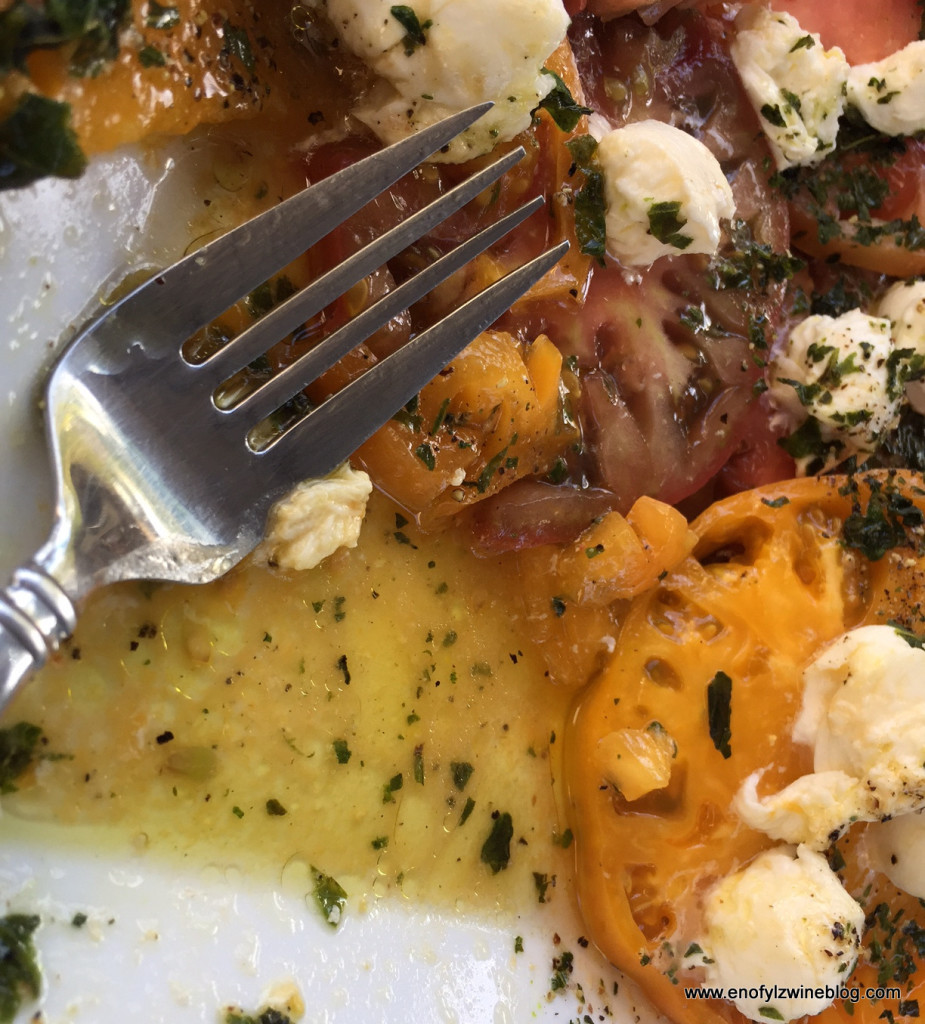 In My Glass – 2016 RARECAT Wines Jennifer Rosé
Both wines were outstanding pairings with our meals, and reinforced that rosés (along with sparkling wines) are my favorite food friendly wines.  And in my book and sparkling wines are
Check out what my fellow Wine Pairing Weekend peeps have brought to our virtual table for Rosé and…
If you're up early enough, please join our twitter chat at 8a Pacific as we chat about "Rosé and…" Follow the #WinePW hashtag and join the conversation!
________________________________________________________________________
Follow me on Twitter, Facebook, Instagram, Vivino and Delectable, for all things wine.  As a wino with latent foodie tendencies, you'll also find food and wine pairings, and food related stuff! Become a fan and join ENOFYLZ Wine Blog on Facebook. Cheers!
Copyright Notice: This entire site is Copyrighted 2010-2017. All Rights Reserved. No unauthorized copying of any section of this site is permitted. If you wish to use any part of this site, contact me. For information on Copyright Law, see the official U.S. Copyright Office home page.