The sixth annual celebration of the Albariño grape is being celebrated this week from August 2nd-7th.   The annual event was established by TAPAS (Tempranillo Advocates Producers and Amigos Society).  In years past the event was only celebrated one day, but for 2017, it is being celebrating for nearly a  week.  It coincides with the Fiesta del Albariño held in the small coastal town of Cambados, Spain during the first week of August.
Albariño is traditionally grown in Rias Baixas, a wine region in Galicia in northwestern Spain. There it produces light to medium-bodied, dry, aromatic and refreshing wines with a zesty citrus character that are ideal for summer evenings and seafood pairings.
I recently has chance to taste through ten Albariño from Rias Baixas  via an online tasting hosted by Snooth– Click here for my post entitled – A Taste of Albariño from Rías Baixas. 
Closer to home, Albariño has also found a great new home in the Lodi AVA.
In recent years, so many Lodi based wineries have begun producing white wines fashioned from the Albariño grape, it's practically become "Lodi's Chardonnay." – Randy Caparoso, Lodi Wine
Lodi is celebrating the grape with the Lodi Tour of Albariño August 4-7.  The event, which is self guided tour (no ticket required), is focused on tasting this dry, white wine from a number of different producers in Lodi.  (see below for participating wineries).  Just visit any of the participating wineries, taste some refreshing Albariño, grab a guide-book and continue the tour.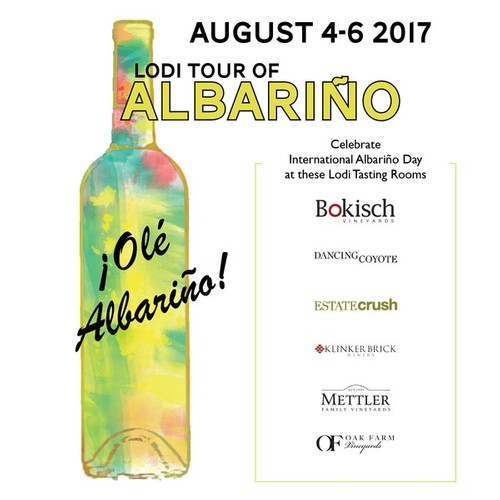 Each of the wineries on the tour will be pouring their fantastic take on Albariño, each one different from the next:
-At Bokisch Vineyards tasting room, you'll get a taste of our three Albariños from three different vineyards. This side-by-side comparison is a fun exploration of the difference terroir can make. We're also releasing our 2016 Andrus Island Albariño this weekend!
-At Dancing Coyote, taste their Estate Grown 2016 Albariño, then buy a full case for $99, that's over 30% discount!
–Estate Crush will feature their 2016 Albariño from Bokisch Vineyards along with its August menu with fifteen additional wines.
-At Klinker Brick, you'll taste their "Best of Class" 2016 Albariño, enjoy 15% off Albariño purchases, and get a taste of their delicious Albariño sorbet.
–Mettler Family Vineyard will be pouring their Estate Grown Albariño, a true summer treat, and some of their other unique varietals.
-At Oak Farm Vineyards you can experience their 2016 Albariño plus 8 other wines on their tasting list and enjoy their beautiful tasting room with live music on Saturday. Source: Visit Lodi
In My Glass
I had the chance to taste the 2016 Oak Farm Vineyard Albariño last night.  You'll find my impressions below:
12.5% abv| SRP – $24 |Sample 
It's a charming wine that had me craving grilled shrimp or some fish tacos!
Want to know more about Albariño? Head out to Lodi this weekend and taste it for yourself!  And for are six fun facts on Albariño, watch this two-minute video from Karen MacNeil, author of the Wine Bible.
________________________________________________________________________
Follow me on Twitter, Facebook, Instagram, Vivino and Delectable, for all things wine.  As a wino with latent foodie tendencies, you'll also find food and wine pairings, and food related stuff! Become a fan and join ENOFYLZ Wine Blog on Facebook. Cheers!
Copyright Notice: This entire site is Copyrighted 2010-2017. All Rights Reserved. No unauthorized copying of any section of this site is permitted. If you wish to use any part of this site, contact me. For information on Copyright Law, see the official U.S. Copyright Office home page.