This month the French Winophiles are making a virtual trip to France's Hidden Corner, the South-West (or 'Sud-Ouest' as the French call it) wine region!  Actually, we're revisiting the region.  When we first visited a couple of years ago, I discovered the Perfect Wine For Liver And Onions! It was from the mostly overlooked Marcillac AOP, and made from little known the Fer Servadou grape variety.  Being the promiscuous wine lover I am, this month I'm trying a wine from…wait for it,…the mostly overlooked Pacherenc du Vic-Bilh (Hear it pronounced
)AOP,  made from three little known grapes –  Gros Manseng, Petit Manseng and Arrufiac!
About the Southwest Region
The South West region of France is a relatively large territorial zone that lies between – and does not include – the wine regions of Bordeaux and Languedoc-Roussillon. The region includes eighteen appellations denoted as either AOP or IGT.  It also includes the iconic Armagnac brandy-producing area.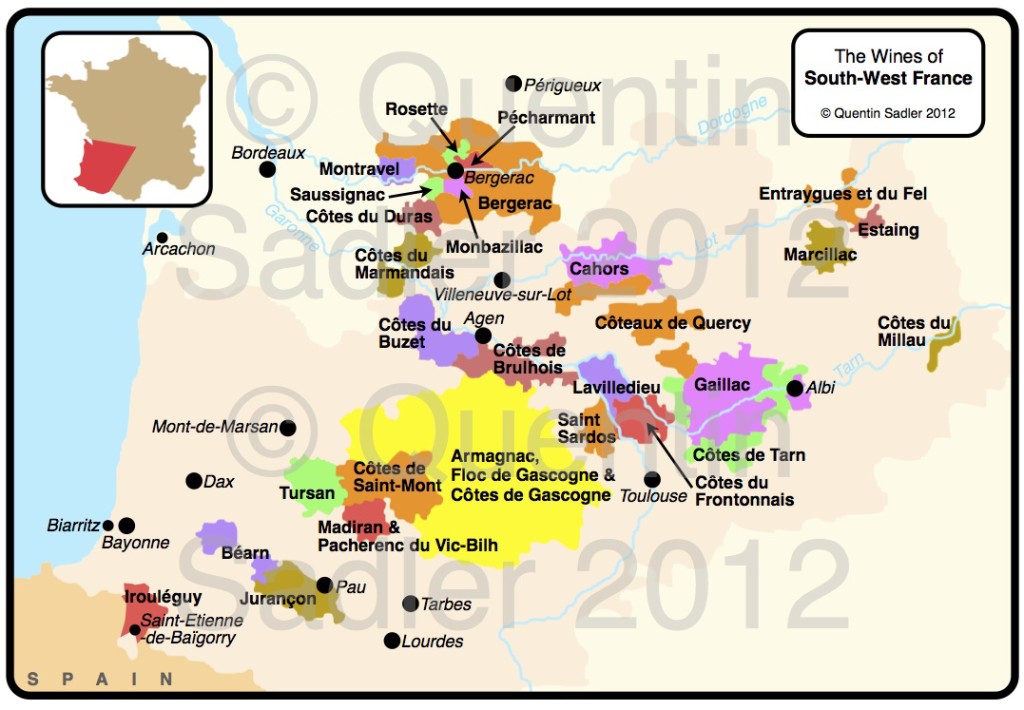 According to the Wines of Southwest France website (a wonderful resource) the region has a feel and a lifestyle all its own. Located off the beaten path from the bustle of Paris or Lyon, life in the southwest is more relaxed. For the French who live in other parts of the country, the southwest is the place to go for a relaxing weekend getaway.Here they can explore vineyards, enjoy the celebrated regional cuisine (think foie gras and duck confit), shop at local markets, fish in the Pyrenees, tour hilltop castles, admire prehistoric cave paintings or the art of Toulouse-Lautrec, or hike the Lot River valley. And for those who want sand and surf, the Atlantic coast offers 100 miles of beach, ending at the luxury resort city of Biarritz.
In My Glass
Pacherenc du Vic-Bilh is a white wine appellation specializing in sweet white wines.  It is right next door to the red wine appellation Madiran, which specializing in red wine made from the Tannat grapes.  The two appellations cover the exact same viticultural area, and is roughly 65 miles from both the Pyrenees and the Atlantic.
While the appellation is renowned for its late harvested sweet white wine made from made from various combinations of Petit Courbu, Petit Manseng, Gros Manseng, Courbu Blanc and Arrufiac, it also produces a  dry white wine style – Pacherenc du Vic-Bilh Sec.   My wine, the 2014 Château Viella Pacherenc du Vic Bilh Blanc is such a wine. 
As for the appellation's curious name? Pacherenc refers to the rows of vineyard stakes that covered the landscape before the 19th century phylloxera plague, while Vic-Bilh means "old country" in the local dialect. – Wines of Southwest France
Chateau Viella has been run by the Bortolussi family since 1952.  Alain, who represents the third generation of winemakers, manages 25 hectares (62 acres) of vineyards in both the Madiran and Pacherenc du Vic Bilh appellations.  The Château Viella is situated in an imposing 18th century that overlooks its vineyards.  The building, which had been abandoned for more than a century,  has been recently rebuilt and now houses its vaulted cellars, a splendid storehouse of wine barrels.  The first floor is reserved for wine events and receptions.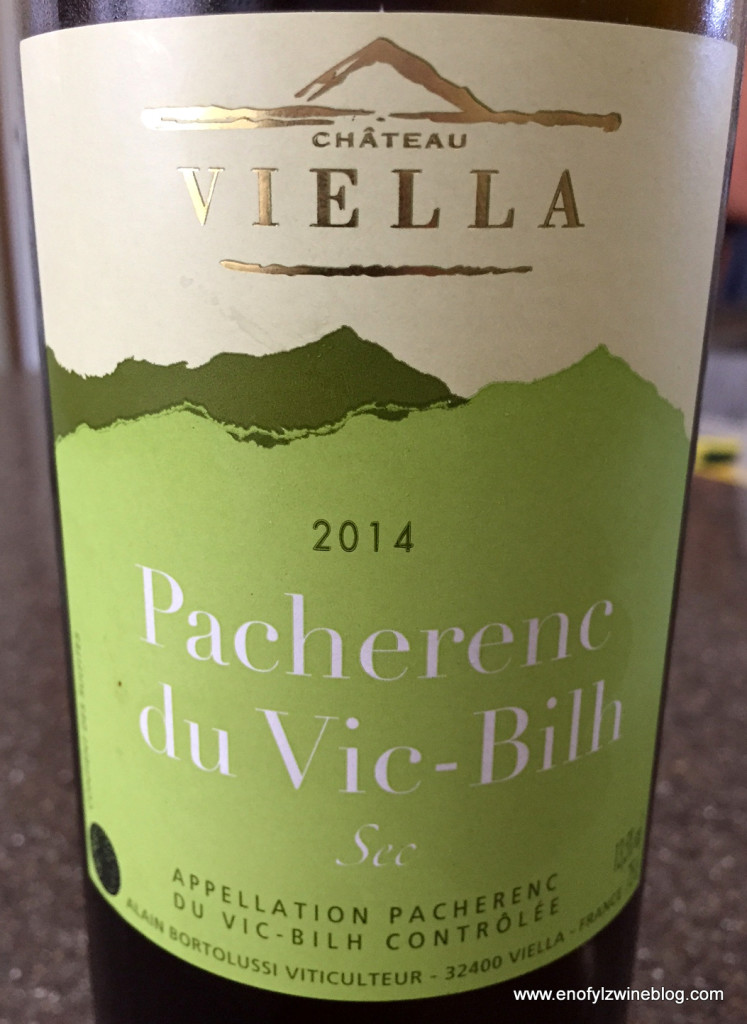 My tasting notes follow:
Pale golden-yellow color with apricot, quince paste, white flower, lemon aromas accented with wet stone. On the palate it's between medium and full-bodied and fresh with apricot, quince, Meyer lemon, subtle sweet spice flavors with an appealing minerality. Medium finish. Blend of 60% Gros Manseng, 20% Petit Manseng, and 20% Arruliac. 13.5% abv. SRP – $13.
This is a wine I'd buy again in a heartbeat, especially if considering a white wine with racy acidity that has some weight to pair with weightier dishes. It's a delicious wine with a complexity not often seen at its $13 price point.  It drinks well above that! 
At The Table
Since we enjoyed this wine on the weekend, we took advantage of the opportunity, and paired it with take-out Thai of Combination Pad Thai, Pumpkin Curry, Crab-Fried Rice and Choo-Chee Fish Fillet (steamed tilapia in red curry.)  The wine paired well across the dishes, but it paired especially well with the Choo-Chee Fish Fillet and Pumpkin Curry!  The spice in the food and the wine complemented one another and the zesty acidity of the wine was had me ready for my next fork full of Thai deliciousness.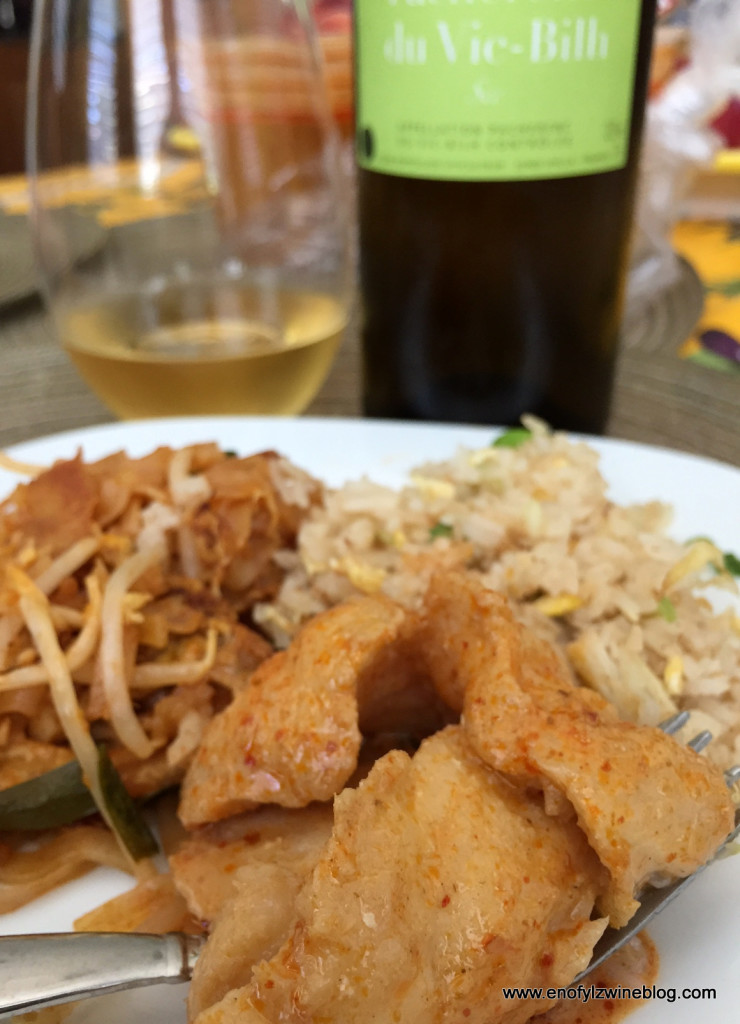 And for dinner we paired it with Smoked Salmon Carbonara I prepared…
Wow! What a great pairing!  The weight of the wine and the food were a match and the acidity of the wine cut the richness of the dish nicely.
Be sure to check out what my fellow #Winophiles have in their glasses and on their plates for out Southwest France theme! And remember to join our chat!
Join our chat on Saturday at 8-9am PDT (11am EDT, 10am CDT, and 1700 hours in France)! See what we think of Southwest France, and tell us about your experiences with the wine, food, or travel in the region! Simply log into Twitter and search for the #winophiles tag, and you're in!
________________________________________________________________________
Follow me on Twitter, Facebook, Instagram, Vivino and Delectable, for all things wine.  As a wino with latent foodie tendencies, you'll also find food and wine pairings, and food related stuff! Become a fan and join ENOFYLZ Wine Blog on Facebook. Cheers!
Copyright Notice: This entire site is Copyrighted 2010-2017. All Rights Reserved. No unauthorized copying of any section of this site is permitted. If you wish to use any part of this site, contact me. For information on Copyright Law, see the official U.S. Copyright Office home page.