I was introduced to Troon Vineyard last year when I attended the 2016 Wine Bloggers Conference ("WBC") in Lodi, California.   The conference featured  a Live Blogging segment where winemakers are given five minutes to pour their wine, present their story, and answer questions from a table of bloggers.  At the end of five minutes, the winemakers rotated to a new table, and the bloggers analyzed and described their impressions live via social media or their blogs. 
Perhaps the most memorable of the wines presented for me, was the 2014 Troon Vineyard Malbec poured by Troon GM, Craig Camp, who I knew from his time as Managing Partner at a winery in Napa.
The Malbec was outstanding!  It had a supple, harmonious plum, cassis, and subtle spice character with a refreshing acidity and a long finish.
When I was presented with the opportunity to participate in the #WiningHourChat * that featured Troon Vineyard, I replied yes, quick, fast and in a hurry!
*The #WiningHourChat  is held weekly on Tuesdays 9pmEST .  It's a chance for wine lovers to  taste and talk about wine via Twitter.  It's hosted by  founder Li, Cara & Maggie.  It's a fun way to learn about wine, while getting social with other like-minded wine enthusiasts!
About Troon Vineyard
Troon Vineyard has over 40 years of history in Southern Oregon; the original vines were planted in 1972 by Dick Troon and for a number of years farming and selling the grapes to local wineries.  Deciding the real solution to the business was creating his own wines Dick converted his barn to a winery.  He continued building the brand until 2003 when he sold the winery to his friend Larry Martin to create a new era for both Troon and Southern Oregon wine business.
Surrounded by the Siskiyou Mountains we are making natural wines using natural yeast fermentations, creative co-ferments and sustainable farming. – Craig Camp; General Manager- Troon Vineyard
In 2003 Larry Martin, native Oregonian, successful businessman and wine collector, took over the winery and began a new era. All of the original buildings and landscaping were removed to create what is there today.  Troon Vineyard was reborn: under the leadership of Martin a beautiful tasting room was built, larger and more modern production facilities established, new vineyards planted, and a diversity of varietals were introduced to become a permanent part of our program.  A second tasting room in Carlton Oregon was established as the business grew and continues to grow. Troon wines have been extended to include world class Vermentino, Syrah, Tannat, Malbec, beautiful white and red blends; as well as our originally planted Cabernet Sauvignon and Zinfandel under the direction of Martin.  Troon Vineyard
Wines Tasted
The tasting featured three wines:
My tasting notes follow: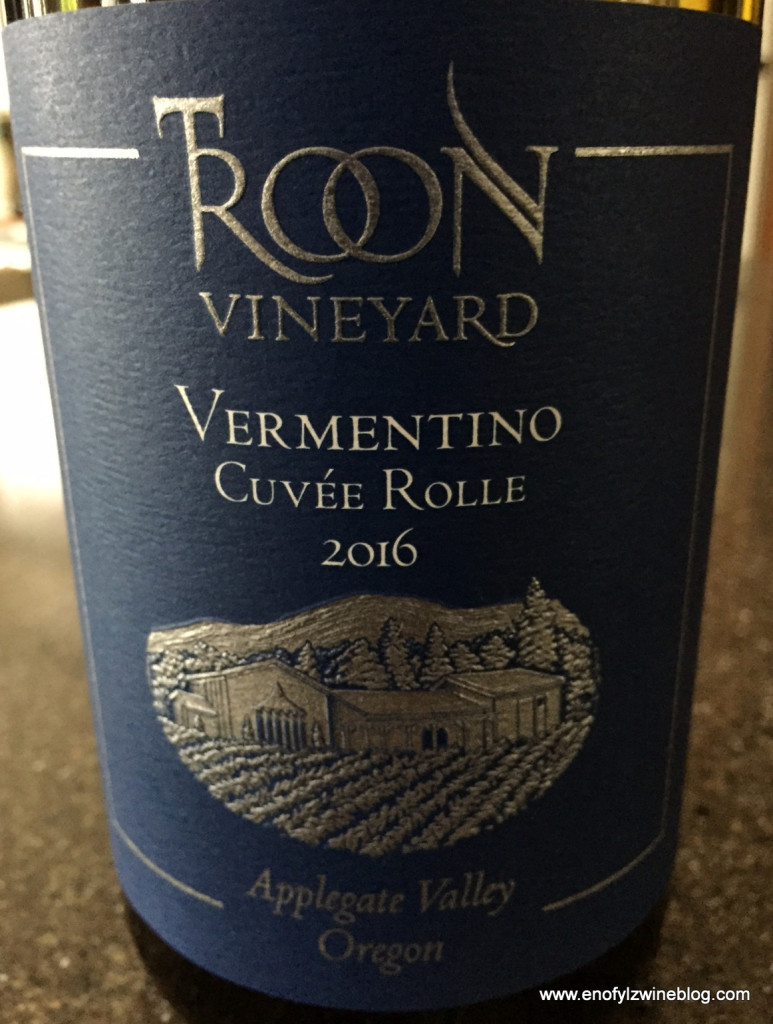 2016 Troon Vineyard Vermentino Cuvée Rolle – USA, Oregon, Southern Oregon, Applegate Valley
Very pale yellow-green color with a bewitching array of perfumed and compelling aromas including quince, citrus, yellow plum, honeysuckle and a hint of patchouli. On the palate, it's medium-bodied with a supple texture nicely balanced by vibrant acidity. It show pear, pineapple, quince, guava, and lime flavors with an appealing kiss of salinity and long finish. A blend of 90% Vermentino and 10% Marsanne that was co-fermented on native yeast in mature French Oak barrels. 12.5% abv; SRP – $20 (91 pts.)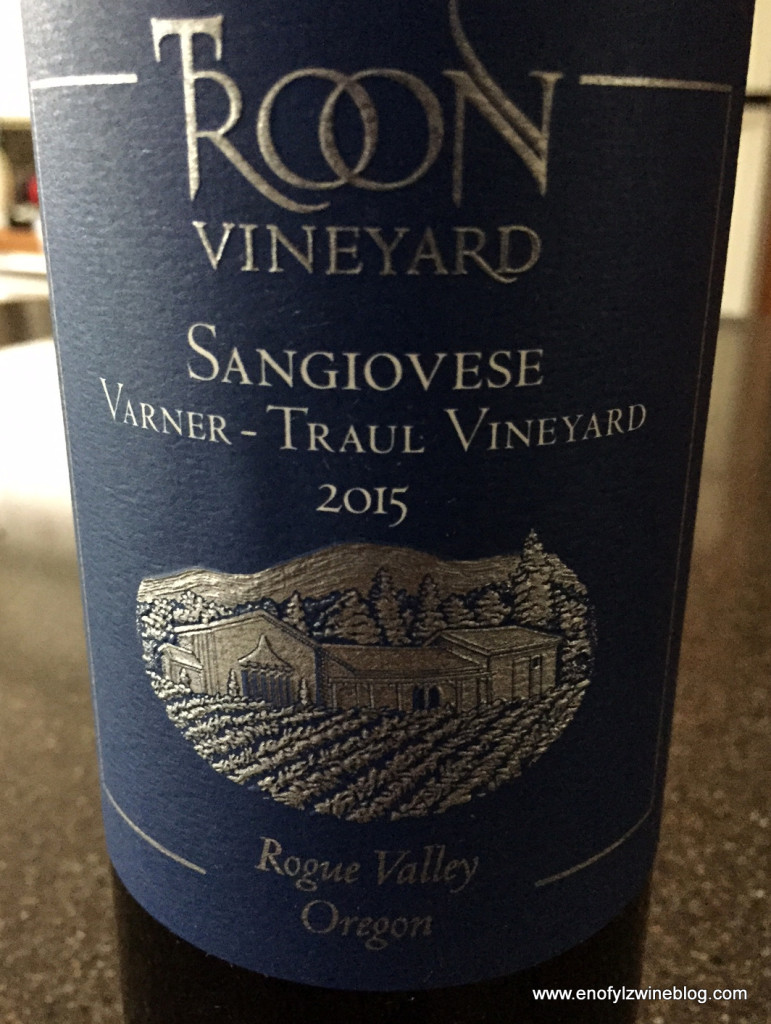 2015 Troon Vineyard Sangiovese Varner-Traul – USA, Oregon, Southern Oregon, Rogue Valley
Translucent ruby color with very appealing and aromatic cherry, floral, wet clay, and warm spice aromas. On the palate, it's between light and medium-bodied, and juicy with mouth-watering acidity and well-integrated soft tannins with enticing black cherry, candied strawberry, spice and a kiss of blueberry flavors with a lingering, savory and delicious finish. 100% Sangiovese that was foot-trodden. Raised in mature French Oak Burgundy barrels for 16-18 months. 14.4% abv; SRP – $35 (90 pts.)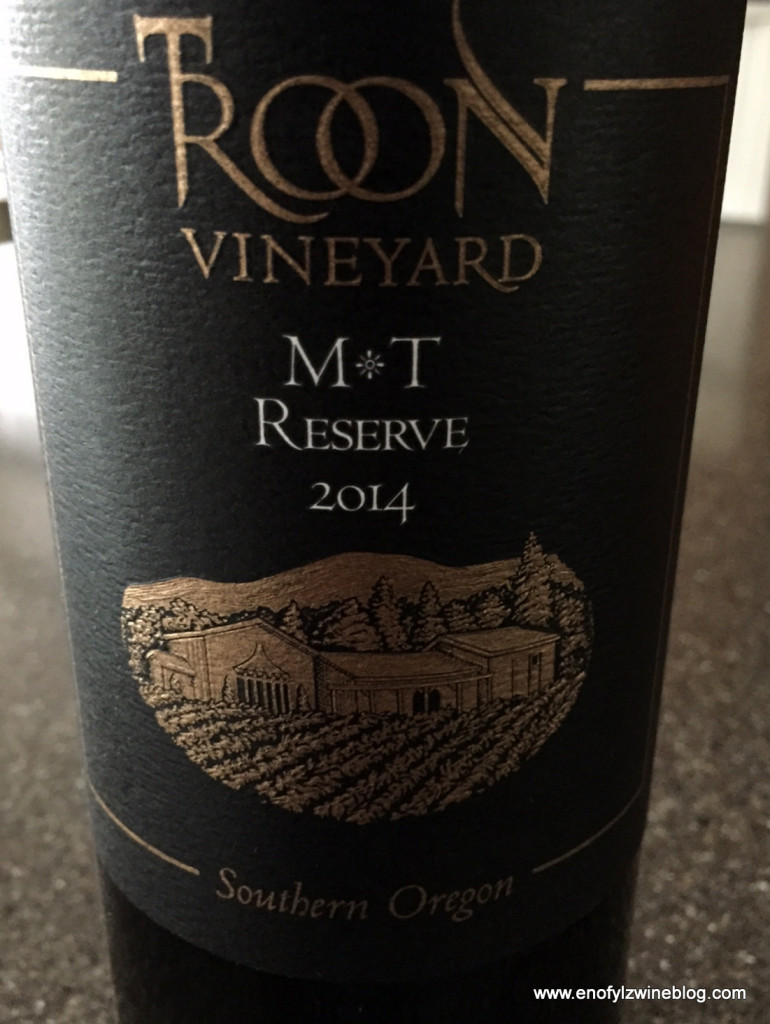 2014 Troon Vineyard M*T Reserve – USA, Oregon, Southern Oregon, Applegate Valley
Dark ruby-red violet color with expansive and alluring black fruit, earth, and violet, and a hint of fresh strawberry aromas. On the palate it's medium-bodied and harmonious with a very appealing lush texture, nicely complemented by soft well-integrated tannins and moderate acidity. It shows blackberry, plum, tangy blueberry, dark chocolate, and subtle flavors with an appealing graphite minerality and a very giving finish. Blend of 40% Malbec and 60% Tannat. Grapes were foot-trodden, and then co-fermented. Raised in mature French Oak Burgundy barrels for 16-18 months. 14.4% abv SRP – $50 (91 pts.)
I though all three wines were outstanding. The common thread among the wines is there harmonious character and freshness.  I also appreciate Troon's minimal intervention style of winemaking featuring native yeast fermentation and  creative co-fermentations.  I highly recommend all three and that you get some Troon in your wine glass!
Disclosure of Material Connection: I received these wine free from Troon Vineyard for the #WiningHourChat virtual tasting.  I was not required to write a positive review and the opinions I have expressed are my own.
________________________________________________________________________
Follow me on Twitter, Facebook, Instagram, Vivino and Delectable, for all things wine.  As a wino with latent foodie tendencies, you'll also find food and wine pairings, and food related stuff! Become a fan and join ENOFYLZ Wine Blog on Facebook. Cheers!
Copyright Notice: This entire site is Copyrighted 2010-2017. All Rights Reserved. No unauthorized copying of any section of this site is permitted. If you wish to use any part of this site, contact me. For information on Copyright Law, see the official U.S. Copyright Office home page.