Earlier this week I had the opportunity to participate in the #WineStudio June Rosé program (see below for more information) featuring three Rosés from Domaines Paul Mas.  The virtual tasting included one sparking wine and two still wines.
 The Rise Of Rosé in the U.S.
Anecdotally, I was aware of the rise in popularity of Rosé (a.k.a. blush wine, pink wine) in the US.  There are more choices than ever (and seemingly a concomitant rise in prices) especially the dry style of rosé.   According to the Beverage Trade Network, here are some highlights of rosé consumption in the US:
Rosé consumption in the US has been on the rise for the past decade.
US rosé wine sales are better and more diverse than ever including emerging brands and bottles that get beyond the obvious fruity style.
The United States is currently ranked as the world's third largest producer of rosé wine and is gaining ground as the trend shows its longevity year after year.
The only segment of the US wine market that is growing faster than the 'premium dry rosé' category is the '(sweet) red blend,' according to recent data out of California.
US rosé imports are on the rise as consumer tastes shift from sweet blush wines to drier rosés.
Together, France and the US consume nearly half of the annual 594.4 million gallons of rosé produced globally.
Exports of rosé from Provence, France outpace other regions.
Google search volume for 'rosé-wine' has been on the rise for nearly a decade, an increase in market reach and consumer interest.
It would seem that rosé has risen gone from being "just" a popular drink among hard-core wine enthusiasts who appreciate its refreshing and food-friendly character, and the diversity of styles available to the main stream wine consumers who have brought into rosé as a lifestyle choice because of the image drinking rose perpetuates (i.e. by drinking rosé you're transported to a summertime drive along the French Riviera, and living a carefree life.
"The success of rosés is due to many factors including price, versatility, not being a pretentious wine, offering a new wine category for millennials to absorb etc., but the principal factor of its success is the image it perpetuates." –  Pierrick Bouquet, founder of La Nuit en Rosé Festival, the world's first wine festival dedicated exclusively to rosé
Domaines Paul Mas
Jean-Claude Mas has blazed the trail for premium winemaking in the Languedoc region of the South of France. Since taking the helm of the centuries-old Domaines Paul Mas in 2000, his driving mission has been to use only premium quality grapes to craft superior wines with a modern, New World flair.  Above all else, this innovative, fourth-generation vintner, and first-generation vigneron strives to make wines with authenticity and refinement, the end result of which is a family of magnificently charming wines that burst with personality and express their unique terroir.
"Luxury does not always equate to quality. We are all about quality, which is, by its very nature, luxurious.  Jean-Claude Mas; Founder and Executive Manager, Les Domaines Paul Mas
Domaines Paul Mas owns more than 600 hectares of vineyards, and work in partnership with grape growers across an additional 1312 hectares of vines. This means we have access to 40 different grape varieties, both local and international, as well as an incredible range of different terroirs in the Languedoc.
There are eight brands under the Domaines Paul Mas banner.
The Wines
We tasted three wine from Domaine Paul Mas:
Côté Mas Crémant de Limoux Rosé Brut NV St. Hilaire Languedoc; SRP – $15.99
2016 Coté Mas Rosé Aurore​ Sud de France; SRP – $10.99
​2016 Arrogant Frog Rosé Languedoc; SRP – $9.99
My tasting notes follow:
Les Domaines Paul Mas Crémant de Limoux Côté Mas
This sparking Rosé  is a blend of 70% Chardonnay, 20% Chenin Blanc, 10% Pinot Noir grown on clay and limestone soils at an elevation of 820 to 920 feet above sea level.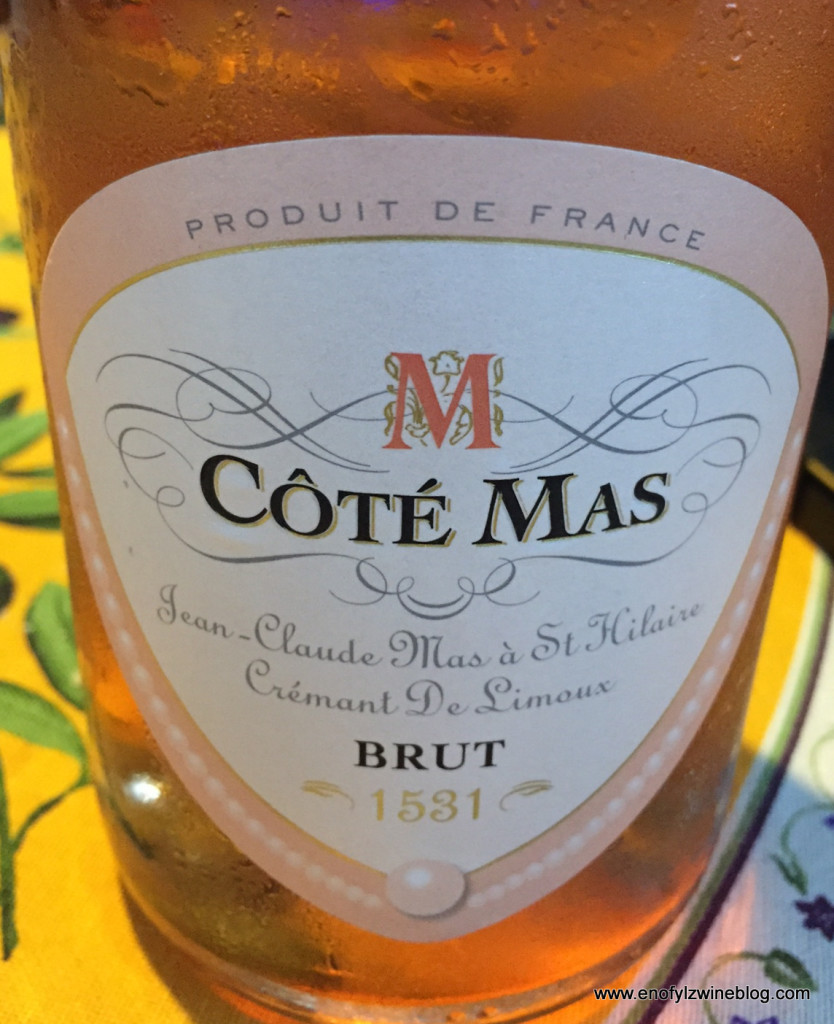 A pretty pink color with strawberry, raspberry, honeysuckle aromas accented with hints of rose and wet stone. On the palate it is medium-bodied, and very fresh with a moderately creamy mousse and alluring strawberry raspberry, pluot and blood orange flavors that gains intensity on the mid palate with a satisfying finish that shows a nice bit of minerality. (88pts – Very good).  
2016 Les Domaines Paul Mas Vin de Pays d'Oc Cote Mas
A blend of 50% Grenache, 30% Cinsault, 20% Syrah. 12.5% abv.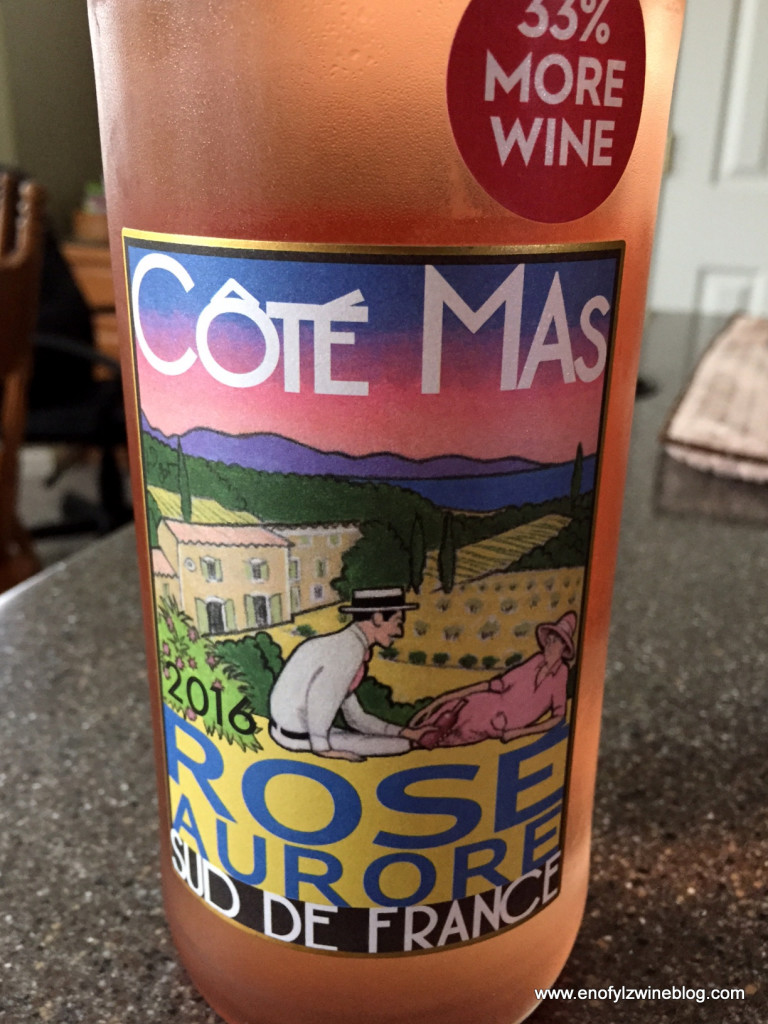 Pale salmon color with promising strawberry, cherry and wet stone aromas. On the palate it's light-bodied and fresh with candied strawberry, and juicy cherry flavors with just a hint of stone-fruit. Each sip is a taste of Provence!  With an SRP of $10.99 for LITER of wine of this quality blows my mind! Let's get this party started! (87pts – Very Good)
2016 Jean-Claude Mas Arrogant Frog Rosé
The Arrogant Frog is a "mascot" for Domaine Paul Mas brand.  These wines are all about showcasing Southern France  wines in a seriously fun way, and that gives pleasure at a reasonable price point.  Fruit for this wine is sourced from 20 hectares (50 acres) in the Limoux grand cru.
Pink color with a slight salmon hue with cherry, strawberry, white pepper, and a bit of brambly aromas. On the palate it's medium-bodied, dry and fresh with strawberry Jolly Rancher, cherry, peach, tangerine, and sweet spice flavors with a very giving finish. What I appreciate this wine is its body. The beauty of rosés is their diversity. This is what I'd call a four-season rose. It's got enough body to go with the more substantial fare one might enjoy in the fall and the winter, but is crisp enough for spring and summer too! For example, I paired it with St. Louis style Ribs with very good results. 13% abv. 100% Syrah. Great QPR here. Best under $10 Rose I've had in a loooooong time! 13% abv. 100% Syrah (88pts – Very good).
About #WineStudio
#Winestudio is an interactive beverage education and brand marketing program organized via social media. Each month a different theme is selected and an online conversation is built around that topic, creating focused content and media that provide value for both the participants and brands.
Check out the rest of the #winestudio June Rosé  program  schedule:
13 June – Arinzano; Twitter handle – @Arinzano_US 
The Arinzano Estate has been the darling of #winestudio May program, with its DO Pago status and its environmentally friendly World Wildlife Fund award. Of course there's no need to stop the momentum so we're back with the crew to taste the wildly popular rosé.
Hacienda de Arinzano Rosé 2016 (100% Tempranillo) $20
20 June – Bonterra; Twitter handle – @bonterrawine
When you think of vacation, does rosé come to mind? For Bonterra winemaker Jeff Cichocki it certainly does! Crafted with a Provençal style in mind, the Bonterra rosé grapes hail from some of Mendocino's most exciting organic vineyards.​ We're joined by winemaker Sebastian Donoso,  who knows everything biodynamic!
​2016 Bonterra Rosé Mendocino (Grenache, Sangiovese, Nebbiolo) $16
27 June – Conn Creek Winery; Twitter handle – @conncreekwinery
Conn Creek winery was founded nearly 40 years ago,  focused primarily on what Napa Valley does best: Cabernet Sauvignon and other Bordeaux varieties. Mike McGrath started with Conn Creek back in the 1980s and perhaps is one of the longest tenured Napa Valley winemakers working for just one winery.
Occasionally Conn Creek makes a small lot of wine in a spirit of experimentation and fun, so this Rosé of Malbec is the result of their most recent experiment with just 67 cases produced!
2016 Conn Creek Rosé of Malbec, Antica Vineyard, Atlas Peak, Napa Valley $24
​
We're joined by:
Alyssa Taylor Enologist @alyssaataylor
Christina Starr Communications Manager, Luxury & Import Wines St. Michelle Wine Estates @conncreekwinery
Tracey Hoff Visitor Center Manager | Conn Creek Winery  @Tracey914 ​
My Take Away
These are three charming and affordable Rosé wines, I recommend in  a heartbeat, especially the two still wines which drink well above their price point an offer exceptional quality for the price ($11 for a lite of Rosé -are you kidding me)!
If you're a rosé wine lover, you owe it to yourself to check out these chats to find out more about rosé and get introduced to some interesting producers! Follow the hashtag #winestudio 6pm PDT Tuesdays on Twitter – pour yourself  and glass of wine and join the conversation!
Disclosure of Material Connection:  I received wines at no cost from Domaine Paul Mas and #Wine Studio. I was not required to write a positive review and the opinions I have expressed are entirely my own
________________________________________________________________________
Follow me on Twitter, Facebook, Instagram, Vivino and Delectable, for all things wine.  As a wino with latent foodie tendencies, you'll also find food and wine pairings, and food related stuff! Become a fan and join ENOFYLZ Wine Blog on Facebook. Cheers!
Copyright Notice: This entire site is Copyrighted 2010-2017. All Rights Reserved. No unauthorized copying of any section of this site is permitted. If you wish to use any part of this site, contact me. For information on Copyright Law, see the official U.S. Copyright Office home page.