The Livermore Valley is the wine region that is closest to my home.  It's only 30 minutes away.  Given its proximity to where I live,  one might think I would be a frequent visitor.  But for various reasons that hasn't been the case.  But when I do visit the Livermore Valley,  I always consider a visit to Wente Vineyards.
That's why it's the Livermore Valley winery I've visited the most.  As such, I know a thing or two about their rich history and significance of family's contributions to viticulture and winemaking in the Livermore Valley – especially Chardonnay.
As a bit of a wine geek (OK…maybe a lot), I knew that approximately 80% of all California Chardonnay is derived from the Wente Clone imported by Ernest Wente. 
Think about that about 80% of the Chardonnay grapes in California (and essentially by extension, the United States) trace their genetic roots to the Wente clone!
What is it the makes the Wente clone so desirable?  According to Karl Wente, in an interview with Christopher Barnes published on the Grape Collective, the Wente clone grapes offer "just incredible fruit aromatics and a little bit of a musty characteristic as well. It brings this apple, pear, citrus and stone fruit with apricot, but then also this really cool floral hint in the background. I think because of those characteristics, it's why California Chardonnay is what it is where you can barrel ferment it and put a reasonable amount of new oak on the wine but it still has the fruit characteristics and that fruit intensity to hold up to it"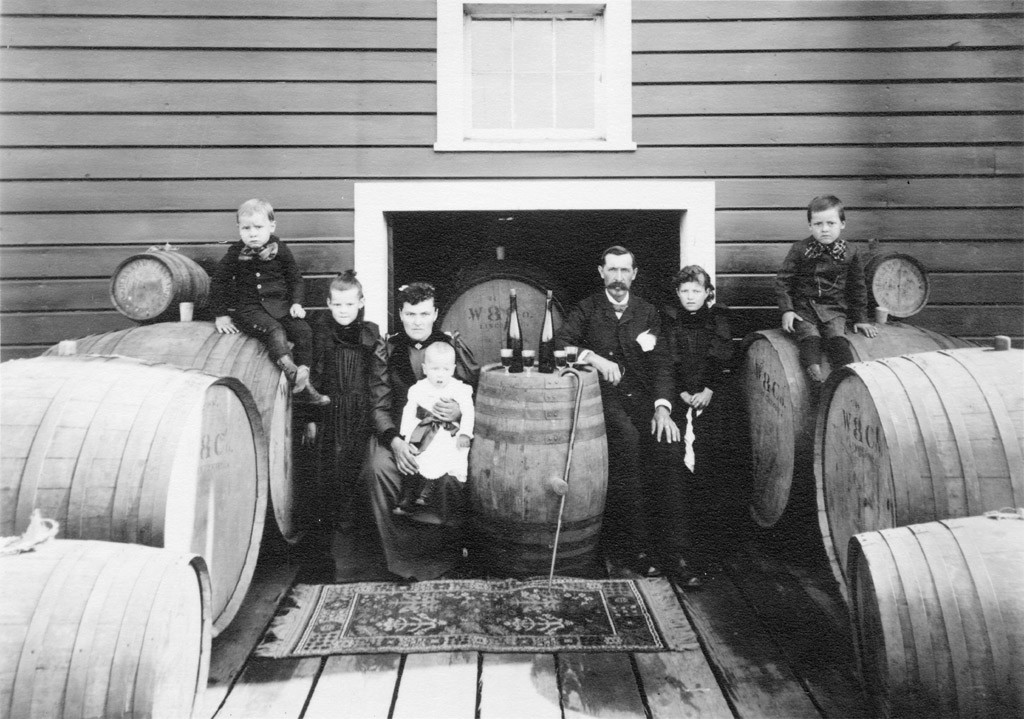 Here are a few other things I didn't know about the Wente Family and Chardonnay
In 1912, Ernest Wente Imported Chardonnay Cuttings from France. Ernest Wente persuaded his father and winery founder, C.H. Wente, to import Chardonnay cuttings from the vine nursery at the University of Montpellier. Around the same time, he obtained Chardonnay budwood from the Gier vineyard in Pleasanton and planted them in the Livermore Valley. Over the next 30-40 years, Ernest selected vines that showed favorable traits, and re-planted them to establish the Wente Clone of Chardonnay.
Wente Vineyards Released The First Varietally Labeled Chardonnay.  Herman and Ernest Wente released the nation's first varietally labeled Chardonnay, a 1936 vintage.
The 1959 Vintage of Wente Chardonnay was Declared the Finest White Wine in America.  Wente Chardonnay achieved international acclaim when the 1959 vintage was reviewed by Robert Balzer of the Los Angeles Times and reprinted in 1960 by the prestigious Michelin Guide, declaring Wente Chardonnay the finest white wine in America, equal to the great white wines of France.
The Wente family winery, founded in 1883 is the 

oldest family winery operating in the United States.  Today they have nearly 3,000 acres of estate vineyards, but they are still growing grapes and making wine from the original 48 acres property purchased by founder C.H. Wente.  Wente is 100% estate
Such a remarkable history for an iconic family crafting wines from Chardonnay, an iconic grape variety!
Now for a taste of Wente Chardonnay!
I received a couple of bottles of Wente Chardonnay as samples for review.  Following you'll find my tasting notes: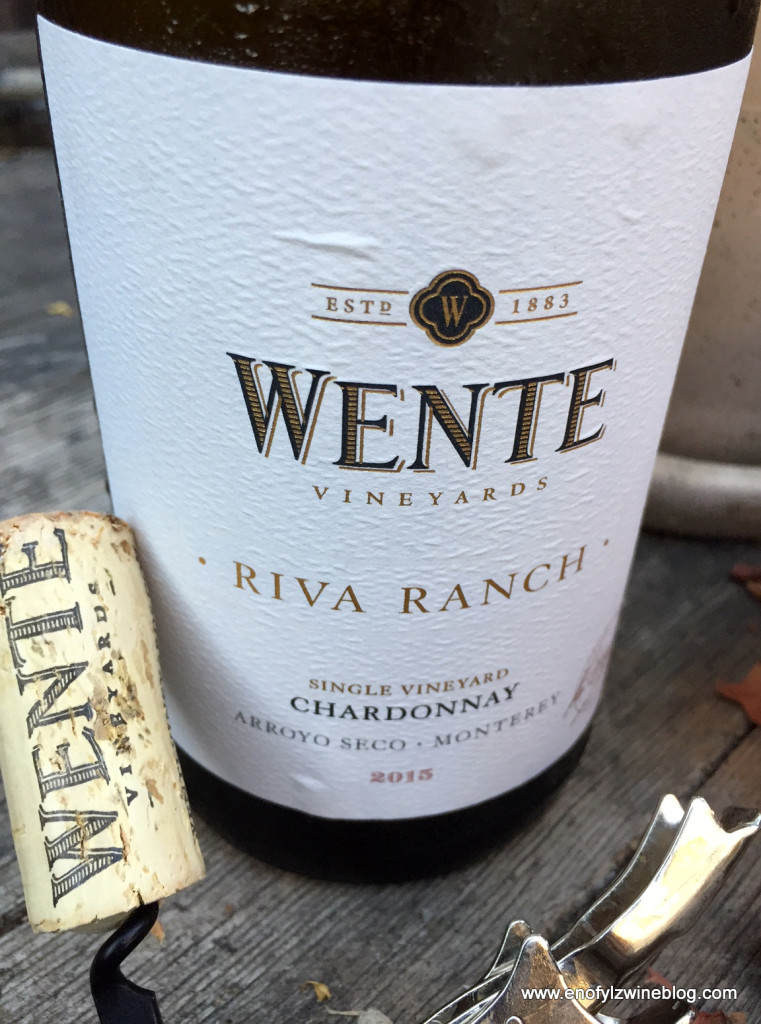 2015 Wente Vineyards Chardonnay Heritage Block Riva Ranch – USA, California, Central Coast, Arroyo Seco
Pale golden-yellow color with pear, yellow apple, pineapple, lemon peel and vanilla aromas with a hint of toasty oak. On the palate it's approaches full-bodied with a very appealing supple texture and good acidity with pear, baked apple, vanilla, lemon curd, pineapple flavors nice accented with hints of apricot jam, mango and baking spice and a very giving fruit-driven finish.A single vineyard cuvee composed of various clones including Old Wente Heritage Clones. The final blend was 98% Chardonnay; 2% Gewürztraminer; 14.5% alcohol. The wine underwent malolactic fermentation and was barrel-aged sure lie for 8 months. (89 pts.)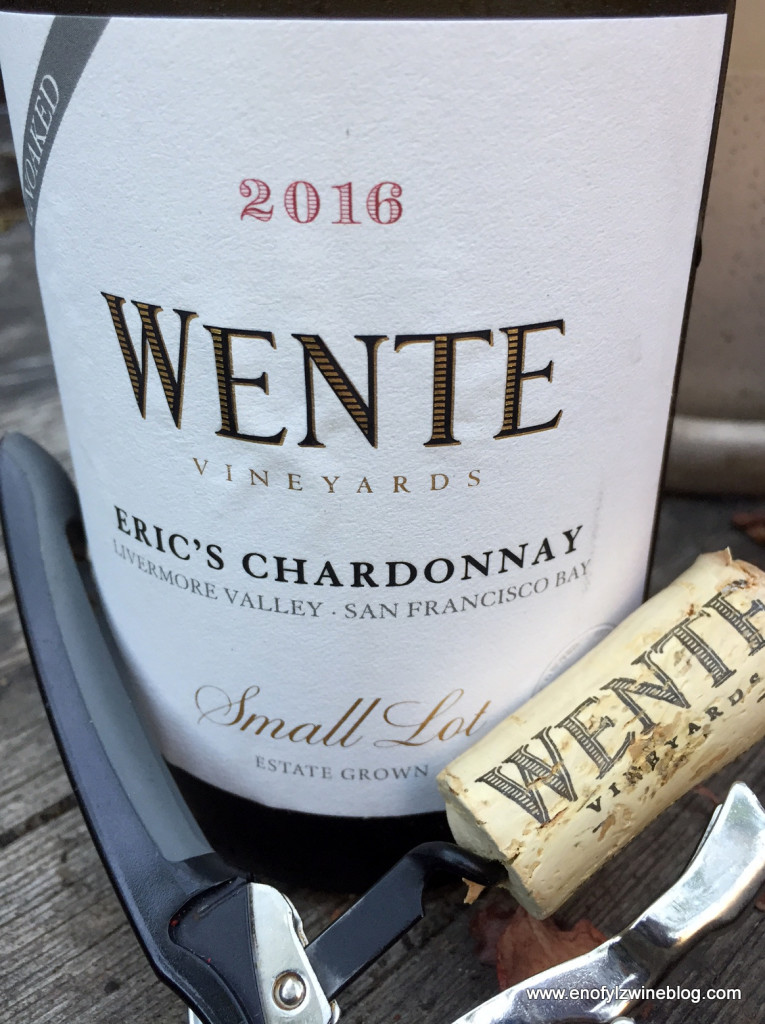 2016 Wente Vineyards Chardonnay Eric's – USA, California, San Francisco Bay, Livermore Valley
Very pale straw color green apple, lemon peel, pear aromas accented with hints of tropical fruit, white flower and wet stone. On the palate the wine medium-bodied and very fresh with vibrant acidity and green apple, lemon, mandarin orange, and white peach and a hint of vanilla flavors with a long mouth-watering, mineral driven finish. SRP – $30; 100 % Chardonnay; 13.5% abv. Raised in stainless steel including 4 months of sur lie aging. (91 pts.)
These two wines were delightful exemplars of the diversity of styles of Chardonnay in the Wente portfolio.  The Riva Ranch is for fans of the smooth, rich style of Chardonnay, while the Eric's is for fan's of unoaked Chardonnay.  Both are delicious well-made wines, at attractive price point – value wise.
Today, Fifth Generation Winemaker Karl D. Wente continues the family's legacy of Chardonnay. There's something for everyone.  In addition to the two wines I sampled Wente makes two other styles of Chardonnay – the Morning Fog Chardonnay and their flagship the Nth Degree Chardonnay.
________________________________________________________________________
Follow me onTwitter, Facebook, Instagram, Vivino and Delectable, for all things wine. As a wino with latent foodie tendencies, you'll also find food and wine pairings, and food related stuff! Become a fan and join ENOFYLZ Wine Blog on Facebook. Cheers!
Copyright Notice: This entire site is Copyrighted 2010-2017. All Rights Reserved. No unauthorized copying of any section of this site is permitted. If you wish to use any part of this site, contact me. For information on Copyright Law, see the official U.S. Copyright Office home page.