My wife and I enjoy walking in our neighborhood.  Over the course of the past few weeks, each time we walked past this particular empty lot not from where we live, our olfactory senses was overwhelmed by fresh herbal aromas that hinted of licorice.  It looked like fennel to me.   And that's what it turned out to be….wild fennel.   I'm a city guy, so I was hesitant pick it ( the only other thing I've picked in the "wild" is Bay Laurel tree leaves).  But after walking by a few times and debating its safety for human consumption with my (also city-bred) wife, I finally decided to harvest some.   Of course, I then had to find out what to do with because I had zero ideas.  Fortunately, I found a recipe for Pasta con Finocchietto Selvatico (Pasta with Wild Fennel).   I made the dish and paired it with the 2012 Sandro Fay Valtellina Superiore – Valgella Costa Bassa.
On My Plate
The author of the recipe I found is Rosetta Costantino whose family's roots are in Calabria, Italy.  Her blog is Cooking with Rosetta.  
Not only did Rosetta offer her recipe, she provided some valuable information about wild fennel!
According to Rosetta…
This is the time of the year for wild fennel fronds.  The wild fennel that grows…in Northern California is the same variety, finocchietto selvatico, as the one that grows on the coastal areas of Southern Italy.
Wild fennel is not the same as the fennel that you buy at the farmers' market or at the produce store. In fact, wild fennel doesn't resemble it in any way at all. The domesticated fennel has a large edible white bulb, which is wonderful raw in salads and cooked in many different ways. Its fronds have very little flavor. Wild fennel, however, does not produce a bulb. Its edible parts are the springtime fronds and the summertime seeds. It has a very distinctive flavor of sweet anise.
Wild fennel grows in empty lots, meadows, roadsides–just about everywhere. During the spring the green fronds sprout from the old roots of the previous year. They then grow throughout the spring and summer into tall cane-like stems.
If you do decide to try foraging for wild fennel, she recommends don't collect from the roadside or other locations where the plants are exposed to car exhaust or dogs. Go in the back of a lot or in areas where people don't walk their dogs. Also take only a few fronds from each plant. Don't remove an entire plant.
Armed with such great info, I was ready to try her Pasta con Finocchietto Selvatico (Pasta with Wild Fennel) recipe.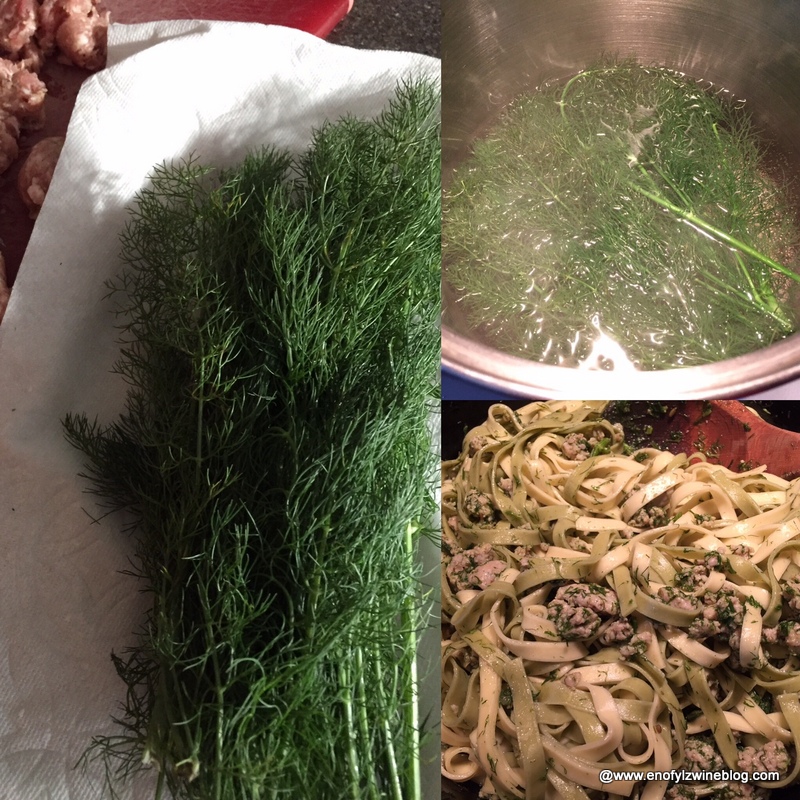 The only change I made to the recipe was swapping Fettuccine Paglio & Fieno (straw & hay) for the penne in the recipe because I thought it would be nice to have a bit of spinach pasta.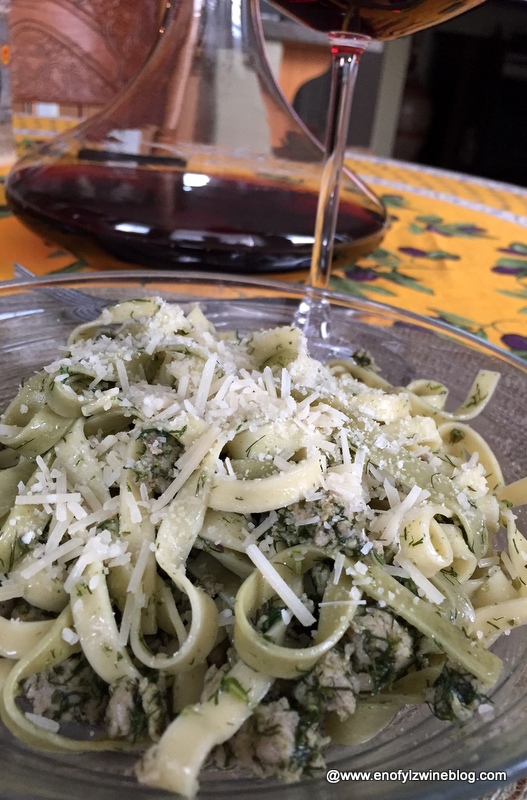 It's a recipe with a big ROI (return on investment – sorry it's the finance guy in me;-) In other words, preparing the dish requires little investment in terms of time or preparation, but the intense flavors of the wild fennel pays huge gastronomic dividends!
My wife, who had her doubts about cooking with wild fennel, was in love with this dish after the first bite.   And that makes two of us!
In My Glass
The  2012 Sandro Fay Valtellina Superiore – Valgella Costa Bassa is from Valtellina, an alpine valley about as far north as you can go in Lombardy region of Italy without crossing over into Switzerland.   Wine has been produced there for over 2,000 years.  These days it is best known for its bright, cherry-scented wines made from the Nebbiolo grape variety, known locally as Chiavennasca.  I'm a huge fan of Nebbiolo, and I sought out this region as a less expensive alternative to the Piemonte region's Barolo and Barberesco.

Valtellina is home to some of the most dramatic vineyard landscapes in the world.  It is the largest terraced wine region in Italy.
Within the Valtellina zone, the wines are defined by two basic quality levels. The base is simply Valtellina, which tends to be light-bodied and tannic.  A recognizable step up in quality, with richer textures and more complex aromas and  flavors, is Valtellina Superiore., which earned DOCG status in 1998.  There five  Superiore sub-regions:  Sassella, Grumello, Inferno, Valgella and Maroggia.
My wine is a Valtellina Superiore from the Valgellea sub-region.  It is 100% Chiavennasca from the municipality of Teglio. The vineyards are located at about 1,400 feet. It was fermented in stainless steel tanks for two weeks before spending 12 months in a large cask for ageing.
Translucent crimson color with promising red fruit, licorice and a bit of leather aromas. On the palate it's light-bodied, elegant and well structured with well-integrated dusty tannins and bright acidity. It shows baked cherry, a bit of raspberry, red licorice and a bit leather flavors with a mineral tinged lingering finish.  Very good to outstanding: 89-90pts
The wine is a nice value at $24, especially for Nebbiolo!  I would buy again!
Pair with : The wine was paired wonderfully with the dish!  I'd also consider with her-crusted lamb, wild mushroom risotto, or spinach linguine with truffle shavings!
_____________________________________________________________________________________________________________

Follow me on Twitter, Facebook, Instagram, Vivino and Delectable, for all things wine.  As a wino with latent foodie tendencies, you'll also find food and wine pairings, and food related stuff! Become a fan and join ENOFYLZ Wine Blog on Facebook. Cheers!Copyright Notice: 
This entire site is Copyrighted 2010-2017. All Rights Reserved. No unauthorized copying of any section of this site is permitted. If you wish to use any part of this site, contact me. For information on Copyright Law, see the official
U.S. Copyright Office
home page.