2007 Bonny Doon Vineyard Syrah Bien Nacido Vineyard – "The flavors are just as enchanting, if a bit feral, as the aromas showcasing boysenberry, black and red currant, olive, smoked meat and dark roasted nut flavors"…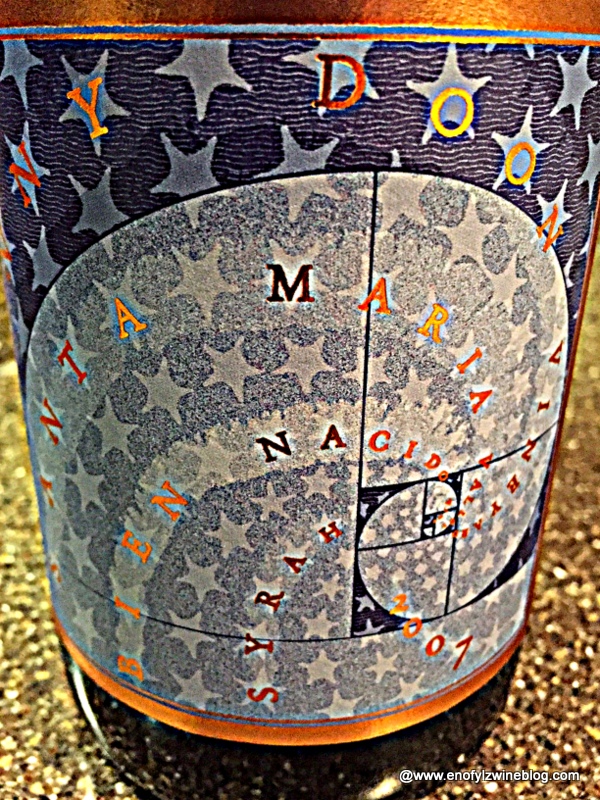 I must confess that when I purchased this wine, and I noted the vintage (almost 10 years old) and the screwcap, I was looking forward to putting the whole "screwcaps" doesn't age thing to the test.   Intellectually, I know that screwcaps are superior to corks in that there is no risk of the wine being "corked".  I actually prefer screwcaps wines, but I'd never had one more than a couple of years old.
The back label recommended an hour decant.  I went one better and double decanted the wine.  But not until after I nosed it and took a sip.  The decanting definitely helped!
My tasting notes
Opaque violet color with enchanting black fruit, green peppercorn, smoked meat, crushed rock, floral and a hint of mint aromas. On the palate, it's medium-bodied and very fresh with medium + acidity, and well -integrated velvety tannins. The flavors are just as enchanting, if a bit feral, as the aromas showcasing boysenberry, black and red currant, olive, smoked meat and dark roasted nut flavors and an overall appealing savory character with a long mineral driven finish. 13.5% alcohol. Outstanding (90-91pts)
13.5%abv |  Sample purchased for review
Pair with:  I think Syrah a bit underrated at the table, especially a cool climate Syrah such as this. We paired with Braised Chicken Thighs.  Consider Grilled Lamb Chops, Peppercorn Crusted Ahi Tuna, or Cassoulet.
About Bonny Doon Vineyards
Bonny Doon Vineyard, located in Santa Cruz, CA was established in 1983 by the inimitable Randall Grahm, a man of many interests, not the least of which is "thinking of fiendishly cunning stratagems for producing wines which express a sense of place and which actually make the world a more interesting burg". He's an interesting man. In fact, as I write this, based on what I know of him from his bio, and blogs about Bonny Doon, and social media, the first thing that popped into my head is that he could be the real life "Most Interesting Man in the World" (This from his Twitter profile – "Founder, Winemaker, Terroirist/Vinachrist and Prez-for Life @BonnyDoonVineyd, Defender of the Misunderstood and Underappreciated Doon-trodden Cépages of the Earth" – check out the bio here).  The wines Bonny Doon produces are a reflection of Grahm – they're thoughtful, eclectic, often unique, and interesting wines. )  Sure, the packaging is clever with inventive names, and beautiful art work.  But don't let the slick marketing fool you into thinking the wines aren't serious. Nothing could be further from the truth. The wines are seriously good.
About Popelouchum
I purchased this wine last year in conjunction with the Popelouchum (Pronounced: "Poh-puh-lou-shoom") Project (see below for more info).  It was part of the "Randall Grahm Mystery Case #2"; a collection of mixed wine from Bonny Doon Vineyard wine curated by Grahm himself.
According to Bonny Doon…We aim to create a truly unique, superior and nuanced wine, a "Grahm Cru," an expression of the unique terroirs of our Popelouchum Estate in San Juan Bautista.  We plan to do this by adopting a very unusual methodology – the breeding of 10,000 new grape varieties, each genetically distinctive from one another – and blending them into a unique cuvée that the world has not tasted heretofore. In so doing, we might also discover individual vines that are more congruent to our site as well as those that might have greater global utility – disease or drought tolerance – in a changing climate. We plan to employ biodynamic practice and use other techniques – some new-fangled (the use of biochar), some old-fangled (dry-farming), to grow grapes in a more deeply and truly sustainable fashion.
Popelouchum" is the Mutsun people's name for their historical settlement, located near San Juan Bautista.  The word can be translated as "village" and also, accurately enough, as "paradise."  
In Randall's words, "The farm has a special significance for me, representing the fulfillment of my lifetime dream of finding a site that speaks to my heart, where I might grow grapes expressive of unique and distinctive terroirs.  I first saw Popelouchum in my dreams before I observed it in 'ordinary reality.' It's where my legacy can live on long after I'm gone."
________________________________________________________________________
Follow me on Twitter, Facebook, Instagram, Vivino and Delectable, for all things wine.  As a wino with latent foodie tendencies, you'll also find food and wine pairings, and food related stuff! Become a fan and join ENOFYLZ Wine Blog on Facebook. Cheers!
Copyright Notice: This entire site is Copyrighted 2010-2017. All Rights Reserved. No unauthorized copying of any section of this site is permitted. If you wish to use any part of this site, contact me. For information on Copyright Law, see the official U.S. Copyright Office home page.