This month's Wine Pairing Weekend theme is all about trying a new wine in the New Year.  I'm revisiting an old friend, Mencia to bring in the New Year, and pairing it with a delicious healthy slow cooker Enchilada Quinoa.
My "history" with Mencia began, and effectively ended, a few years ago.  I forget exactly how I learned about the grape, but I recall my attraction to it was based on a description that the wine tasted like a cross between Syrah and Pinot Noir.   Those of two of my favorite grape varieties.  The first Mencia I tried was made from the Palacio family, whom were credited  with introducing the racy red wine to the world outside of its home, Bierzo (check out the Descendientes de J. Palacios Petalos for a great example of Mencia with which to start).
I very much enjoyed the wine.
My wife did not.
That was a few years ago, and we hadn't had any since.  Until New Years Eve a couple of weeks ago, when I spotted a Mencia by the glass at one of our favorite restaurants, Duende in Oakland.
I ordered a glass.
And to my surprise and delight, my wife very much enjoyed it too.
With that experience fresh in my mind, I decided to feature a Mencia for this month's Wine Pairing Weekend event.
About Mencia
Mencía (pronounced Men-THEE-ah) is a unique medium bodied wine that grows in  Bierzo DO in the northwest region of Spain and Portugal (where it is known as Jaen)  Some liken like it to Grand Cru Burgundy because of its' layers red fruit, floral aromas and moderate mouth-drying tannins.
The short story on Mencía is that it's found mostly in the regions of Bierzo and Ribeira Sacra, as well as Valdeorras. All are in the region of Galicia in northwest Spain. Mencía's origins are murky, but it's thought to have arrived with the Cistercian monks who settled in the area after making their pilgrimage to nearby Santiago de Compostela. (Some say it's even older, dating to Roman legionnaires. No one really knows.)

What happened next was that, what with phylloxera in the late 1800s and then various political upheavals in Spain, the Mencía grape descended into obscurity. It was only in the 1990s that it was "rediscovered" by the locals and treated with the winemaking respect and competence that it deserves. Today, Mencía is a Spanish star. – Matt Kramer
Others liken it to Loire Valley Cabernet Franc (in fact, the wine was once thought to be related to Cabernet Franc, but recent DNA testing has proven otherwise).
Either way, Mencia has become more renown in recent years.  It has evolved from a simple, regional grape variety used to make table wines to being recognized grape variety cable of producing interesting, complex and compelling wines.  Bierzo's multitude of old vines and dramatic, cool climate, high-altitude terroir have proved useful for the quality of the wines, helped along by improved viticultural methods and extra vigilance in the winery.
The grape variety is believed to be indigenous to the Bierzo region of Spain.
If you love Pinot Noir and other aromatic reds (like Gamay, or Grenache), then Mencía is worth checking out.
In My Glass
The 2013 Akilia Villa de San Lorenzo is sourced from multiple vineyards.  It was fermented in cement vats and part in French barriques with indigenous yeasts.  Thirty percent of the wine was matured in third-sue French barriques, while the rest was kept in stainless steel tanks until blending and bottling.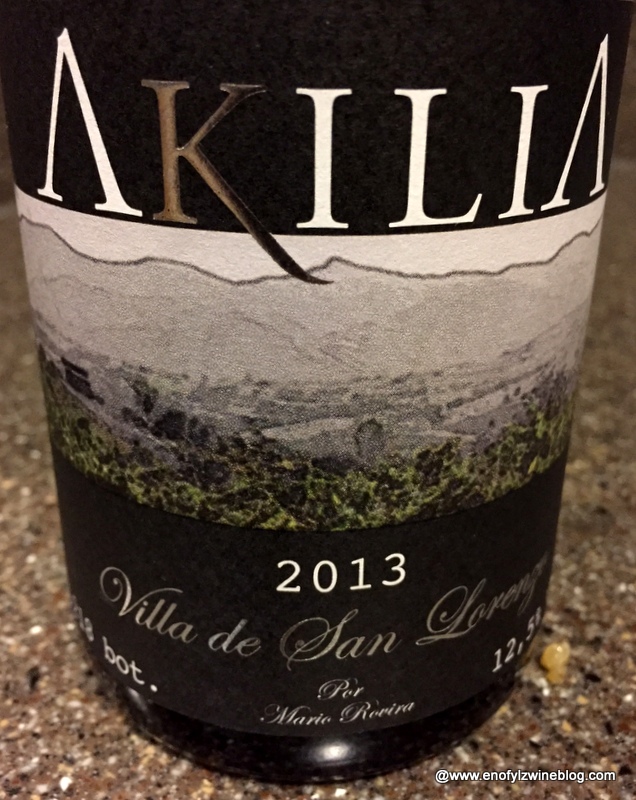 My tasting notes
The wine is a dark ruby with crushed gravel, black fruit, smoked meat and a hint of dried herb and white pepper aromas. On the palate it's between light and medium-bodied,  and full of finesse with vibrant  acidity, and firm well-integrated tannins that lend to its round structure.  It shows juicy blackberry, black cherry, and  pomegranate flavors with hints of strawberry and a stony minerality and a very giving finish – (Very good to outstanding; 89-90pts)  12.5% alcohol; SRP – $22
On My Plate
I picked the Slow Cooker Enchilada Quinoa recipe, because I love quinoa, Latin flavors and the idea of a weekday meal done in a slow cooker.
I was also looking for a healthy meatless recipe.
The recipe is a winner! It's full of flavor, healthy and a breeze to make in a slow cooker!
Enchilada Quinoa topped with fresh avocado! Yum! An instant favorite
I had a hunch the Mencia would be a good pairing with the dish because of its moderately high acidity and reputation for pairing well with dishes with tomato-based sauces. I also thought the flavor profile of this Mexican food inspired dish would be comparable to one of the Bierzo's most popular foods – Botillo del Bierzo, a spicy sausage .
I was right.  It was a wonderful  pairing. The wine enhanced the spicy character of the dish, and its vibrant acidity prepared my palate for the next delicious bite.
Winner, winner Enchilada Quinoa and Mencia for dinner!
Check out what other New Year, New Wine experiences my fellow Wine Pairing Weekend bloggers are bringing to our virtual table of good food and wine!
You can join the conversation about new wine and food pairings to go with it! Our live #winePW Twitter Chat will take place this Saturday, January 14, at 8 a.m. Pacific Time. Just tune into the #winePW hashtag between 11 and noon ET that day. Check out past and upcoming Wine Pairing Weekend events here.
________________________________________________________________________
Follow me on Twitter,Facebook,Instagram, Vivino and Delectable, for all things wine. As a wino with latent foodie tendencies, you'll also find food and wine pairings, and food related stuff! Become a fan and join ENOFYLZ Wine Blog on Facebook. Cheers!
Copyright Notice: This entire site is Copyrighted 2010-2017. All Rights Reserved. No unauthorized copying of any section of this site is permitted. If you wish to use any part of this site, contact me. For information on Copyright Law, see the official U.S. Copyright Office home page.