2012 Castello di Amorosa La Castellana – "between medium and full-bodied and fresh with an elegant, harmonious character"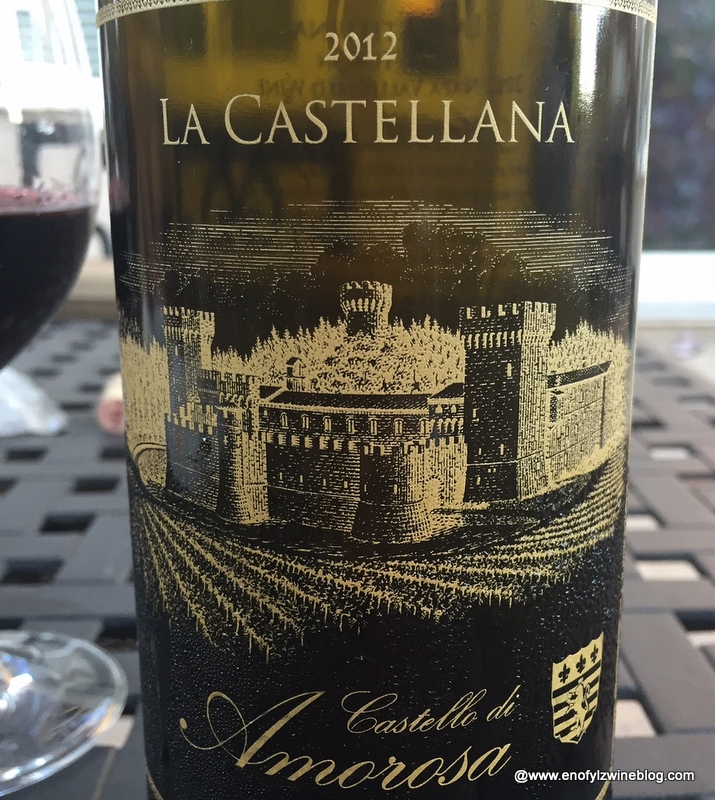 The inspiration for La Castellana comes from Italian Super Tuscans like Sassicaia, Ornellaia, and Tignanello.  It is a "Super Tuscan" blend of 76% Cabernet Sauvignon, 15% Sangiovese, 9% Merlot  aged 20 months in large French oak barrels.
Dark ruby color with expansive cassis, tobacco, black cherry, sandalwood, vanilla and a hint of floral aromas. On the palate it's between medium and full-bodied and fresh with an elegant, harmonious character showing well integrated firm, velvety tannins with ample black cherry, plum, black and red currant and a bit of dark chocolate flavors. Long finish. Approachable now with a decant, but you'll be rewarded cellaring a minimum of 5 years. Outstanding; 91-92pts.
14% abv | $98 (sample)| 3,436 cases
Pair with:  Lamb, sausage, grilled steak, or pasta dishes such as Wild Boar Ragu.
About Castello Di Amorosa
Castello di Amorosa is Napa Valley's own slice of Tuscany.  It's a winery with its own authentic Tuscan castle (Approximately 121,000 sq. ft., including 107 rooms on 8 levels above and below ground), and one of Napa's premier "destination" wineries.  While I'm not a huge fan of destination wineries because the wines often take a back seat to whatever the attraction is (they don't call Napa Valley "adult Disneyland for nothing;-), Castello di Amorosa is an exception.  In addition to a great experience touring an authentic Tuscan castle (complete with a torture chamber), you'll find plenty of  "better" and "best" wines rather than simply " good" wines.
The story is how the castle came to be is fascinating (click here for history of the project). When Dario Sattui, a fourth generation winemaker,  who also owns and operates the V. Sattui Winery, conceived the idea his thought was…
 I would specialize in making small lots of primarily Italian-style wines, showcase them in an authentic, medieval castle setting and sell them directly to the public, not in stores or restaurants.
Armed with his vault of medieval architectural renderings and another passionate dream, Sattui purchased a 171 acre vineyard property in Calistoga in 1993 and began construction of Castello di Amorosa Winery in 1994. Clearly, the success of V. Sattui Winery built the 121,000 square foot, 12th century style, authentic Tuscan castle winery. The Castello opened to the public in 2007(click here for complete history).
Castello di Amorosa offers a wide array of wines.  In addition to the wines one would expect to find at a Napa Valley winery, (Chardonnay, Cabernet Sauvignon, Merlot, and Zinfandel) they also offer three Gewüztraminers (dry, slightly sweet, and late harvest), various Red, Rosé, and White Italian varietals, Muscato Canelli port, and a slightly sweet, sparkling Rosé!
They produce about 8,000 cases a year.  The wines are only available at the winery, through its wine club, or online (www.castellodiamorosa.com).
________________________________________________________________________
Follow me on Twitter, Facebook,Instagram, Vivino and Delectable, for all things wine. As a wino with latent foodie tendencies, you'll also find food and wine pairings, and food related stuff! Become a fan and join ENOFYLZ Wine Blog on Facebook. Cheers!
Copyright Notice: This entire site is Copyrighted 2010-2017. All Rights Reserved. No unauthorized copying of any section of this site is permitted. If you wish to use any part of this site, contact me. For information on Copyright Law, see the official U.S. Copyright Office home page.