My wife and I spent just over three weeks in Italy last October.  So I was thrilled when I saw the theme for this month's Italian Food, Wine and Travel (#ItalianFWT) group of bloggers features Coastal Wine, Food and Travel!  "Perfect" I thought because among the multitude of highlights of our trip was time we spent in the coastal regions of Cinque Terre and the Amalfi Coast.   Since we brought back a bottle of red wine from the Liguria region at a  Enoteca da Eliseo (the multitude of quality enoteca's was definitely a highlight of the trip for this wine lover!) in Monterosso, I decided to feature that wine.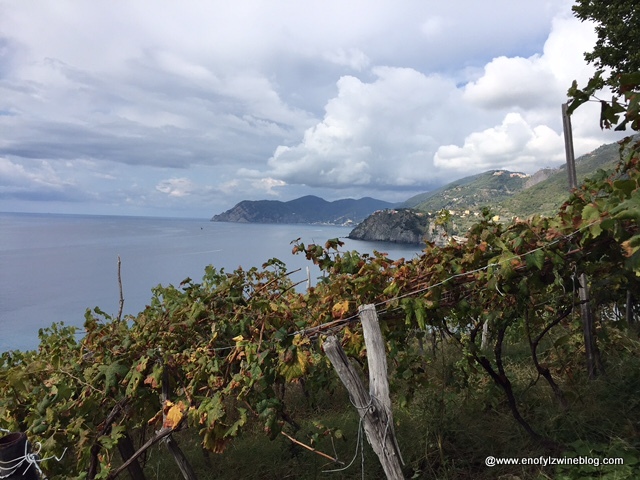 About Liguria Wine
According to Winesearcher.com "Liguria is a small coastal region renowned for its stunning landscape, running along Italy's Mediterranean coast between the French border and Tuscany. It shares the north-west of the country with its northern neighbor Piedmont. Known as the Italian Riviera, this thin, beautiful strip of rugged land with its Mediterranean climate and poor, stony soils is dominated by hills with sheer drops that almost fall straight into the sea. These steep elevations make vine growing a challenge, resulting in scattered vineyards (some can only be reached by boat) with limited production. In some areas the slopes are so steep that the land has to be cultivated by hand.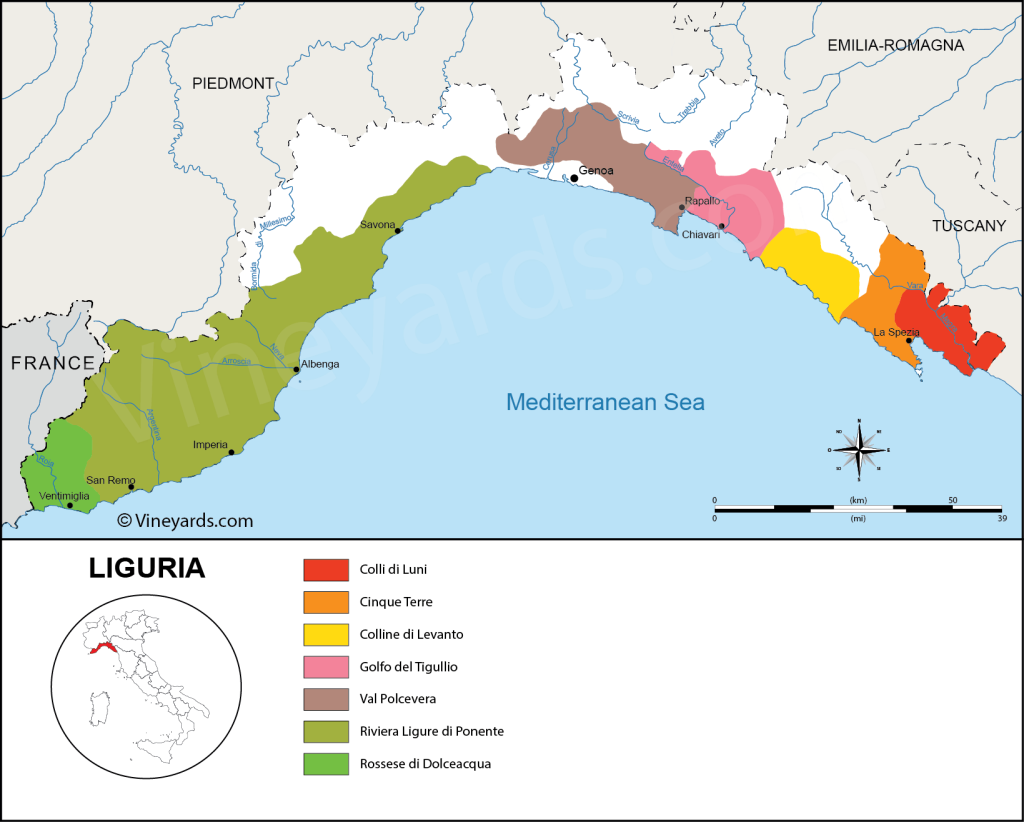 Further inland, the hillsides offer only marginally less vertical altitudes, and planting of vines is dense and compact; viticulture plays an essential role in the prevention of soil erosion and landslides. Despite this difficult environment, vines have been grown in this area for more than 25 centuries since they were introduced by the Etruscans and Greeks. Later, in Roman times, the most famous area to emerge was Cinque Terre (Five Lands), now a DOC, in the far east of the region.
Most wine is the work of small, artisanal producers who have to grow their vines on terraces carved from the rocky slopes. The steep elevations are a blessing too, as they protect the grapes near the sea from the coldest winter winds blowing down from the Alps. The soil's high limestone content is particularly good for white grapes, as it gives the wines their minerality. It is unfortunate that the wines are almost as difficult to find as the land is to cultivate; very few of these wines find their way across international borders".
Liguria is mostly known for its white wine of Vermentino (a.k.a. locally as Pigato for the spots (pighe) that appear on the mature grapes) which represent about 75% of the production of this small region.
In My Glass
Azienda Agricola Monterosso was founded in 2014.  It's mission is to restore and enhance one of the most fascinating and inaccessible territories of the Italian wine scene, the maintenance of the terraced vineyards  of Cinque Terre (a UNESCO World Heritage Site) overlooking the Ligurian Sea.  Ninety percent of their production is a light-bodied and dry white wine classified under the Cinque Terre DOC and the sweet Cinque Terre Sciacchetra. The remaining 10% is dedicated to the Terre di Levante Rosso.
The 2015 Terra di Levante Rosso is a blend of Sangiovese, Merlot and Syrah that was vinified and aged in barriques and Lees stirring and aged for about seven months.  It is classified as an "IGT" (Indicazione Geografica Tipica), a classification introduced in 1992 in order to acknowledge the wines that did not fit into the DOC category but were of superior quality to Italy's table wines.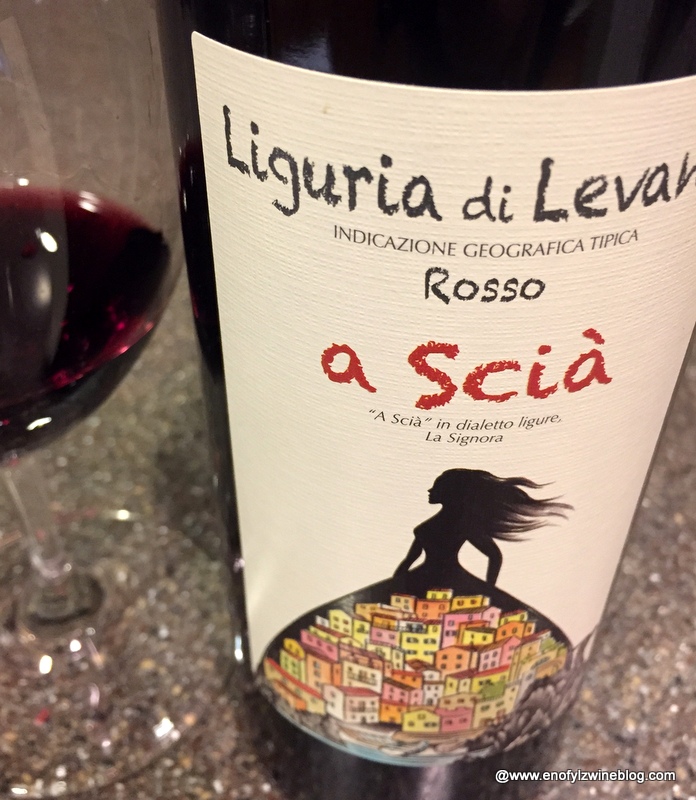 My tasting notes follow:
The wine opens with earthy black and red fruit aromas accented with a bit of olive tapenade and sandalwood.  On the palate, the wine is medium-bodied,  and fresh with well-integrated firm tannins and fruity, yet a bit savory black cherry, red currant, red plum, flavors accented with a bit of spice and graphite flavors with a satisfying finish.(Very good: 87-88pts)
Check out what my fellow #ItalianFWT have in their glasses and at their table from Italy's coastline!
If you're reading this early enough, please join our Twitter chat Saturday, January 7th at 8am PT/11am ET using the #ItalianFWT hashtag to chat about Coastal White and Red Wines, Foods and Travel around Italy's long coastline.
________________________________________________________________________
Follow me on Twitter, Facebook, Instagram, Vivino and Delectable, for all things wine. As a wino with latent foodie tendencies, you'll also find food and wine pairings, and food related stuff! Become a fan and join ENOFYLZ Wine Blog on Facebook. Cheers!
Copyright Notice: This entire site is Copyrighted 2010-2016. All Rights Reserved. No unauthorized copying of any section of this site is permitted. If you wish to use any part of this site, contact me. For information on Copyright Law, see the official U.S. Copyright Office home page.