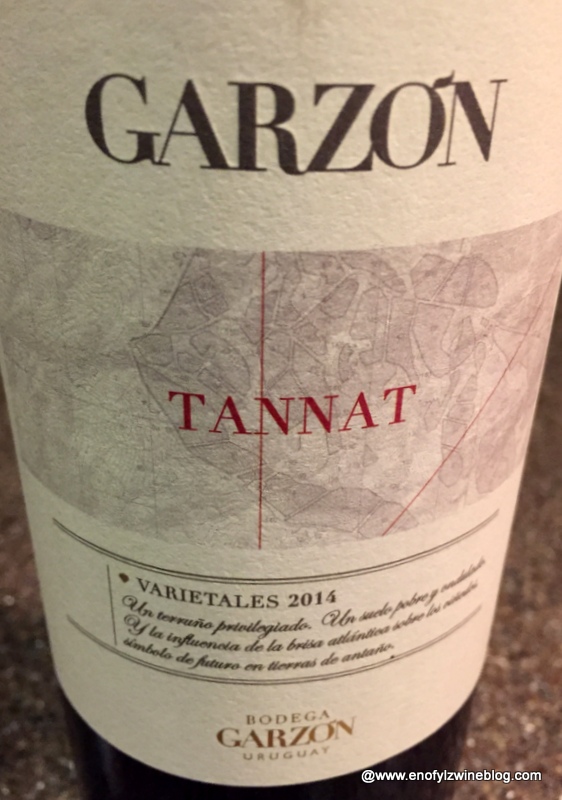 Grapes for the Bodega Garzon Tannat were hand-picked and fermented in large concrete casks.  After fermentation the juice was transferred to neutral French oak barrels and untoasted French oak casks (2.5-5k liters) for 12 months of aging – six months on lees, plus six months in French oak barrels and casks.
Nearly opaque violet color with alluring black fruit, clay, mocha and peppery spice aromas. On the palate it's medium-bodied with ample blackberry, black currant and graphite flavors nicely balanced with very good acidity and velvety tannins with very giving finish.  Outstanding value for $20.  Drink now or hold for a 2-3 years.  Very good to outstanding: 89-90pts
14% abv | $20 (sample)| 5,000 cases
Pair with:  Grilled steak, Pepper Steak, Duck Breast, Braised Short Ribs or Boeuf Provencal
About Bodega Garzon
When Alejandro Bulgheroni and his wife, Bettina, discovered the small village (population of 600) of Garzón in 1999, they saw in it their "little Uruguayan Tuscany", and they had a dream, a family dream that has come true today:
Agroland
.
Agroland is a 10,000-acre sustainable agriculture business that raises cattle and produces pecans, almonds, honey, and 400,000 liters of award-winning extra-virgin olive oil.  Bodega Garzón, the family estate and winery is a part of Agroland.
Garzón represents a new wine region, a new winery, and a new concept in agriculture. It has been our goal from early on to introduce state-of-the-art technology to enhance our vineyards and produce premium wines –  Bodega Garzón founderAlejandro P. Bulgheroni
Bodega Garzón is located near the southeastern coast of Uruguay.  It  is about 110 miles from the capital of Montevideo.  They craft limited production premium wine from their estate vineyards.   The estate vineyards  are divided into more than 1,150 individual blocks that follow the farm's topography featuring a distinct terroir of varying altitudes and exposures.   While primarily focused on Tannat, Uruguay's national grape Bodega Garzón works with many other grape varieties including Albariño, Sauvignon Blanc,  Pinot Noir and Viognier.
Their thoroughly modern facility is pursuing LEED certification  not only in their gravity flow winery (they are the first winery in the world seeking certification for the entire facility, including wine making and hospitality), but also in the vineyards.
About Tannat
Tannat is a red grape, which is normally found in the Basque-influenced regions of France near the Pyrénées.  The origins of the grape appear to be from the south-west France, near Madiran.
Tannat makes powerful, tannic wines with dark garnet red/purple color, and good acidity, making it a great candidate for aging. Notable aromas are raspberry, blackberry, spice, coffee, cocoa and vanilla.
The area that is growing in popularity for Tannat is Uruguay (believe it or not, the second largest wine drinking country in South America).   It is occasionally referred to as "Harriague", after the Frenchman that brought the grape variety to the country in 1870. Because Uruguay never suffered from the Phylloxera crisis that devastated Europe, descendants of the original cuttings first brought there still exist, and grapes from these prized vines are known as "Harriague.". There is currently more Tannat grown in Uruguay than in the variety's native France.
One of the other reasons for growth and popularity of Tannat has to do with the recent research concerning the phenolic compounds that are found in the Tannat grape, which are significantly higher than other red wines. This is due to the fact that tannins come from the skins and seeds of the grapes when crushed. The reason for the high concentration of these properties in Tannat wines are that the Tannat grape contains five seeds (pips), while other wine grapes normally contain just two or three, this creates a high concentration of polyphenols, procyanidins, flavenoids and resveratrol. These are the four main antioxidant components found in all wines.  Dr. Roger Corder (a cardiovascular expert at the William Harvey Research Institute in London) has identified Tannat as the grape with the greatest concentration of these compounds.  So, moderate consumption of Tannat wine may even contribute to better health. (Source)
________________________________________________________________________
Follow me on Twitter, Facebook, Instagram, Vivino and Delectable, for all things wine. As a wino with latent foodie tendencies, you'll also find food and wine pairings, and food related stuff! Become a fan and join ENOFYLZ Wine Blog on Facebook. Cheers!
Copyright Notice: This entire site is Copyrighted 2010-2016. All Rights Reserved. No unauthorized copying of any section of this site is permitted. If you wish to use any part of this site, contact me. For information on Copyright Law, see the official U.S. Copyright Office home page.