2014 Josetta Saffirio Langhe Nebbiolo; A harmonious blend of Nebbiolo and Merlot offering very good value!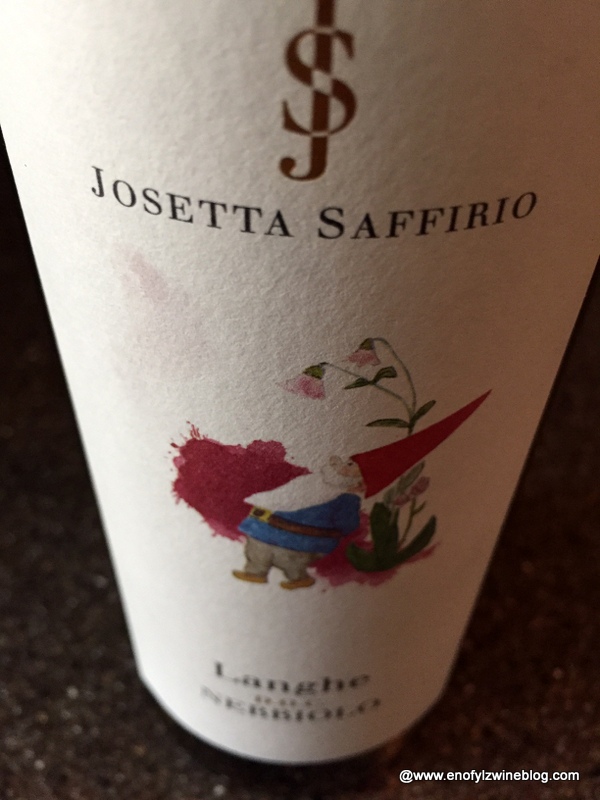 This wine, from the Langhe DOC, is a blend of 85% Nebbiolo, and 15% Merlot.  The grapes are sourced from the  Comune of Monforte d'Alba where the predominant soil type is 'Elveziano', which is best described as marine deposits showing traces of fossils from the Miocene, lime, clay and sand.  It is very rich in minerals and live lime.  The Nebbiolo and Merlot were vinified separately then raised in barrels for 12 months before being blended prior to bottling.  My tasting note follows:
Diaphanous ruby color with dried cherry, dried rose, asphalt and a hint of earth aromas. On the palate it's light-bodied, fresh and focused with pleasing dusty tannins and dried black cherry and raspberry flavors accented by an enticing minerality and hint of earthiness.  Medium finish.  
13.5% abv | $25 (sample)
Pair with:  It paired well with Lasagna Al Forno, but also consider main courses of braised red meats and game.
About Josetta Saffririo
Josetta Saffirio Wines is a  boutique family and female owned winery located in Piedmont, Monforte d'Alba.    
At the beginning of the twentieth century Ernesto Saffirio began to cultivate vineyard he inherited from his father.  In 1975 his daughter Josetta, a teacher at the School of Enology in Alba, and her husband Roberto Vezza, also an enologist took over the to take charge of caring for his vineyards planted by her grandparents after World War II.  With the ambitious goal of producing  great Barolo from their vineyards, a decade later they produced the first wine under the Josetta Saffirio label.
Soon thereafter their hard work was recognized.  They earned the highest honor, 'Three Glasses' from the Gambero Rosso for their  1988 and 1989 Barolo.
As the small estate was developing, Dolcetto and Barbera were added into the vineyards.  and as once Josetta's father, Ernesto, passed his vines on to the next generations, these new vineyards were in turn dedicated to Josetta and Roberto's children, Sara and Alessio.
In 1997 Sara made the decision to return to the home winery and was the driving force behind the decision to start bottling again in 1999,
Under her leadership a new sustainable cellar was built in 2006.  It is fully integrated with the surroundings and isolated with the natural cork.  Additionally Josetta Saffirio Wines has focused on new sustainable solutions with technologies like a photovoltaic system; reduction of CO2 and oil production.  The winery attained its Sustainable certification in 2015, and is currently seeking its organic certification.
About the Gnomes
When Josetta was a child, her father Ernesto  told her that he saw a gnome in a cart pulled by mice.  As the story went,  the gnomes helped the farmers take care of their animals and the cellars in exchange for a little wine.
Gnomes are the conscience of honest men – Josetta Saffirio website
Josetta continued the family tradition of the tale of the gnomes with her children Sara and Alessio.  The gnomes, which represent wholesomeness and sweetness are dedicated to her children. She created all illustrations that adore the label of her wines.
Find more information about the winery and vineyard here
Related posts you might enjoy:
________________________________________________________________________
Follow me on Twitter, Facebook, Instagram, Vivino and Delectable, for all things wine. As a wino with latent foodie tendencies, you'll also find food and wine pairings, and food related stuff! Become a fan and join ENOFYLZ Wine Blog on Facebook. Cheers!
Copyright Notice: This entire site is Copyrighted 2010-2016. All Rights Reserved. No unauthorized copying of any section of this site is permitted. If you wish to use any part of this site, contact me. For information on Copyright Law, see the official U.S. Copyright Office home page.