Wine Pairing Weekend is a group of bloggers who are passionate about the way good wine enhances a meal.  On the second Saturday of each month we come together to blog about a chosen food and wine pairing theme.  The theme this month is #CabFrancDay and pairing Cab Franc with food.
In My Glass
I was fortunate to be one of the bloggers selected to receive sample wine from the wineries that participated in #CabFrancDay, which was held December 4th.  One of the wines I received was the 2015 Leah Jorgensen Cellars Blanc de Cabernet Franc Mae's Vineyard. 
What a unique,  interesting and tasty wine!
It's  a "Cab Franc Blanc" from Oregon.   Crafted by Leah Jørgensen Cellars, the first winery in the world to commercially produce a still white wine from Cab Franc (red wine) grapes.   The wine was inspired by  Blanc de Noir Crémant de Loire.
For the uninitiated, sparkling wines (most notably Champagne) are made with one of more red wine grapes, typically Pinot Noir or Pinot Meunier.  But in the case of Crémant de Loire, the red wine grape is Cab Franc.
Using a special press, the grapes are gently pressed and immediately removed from the skins to avoid the influence of pigment and tannin contained in the skins.
In the case of the Leah Jørgensen Cellars Blanc de Cabernet Franc,  the wine was barrel-fermented, then stirred on the lees in stainless steel to augment the natural acidity and fruit flavors.
The wine reminded me (in a very good way) of a sparkling wine that has lost its effervescence because it was dry, very fresh, and oh so tasty.  And like sparkling wine, the grapes were picked at a lower brix level too.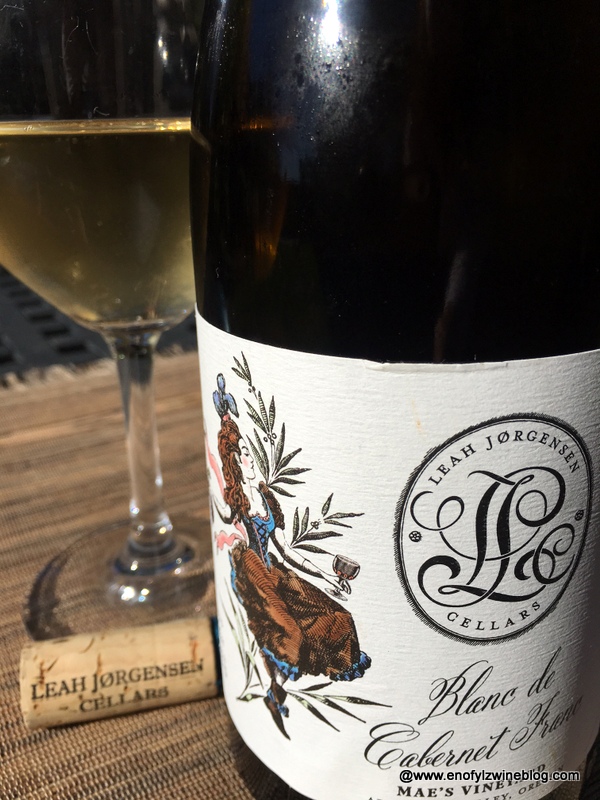 My tasting notes follow:
Pale gold color with complex, but at times elusive aromas of apricot, almond skin, jasmine, roasted sage, and light baking spice. On the palate it's medium-bodied and very fresh with just a hint of tannins. It shows mouth filling primary flavors of apricot, lemon, and blood orange complicated by spice, honey, and a nuanced nuttiness and very appealing salinity which combined to give it a bit of savoriness. Very giving finish. 
On My Plate
One of my favorite wines to pair with sushi  and sashimi is sparkling wine (I also enjoy Sherry and Sake)  As I noted above, in  the wine reminded me of a sparkling wine that had gone flat because it was dry, and very fresh, but it also had a nutty character that was accented by a very appealing salinity with gave the wine a distinctly savory quality.  It brought to mind the sense of umami that one might find in sake for me.
With all that in mind, pairing with wine with sushi was top of mind for me.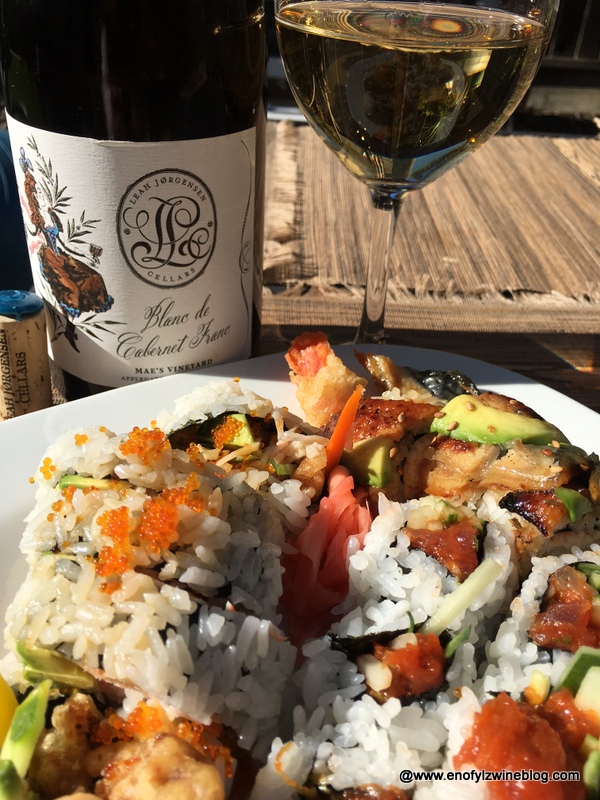 Since it was a gorgeous sunny day, we picked up some of our favorite sushi (spicy tuna, crab and spider rolls) and decided to dine al fresco!
Overall the pairing was a winner.  The wine paired especially well with the crab and spider rolls, and managed to find peaceful co-existence with the spicy tuna roll.  
Check out what my fellow Wine Pairing Weekend blogging friends are pairing with Cab Franc!
If you're up early enough please join our chat on Twitter using the #WinePW hashtag on Saturday, December 10th at 11am EST/8amPST.  Our January theme is  "New wine for the new year" to be held on Saturday, January 14th, 2017
_________________________________________________________________________
Follow me on Twitter, Facebook, Instagram, Vivino and Delectable, for all things wine. As a wino with latent foodie tendencies, you'll also find food and wine pairings, and food related stuff! Become a fan and join ENOFYLZ Wine Blog on Facebook. Cheers!
Copyright Notice: This entire site is Copyrighted 2010-2016. All Rights Reserved. No unauthorized copying of any section of this site is permitted. If you wish to use any part of this site, contact me. For information on Copyright Law, see the official U.S. Copyright Office home page.