I paired a new to me grape variety – Poulsard, from the Jura region of France, with a classic Filipino dish – Menudo
About Jura
I can honesty say that I've virtually visited every wine region in the world that has been on my vinous "bucket list". One of, perhaps, a handful of exceptions was the Jura wine region in France.
The Jura is a small wine region in Jura foothill of eastern France.  It is sandwiched between Burgundy in the west and Switzerland in the east.  The region is known for its very traditional and many would say, highly idiosyncratic style of wine.
Characterful, Old-World styles, driven by freshness linked with earthy flavors, joyful with food and long-lived. – Wink Lorch
Over the past decade of so the Jura has become wine writer, wine geeks, and sommeliers have been making a lot of noise about Jura reds like Poulsard and Trousseau.  And about the region's unusual whites (Vin jaune – a "yellow" wine produced from Savagnin grapes in an oxidative style similar to Fino Sherry)  the , especially from organic producers.   As a result, the region has more fans than ever and exports have doubled.
The region's soils are dominated by Jurassic limestone and marlstone.  In fact, the  Jurassic period was named after Jura because the region's limestone mountains.
It's climate is similar to that of the Cote d'Or, or even southern Alsace, with warm, relatively dry summers and cold winters.
Poulsard is the most widely planted in red wine grape variety in Jura. It is an interesting grape variety because it is used to make white, rosé, red and sparkling wines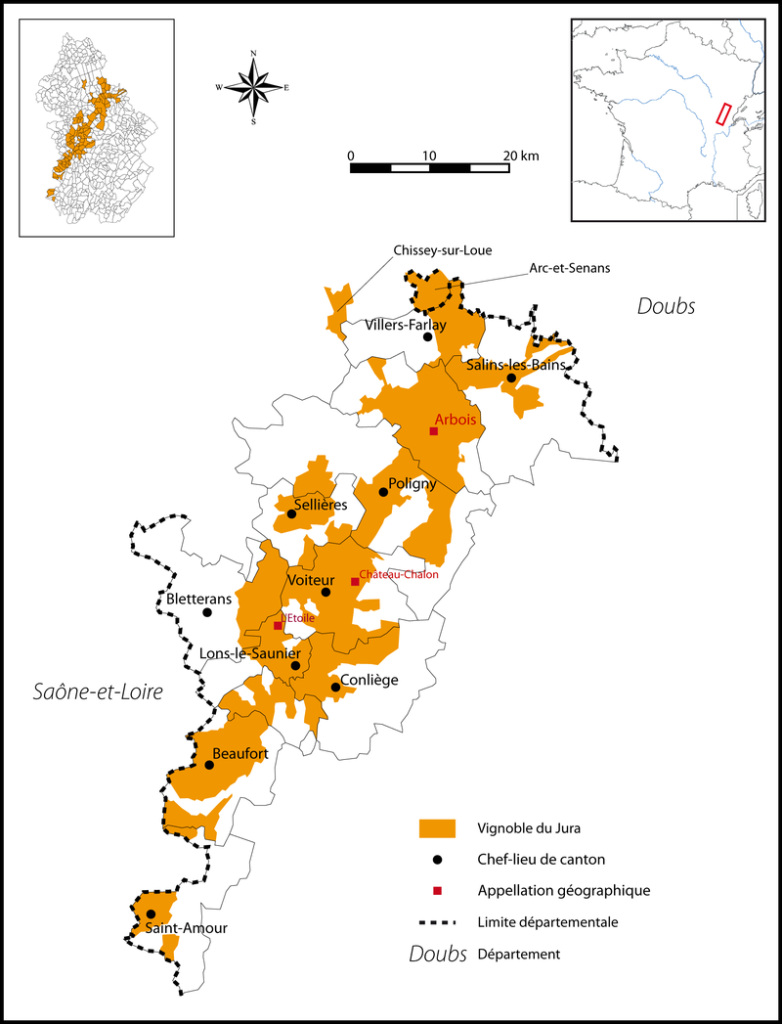 In My Glass
I picked up a bottle of  the 2014 Domaine de l'Aigle À Deux Têtes Poulsard "Les Clous" Côtes du Jura Rouge from my favorite wine store.   I chose  a wine produced from the Poulsard grape variety for a couple of reason.  First, I love to try new to me grape varieties.  And secondly, while I would have enjoyed trying Vin Jaune, the selections at the wine store were pricy.
Here's a bit of information about Domaine de l'Aigle and the wine from K&L Wine Merchants..."Henri Le Roy farms a few tiny parcels of vineyards in the Cotes du Jura – an area just west of the Swiss border and Lac Léman (Lake Geneva), and just east of Burgundy. He's an intense man – driven, and smart. In fact, his original career was as a Biologist, in Paris. He was drawn to the Jura by its incredible terroir, with ancient stones and seashells from its Jurassic period namesake. He's pretty new at this – his first vintage was 2005 – but the results speak for themselves. Unlike many of his counterparts in Jura, he abhors oxidation, and his cellar practices carefully avoid the intentional contact with oxygen which the region's famous Vin Jaune jauntily displays."
The hand-picked grapes are destemmed, fermented in fiberglass tanks for as little as 4 days to 2 weeks, then racked into barriques from Burgundy. From the vineyard "Les Clous", considered by Henri to be a Grand Cru. The vineyard is planted both to Savagnin and to Poulsard, and the Savagnin was not replanted after phylloxera; therefore the vines are exceptionally old. Exposition is perfectly south. Meager soils and blue and gray marles give the grapes fantastic minerality.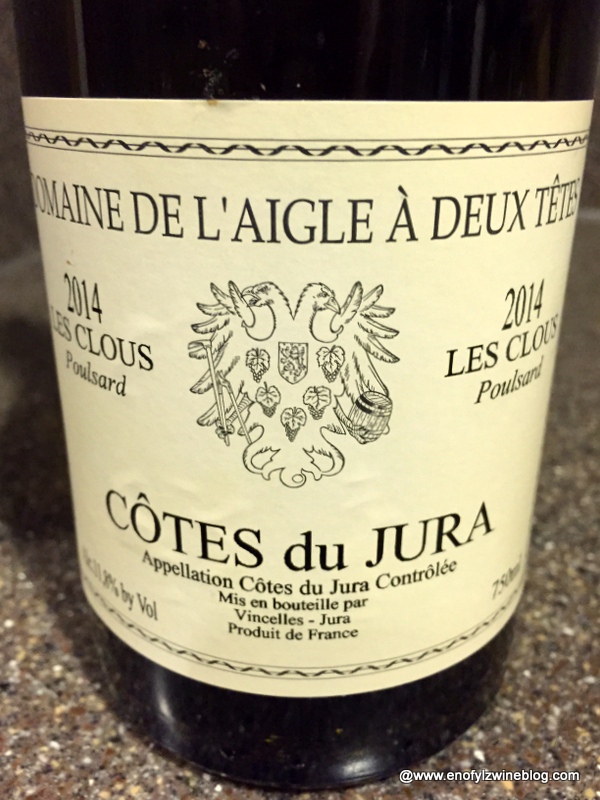 My tasting notes follow:
Ruby color with promising damp earth, wet moss and red berry aromas. On the palate it's light-bodied, fresh and balanced with nicely integrated tannins and raspberry, strawberry, and cherry flavors accented with an appealing minerality and savoriness.  100% Poulsard 11.8% abv.  SRP – $28
I found the wine to be better with food than by itself.   Also, I popped and poured the wine,  but I would recommend aerating.
On My Plate
My wife prepared a classic Filipino comfort food – Menudo.  It's  a colorful stew of pork, liver, potatoes, carrots, bell peppers (among other things that one may or may not have in the pantry) in a thick tomato sauce.
My wife learned to cook the dish from her mother….so no recipe.  But I think this one is close, if you'd care to give this delicious Filipino stew a try.
I was inspired to pair the Menudo with the Jura because the wine has an appealing savory, food friendly quality that I thought would partner well with the dish.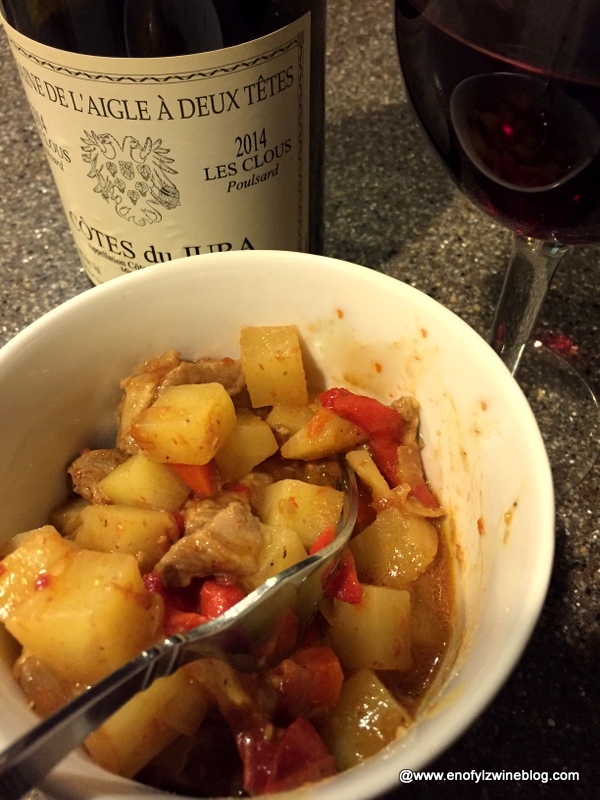 The wine was an excellent pairing with the Menudo.  Its savory character worked especially well with chicken liver in the dish.
My experience with this wine from the Jura has been a very good.  It's a wine I would purchase again.  And likewise for the Jura region!
_________________________________________________________________________
Follow me on Twitter, Facebook, Instagram, Vivino and Delectable, for all things wine. As a wino with latent foodie tendencies, you'll also find food and wine pairings, and food related stuff! Become a fan and join ENOFYLZ Wine Blog on Facebook. Cheers!
Copyright Notice: This entire site is Copyrighted 2010-2016. All Rights Reserved. No unauthorized copying of any section of this site is permitted. If you wish to use any part of this site, contact me. For information on Copyright Law, see the official U.S. Copyright Office home page.