2014 Bruce Patch Wines "Patchwork…a delicious Zinfandel lead "kitchen sink" blend of 8 grape varieties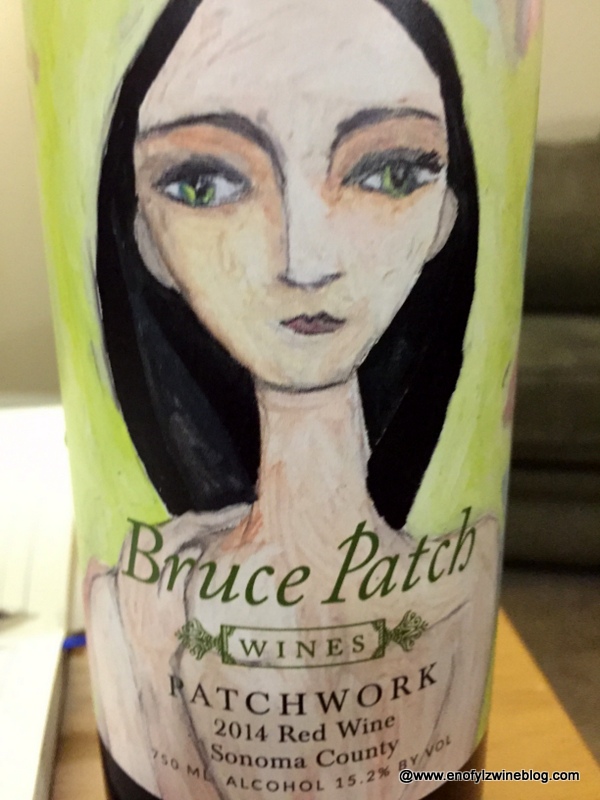 Fruit for this wine was sourced from a patchwork of vineyards throughout the Alexander and Sonoma Valley.  It is a blend of 67% zinfandel with carignane, cabernet franc, malbec, merlot, petite sirah, sangiovese and petit verdot, aged in French and American oak for 20 months.
The wine pours a dark ruby color with blackberry, black currant, spice and brambly aromas. The palate is medium-bodied, and fresh with an appealing supple mouth feel with just the right amount of tannic grip shoring up its structure. It shows delicious flavors of blackberry, black currant, plum, vanilla and peppery spice with a medium long finish. (Very Good to Outstanding; 89-90 pts.)
15.2% abv | 85 cases produced|$40 (sample)
About Bruce Patch Wine:
Winemaker Bruce Patch made a name for himself in the Los Angeles music business by establishing small labels focused  on classic R&B, Doo Wop, and contemporary South Pacific music.  He and his partner, artist Andrea Cleall made their way north to Sonoma's Russian River Valley in the late 1990's.
He parlayed  his sales and marketing background in music into a successful distribution business representing small independent wineries in Sonoma County.  This would lead to a passion for and knowledge of winemaking that would inspire the creation of his own wine — Wine Guerrilla.  Over the course of a decade he built the brand and won accolades for his line-up of stellar single vineyard zinfandels.
Introducing big, lush and drinkable wines spotlighting the acclaimed grapes, vineyards and appellations of Sonoma County – Bruce Patch Wines
Today, Bruce brings this history and experience to his most promising venture yet. Bruce Patch Wines sources the best grapes from throughout Sonoma County, including many vineyards like Clopton, Harris-Kratka and Carreras Ranch with whom Bruce has long relationships and a history of producing acclaimed wines. In addition to his trademark lush, full zinfandels, Bruce is also producing red blends and exquisite expressions of unique grapes like primitivo and malbec.
Oh….and about that beautiful label.  It's the artwork of Sean Colgin, the son of Bruce's  longtime partner Andrea Cleall.
_________________________________________________________________________
Follow me on Twitter, Facebook, Instagram, Vivino and Delectable, for all things wine. As a wino with latent foodie tendencies, you'll also find food and wine pairings, and food related stuff! Become a fan and join ENOFYLZ Wine Blog on Facebook. Cheers!
Copyright Notice: This entire site is Copyrighted 2010-2016. All Rights Reserved. No unauthorized copying of any section of this site is permitted. If you wish to use any part of this site, contact me. For information on Copyright Law, see the official U.S. Copyright Office home page.