My wife and I are vacationing in Italy for a few weeks!  We're taking the Rick Steves Best of Italy In 17 Days Tour and adding on a few more days in Rome and Positano. For the last couple of days we've been in Monterosso del Mare. Monterosso is the largest of the five towns that comprise Cinque Terre.  We're staying at a lovely hotel the Hotel Villa Steno in the "Old Town" section of the city.
The cinque terre (literally "five lands") cited in the title are five seaside villages that punctuate this section of the Ligurian coast: Monterosso al Mare, Vernazza, Corniglia, Manarola and Riomaggiore. – Winesearcher.com
We spent the day exploring the other four villages of this enchanting corner of the Italian Riviera that spans six cozy miles of the Ligurian Sea.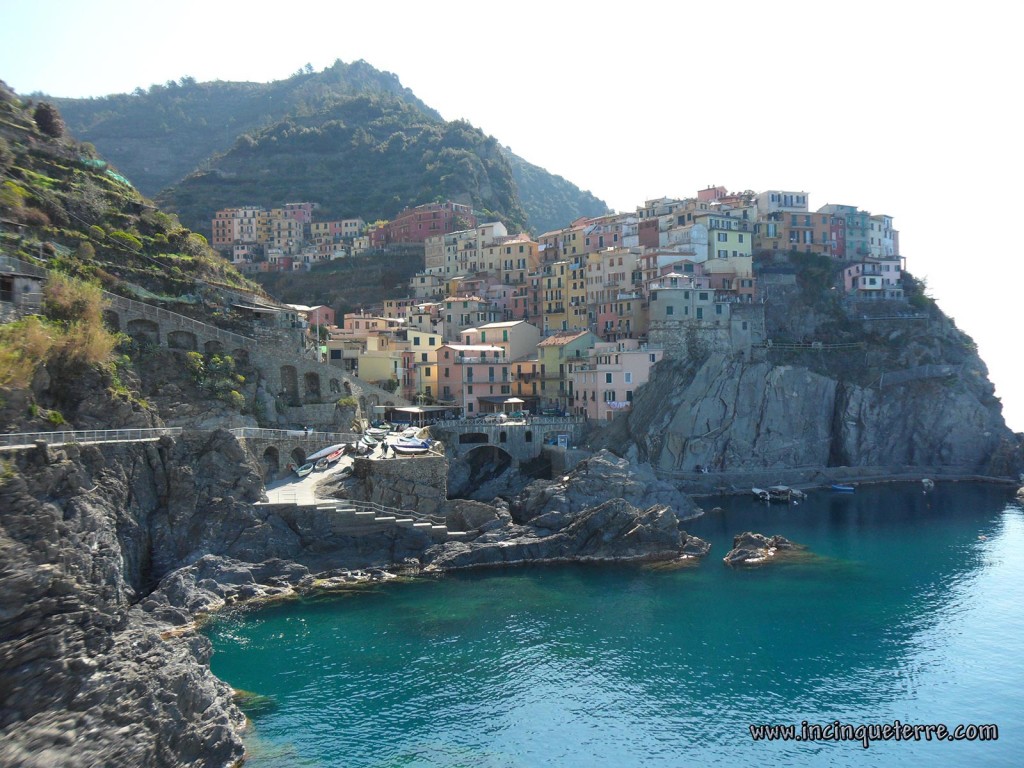 Our favorite of the 4 villages the day we visited was Manarola.  According to Rick Steves' Italy 2016; Manarola is exceptional for being unexceptional: While Vernazza is prettier, Monterosso glitzier, Riomaggiore bigger, and Corniglia more rustic, each of those towns is also sorely lacking in other regards.  Manarola hits a fine balance, giving it the "just right" combination of Cinque Terre qualities.
After arriving by train, we visited Piazza Capellini.  Then we took a stroll along its main street Via Discovolo down to the harbor where we spent some time relaxing and savoring what turned out to be a glorious day weather-wise.  From there, we hiked up to Punta Bonfiglio where we enjoyed more breath-taking views of the entire region. Finally we hiked the well-worn paths among its steep terraced vineyards.
With all the (mostly uphill) hiking, we worked up a serious appetite, so we decided to grab some lunch at Trattoria dal Billy.
What better way to get to know a place than  its food and wine?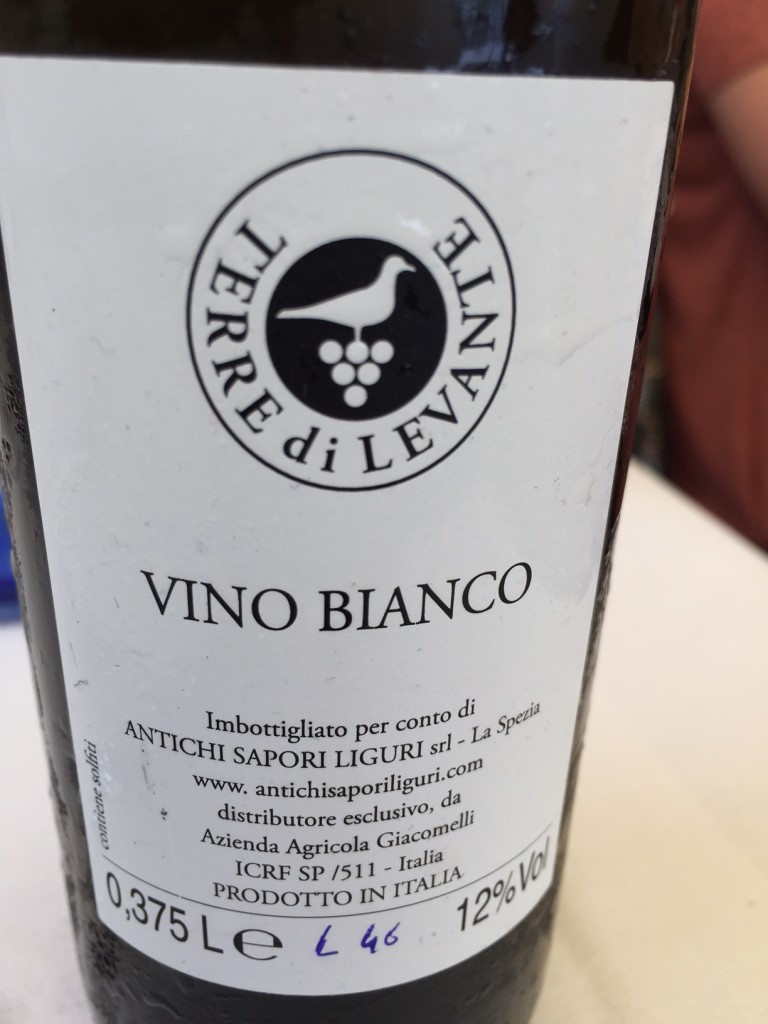 We were in the mood for seafood, so we ordered a half bottle of the local Cinque Terrewine.
About Cinque Terre Wine
While Italy is renowned for its red wine, I've often found their white wines to be just as compelling and interesting wines…especially at the table!
According to Winesearcher.com…The classic Cinque Terre wine is a dry, aromatic white made of Bosco, Albarola and Vermentino.
Vermentino, I know.  The other two grapes, which are indigenous to the region, I'd never heard of ( then again, Italy has 400-500 different grape varieties, and most of those it seems are only grown in Italy).
Many Cinque Terre vineyards are planted on perilously steep slopes, so close to the sea that the ocean spray forms a fine mist over the vines. Others enjoy the luxury and relative security of being located on terraces carved painstakingly into the hard cliff faces. Unsurprisingly, this awkward, inaccessible topography means that vineyard management is done manually, without the aid of tractors or trucks. During vintage, monorail systems are used to haul the harvest up the hillsides. This all requires significant investment of time and resources – costs that are ultimately reflected in the prices of Cinque Terre wines.
Cinque Terre wines, were granted DOC (Denominazione di origine controllata) status in 1973.
My tasting notes follow:
The wine is a pale straw color with low-key apple, lemon, and with a kiss of saline minerality. On the palate, the wine is light-bodied, crisp and refreshing with flavors that follow the aromas with an appealing, nuanced saline minerality and a satisfying finish.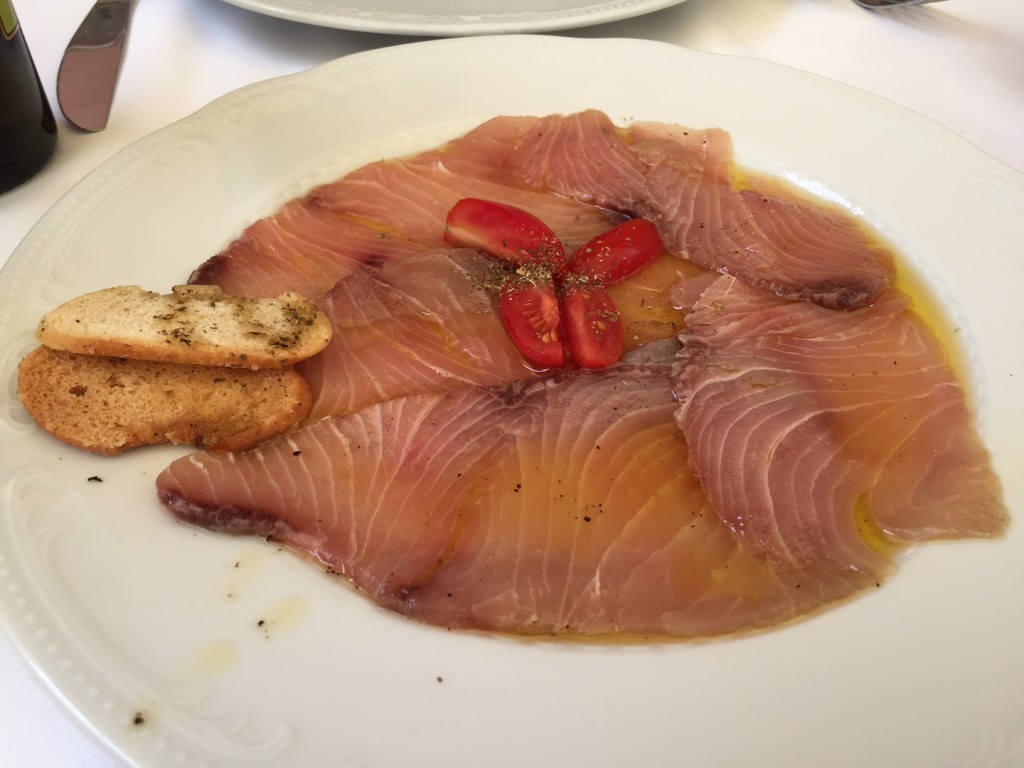 The wine was an excellent pairing with our appetizer of Amberjack carpaccio…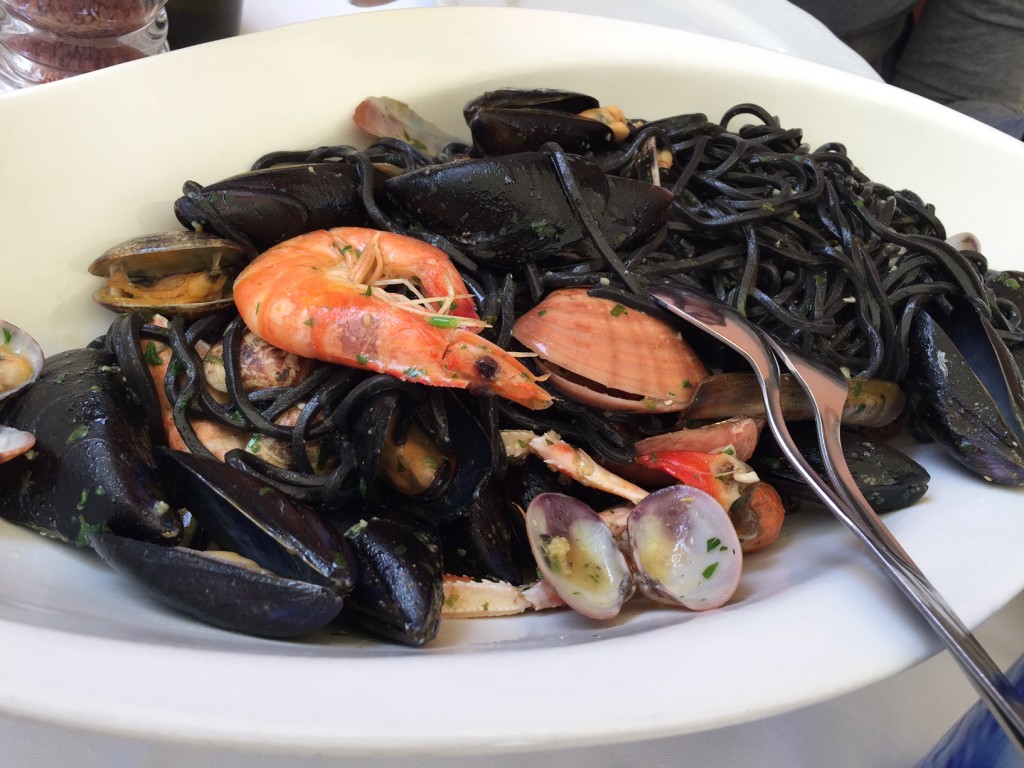 and the a primi course of Black Pasta with seafood!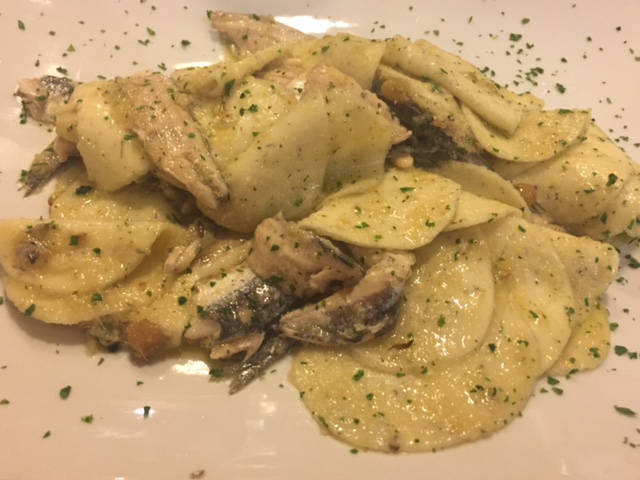 Later, for dinner, I enjoyed another glass with a typical Ligurian dish of homemade pasta with fresh  anchovies, pine nuts, raisins, fennel seed and bread crumbs!
All the pairings were a great example of the classic wine and food pairing adage of "what grows together, goes together"!
Cinque Terre Schiaccetrà
While in Monterosso, I also tried another Cinque Terre wine. This one was a dessert wine called Sciacchetrà (click here for pronunciation) from the eponymous DOC.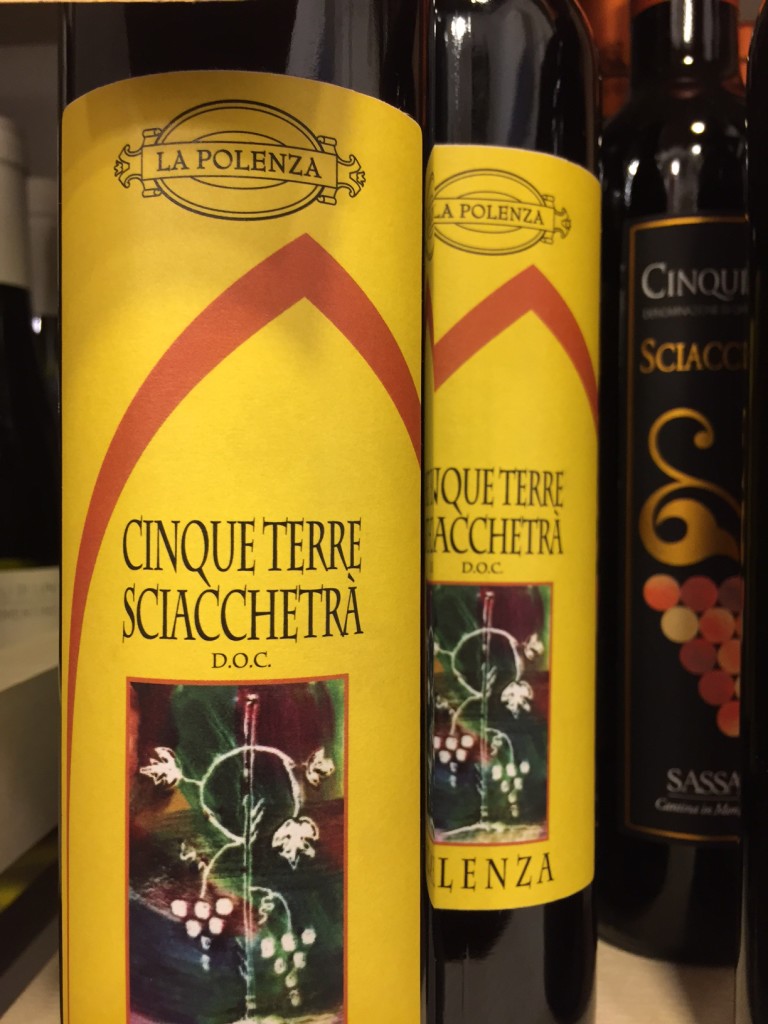 The wine is vinified using the same three grapes ( Bosco, Albarola and Vermentino) as the white wines.  
The difference is that Sciacchetrà is made is the passito style. Here's how Winesearcher.com describes the process:
The production and vineyard management restrictions are essentially the same as for the dry Cinque Terre wines, except for the stages immediately after harvest. Once picked and transported to the winery (invariably this is carried out by hand and on a specially adapted monorail system), the grapes are left to dry on well-ventilated racks until the concentration of natural sugars reaches a potential alcohol level of at least 17%. This process ensures intense, sweet flavors in the resulting wine, which is deliberately left with significant residual sugar and an alcohol level of about 10% ABV (alcohol by volume).
The wines I tried were intensely yellow color, light-bodied and fresh with an alluring honey, orange marmalade character. The wines were sweet, but not cloyingly sweet thanks to its vibrant acidity.  It paired well with semifreddo all'amaretto!
Cinque Terre is an enchanting place of breath-taking beauty.  I hope you get a chance to visit.  And if you do, get a glass of the local wine!  You'll be glad you did!
Sources:
Image of Manrola – In Cinque Terre
Information about Cinque Terre vineyards – Winesearcher.com
________________________________________________________________________
Follow me on Twitter,Facebook,Instagram, Vivino and Delectable, for all things wine. As a wino with latent foodie tendencies, you'll also find food and wine pairings, and food related stuff! Become a fan and join ENOFYLZ Wine Blog on Facebook. Cheers! This article is original to ENOFYLZ Wine Blog.com. Copyright 2016 ENOFYLZ Wine Blog. All rights reserved.