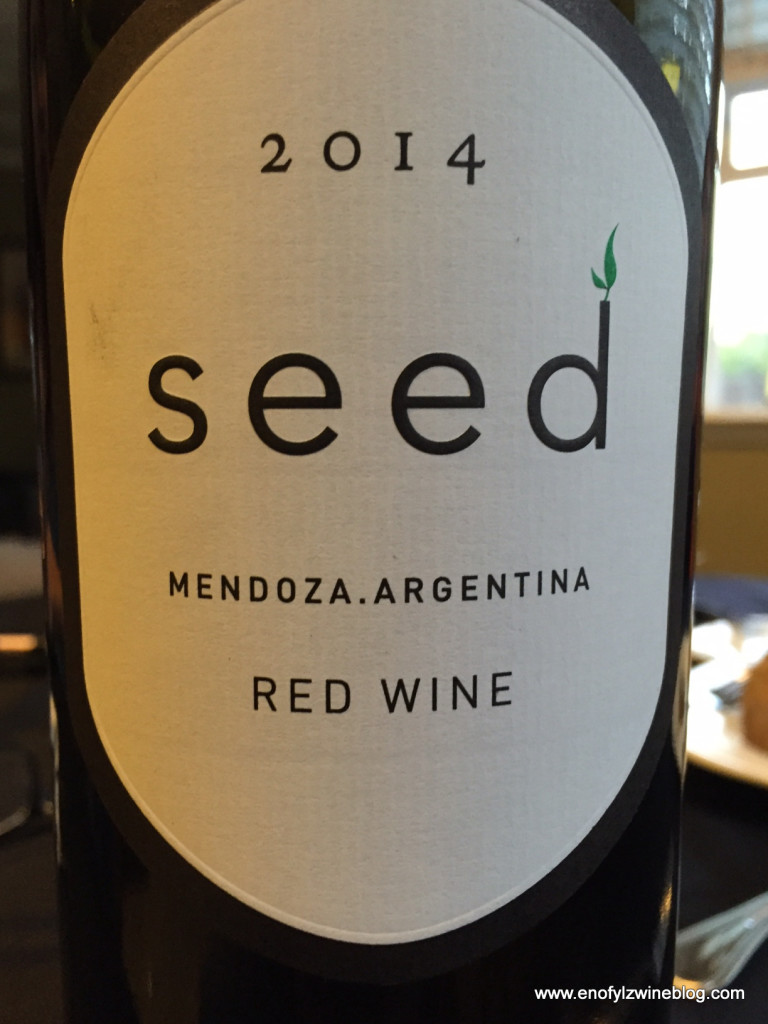 Seed Wine  is a boutique winery crafting less than 200 cases of wine annually.   Fruit for this wine  was sourced from high elevation cool climate vineyards in Mendoza.  It was raised for 16 months in new French Oak in Mendoza's oldest wine cave.
 My tasting notes follow:
The wine is an opaque ruby violet color with expansive mixed black and blue fruit – blackberry, blueberry and plum, eucalyptus, spice, dark chocolate, a bit of earth aromas.   On the palate, it's medium-bodied and well structured with a supple texture,  vibrant acidity and velvety well-integrated tannins wrapped around a core of dark fruits – black currant, blackberry, black raspberry, blueberry along with sweet vanilla spice, dark chocolate,  a bit of mineral laced espresso flavors.   Long finish.   50% Cabernet Sauvignon, 40% Malbec, 10% Cabernet Franc.  Approachable now, this wine has the structure to age well another 5-10 years. (Outstanding; 90-91 pts.)  
Pair with:  Grilled Marinated Flank Steak,  Slow Roasted Beef Brisket or  a Bison Burger!
14.4% abv | 48 cases |$75(sample)
About Seed Wine
I love a good quote.  They can strengthen our resolve and inspire us to push on.  Or to smile when we're having a bad day.   One of my favorite quotes comes from American author Og Mandino who wrote the bestselling book The Greatest Salesman in the World who said – "Always seek out the seed of triumph in every adversity"
Of course, inspiration with action is how one can make a real difference.  Seed Wine was blossomed out of the seed of adversity.   Tony Hartl and Alex Chang were five days into the ascent of Argentina's Aconcagua Mountain, when Tony's blood oxygen was plummeting, his lungs crackling and straining in the thin air. High-altitude pulmonary edema was setting in. The goal was no longer the summit; it was survival. Evacuation became the only option
It's beyond making a profit, it's about making a difference.  It's about trying to use our talents, energy to give back to the community here in Mendoza; to hopefully make their journey a more successful journey into the world – Tony Hartl, co-founder Seed Wine
During their arduous descent, the best friends were already thinking about how the experience would change their lives and their dreams. While convalescing in Mendoza, Argentina, Tony and Alex felt an immediate kinship with the people, their land, and their relaxed, joyful way of life.  Their live's took a turn.   A mission was born.
For Tony and Alex it was a passion to achieve an audacious goal: create the finest Malbec in the world.  And to give back to the community that welcomed them so warmly. So with each bottle sold, they gift a school book to a child in Mendoza, planting 'seeds' for the future.
_________________________________________________________________________
Follow me on Twitter, Facebook,Instagram, Vivino and Delectable, for all things wine. As a wino with latent foodie tendencies, you'll also find food and wine pairings, and food related stuff! Become a fan and join ENOFYLZ Wine Blog on Facebook. Cheers! This article is original to ENOFYLZ Wine Blog.com. Copyright 2016 ENOFYLZ Wine Blog. All rights reserved.