The theme for this month's Italian Food Wine and Travel (#ItalianFWT) is Fall in Italy.   And since today, October 1st is also World Vegetarian Day,  I decided to bring a vegetarian dish  – Caprese Stuffed Roasted Eggplant to our virtual table and pair it with the  2013 Josetta Saffirio Barbera d'Alba! 
On My Plate
When I prepare a dish for one of these events, I typically do it the weekend before the event.  Well as of Sunday last weekend, I still hadn't settled on a dish.
Then I checked out some vegetarian recipes being featured for the #SundaySupper (I sometimes offer wine pairing recommendations for this marvelous and creative group of foodies).  The theme was vegetarian dishes for World Vegetarian Day.
Perfect! I'm making a conscious effort to eat less meat.
When I saw a recipe for Caprese Stuffed Roasted Eggplant, I knew I had to give it a try.   And  since I had some Fregola Sarda in my pantry, I decided to make that to round out my Fall Italian inspired vegetarian meal.  I chose a recipe for Nutty Pearls of Fregola Sarda.
Caprese Stuffed Roasted Eggplant is a showstopper of a main course, guaranteed to be loved by vegetarians and omnivores alike. After all, who can resist ripe tomatoes, flavorful pesto and melty mozzarella roasted in a hasselback-cut eggplant? – Stacy Rushton
The dishes turned out pretty well, although the eggplant was a challenge to stuff.  The only thing I would change about the eggplant recipe is to cook the eggplant more than the recommended hour.  I ended up cooking it about 30 minutes longer.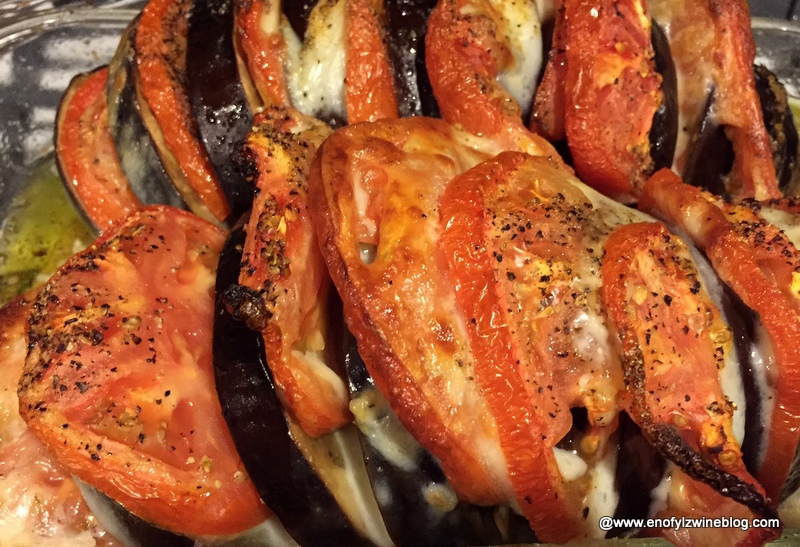 But you should know…my wife (an eggplant fiend, so I guess that makes her an expert) insists the longer cooking time may have been necessary because I had a "bad" eggplant.
I'll be the first person to tell you I literally picked the eggplants based solely on their size without giving any consideration to whether I was picking a "good" one or "bad" one.  They all looked the same to me.
Well it turns out a "good" eggplant is a fresh eggplant  and eggplants have a relatively short shelf life.
You learn something new every day.
Here's how to pick a good eggplant.
Nevertheless the eggplant dish, which I plated on a bed of the Nutty Pearl of Fregola,  was delicious.  It was a feast for the eyes and the palate!  I look forward to making it again…with fresh eggplant!
In My Glass
Grazie alla mia fortuna (practicing my Italian…it means "Thanks to my good fortune" – did I mention the eggplant expert and I are off to Italy next week?), I recently received four sample bottles of wine from Cantina Josetta Saffirio.
Josetta Saffirio is boutique family winery located in Piedmont, Monforte d'Alba.   Sara Vezza Saffirio, who took over the business in 1999, represents the 5th generation of family in the wine growing business .
The 2013 Josetta Saffirio Barbera d'Alba is 100% Barbera from sustainably farmed vineyards in the Commune of Monforte d'Alba, sub-appellation Castelletto.  The fruit was grown in a soil type is known locally as 'Elveziano,' composed of  marine deposits, traces of fossils from the Miocene period, lime, clay and sand.  It is very rich in active lime and minerals.
After hand harvesting, and malolactic fermentation, the wine was raised in oak for 12 months, then racked into cement tanks and bottled the following year.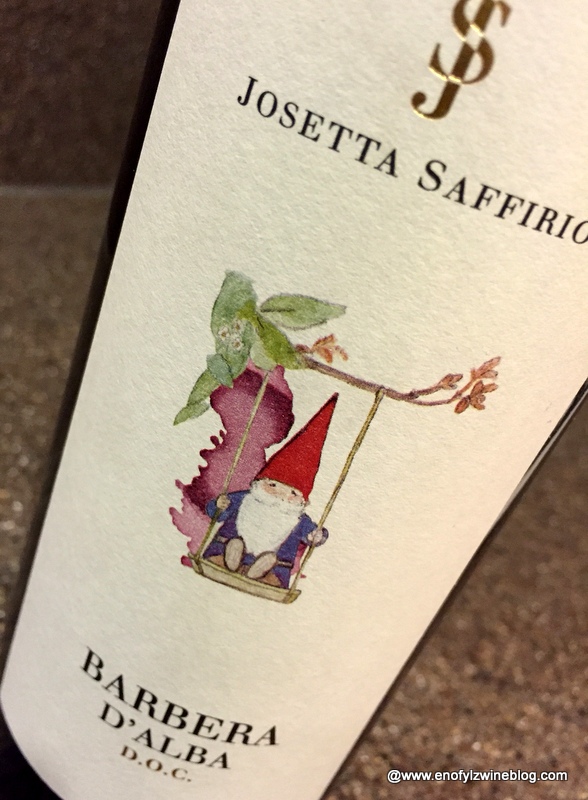 My tasting notes follow:
Dark ruby color with promising mixed cherry, pomegranate, dried rose and earthy aromas.  On the palate it's between light and medium bodied with a harmonious character; an ample core of polished sour cherry Jolly Rancher, and pomegranate flavors  are complemented by vibrant acidity and velvety tannins with an appealing minerality and a giving finish.
I really enjoyed this compelling wine.  When I checked winesearcher.com, the  average price for this wine was $18 USD.  The wine delivers well over that price point.
The Pairing
The wine paired well with the dish, especially the marinara topped Frego Sarda.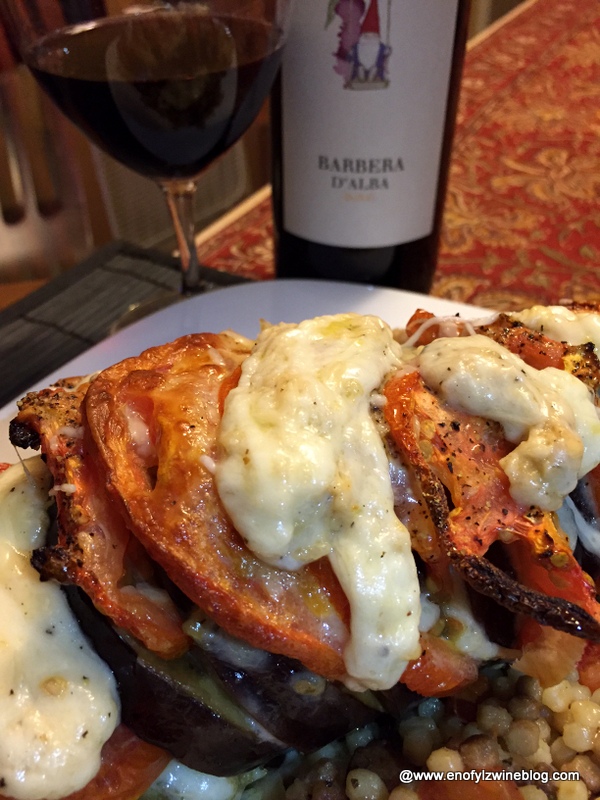 Check out what my fellow #ItalianFWT bloggers have in store for you as you virtually experience Fall in Italy!
If you're reading this early enough, please join our Twitter chat Saturday, October 1st at 8am PT/11am ET using the #ItalianFWT hashtag to chat about Fall In Italy
_________________________________________________________________________
Follow me on Twitter, Facebook, Instagram, Vivino and Delectable, for all things wine. As a wino with latent foodie tendencies, you'll also find food and wine pairings, and food related stuff! Become a fan and join ENOFYLZ Wine Blog on Facebook. Cheers! This article is original to ENOFYLZ Wine Blog.com. Copyright 2016 ENOFYLZ Wine Blog. All rights reserved.