Last week I celebrated Grenache Day by I participated a virtual tasting of Garnacha (as the grape variety is known in Spain).  The tasting was organized by Snooth.
Easy-going Garnacha is 2016's red wine grape du jour. While savvy growers have brought Garnacha to all corners of the globe, there are five distinguished designations of origin in Spain that the grape calls home – Snooth
Essentially, the way a virtual tasting works, is that select wine writers and bloggers are sent the same wines.  Then, at the appointed time, we drink the same wines and chat about them on Twitter.  A Snooth virtual tasting adds a nice dimension because video is part of the chat.
Wow first written reference to Garnacha dates back to 1513 #GarnachaDay #snoothvt

— Martin Redmond (@martindredmond) September 17, 2016
The event was hosted and moderated by well-respected Laura Maniec, Master Sommelier, and owner Corkbuzz along with Christy Canterbury, Master of Wine.  We tasted five Garnachas, each from a different region of Spain.
The wines tasted were from the Calatayud, Campo de Borja, Cariñena, Somomtano and Terra Alta regions in Spain:
2015 Clos Dalian Garnatxa Blanca
2014 La Miranda de Secastilla Blanca
2014 Castillo de Monseran Garnacha Carinena
2015 Evodia Garnacha
2014 Garnacha Centenaria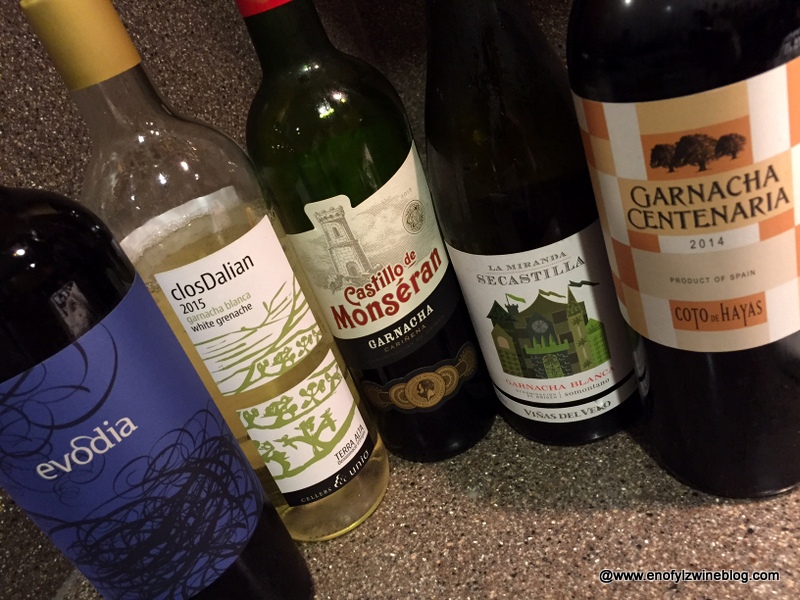 My tasting notes on the wines follow:
2015 Clos Dalian Terra Alta – Spain, Catalunya, Tarragona, Terra Alta
Pale yellow-green color with pear, apricot, lemon, wet stone and a kiss of chalk aromas. On the palate, it's light-bodied, dry and fresh with an appealing texture and white peach, apricot, pear, and lemon flavors. Raised in stainless steel. It's not hard to imagine sipping this by the pool on a hot day. 12.5% ABV; SRP $9 (86-87 pts.)
2013 Viñas del Vero Somontano Garnacha Blanca La Miranda de Secastilla – Spain, Aragón, Somontano
Pale green yellow color with white peach, pear, lemon, roasted nut, and a hints of pineapple and white flower aromas. On the palate, it's medium-bodied, and dry with a wonderful texture and white peach, apricot, lemon peel and nutmeg flavors with a hint of minerality with a very giving finish. 13.5% ABV; SRP $14 (89 pts.)
2014 Castillo de Monséran Garnacha Cariñena – Spain, Aragón, Cariñena
The wine is a dark ruby color with pleasing plum, mixed berry, dried herb and low-key earth aromas. On the palate it's light-bodied, fresh and soft on the palate. It easy drinking and very palatable with plum, red currant, black cherry and gentle spice flavors with hint of minerality. 100% Garnacha 12.5% ABV; SRP $10.00 (85 pts.)
2015 Altovinum Evodia – Spain, Aragón, Calatayud
The wine is a dark violet color with appealing black fruit, smoke, dried herb, and spice aromas. On the palate it's medium-bodied with ample fruit and well-integrated soft tannins with plum, black cherry, baked blackberry, red currant and spice flavor with a mineral laced finish. 100% Garnacha. Raised in stainless steel. This one is a crowd pleaser. It won Grenache blind tasting our wine club held a couple of years ago. for sure! 15% ABV; SRP $10.99 (87 pts.)
2014 Bodegas Aragonesas Garnacha Campo de Borja Coto de Hayas Centenaria – Spain, Aragón, Campo de Borja
Dark ruby color with red currant, black cherry, cedar wood, and a touch of dried herb aromas. On the palate it's between light and medium-bodied, fresh with dusty well-integrated tannins. It's easy drinking and moderately complex with ample and appealing red currant, mulberry, black cherry, a bit of plum and spice flavors and an herbal undertone with a satisfying finish. Aged for 4 months in new French oak. 14.5% ABV; SRP $15 (88-89pts.)
My faves of the #SnoothVT @WinesofGarnacha are the Coto de Hayas for red and Secastilla for the white #GarnachaDay

— Martin Redmond (@martindredmond) September 17, 2016
Generally speaking, I'm definitely a "Think Global, Drink Local" wine lover.  That means all things being equal (or close), I spend tend to spend my hard-earned bucks on California wine.  But I have to say when it comes to Garnacha, Spain consistently offers the best bang for the buck!  I also appreciate Garnacha at the table, especially when the weather is warm because it a red wine that can take a chill
Consider Grenache and Grenache Blanc for your Thanksgiving meal #SnoothVT #GarnachaDay @WinesofGarnacha

— Martin Redmond (@martindredmond) September 17, 2016
I encourage you to find some Garnacha and find out for your self to find why these easy-going juicy, spicy wines are so charming!
Thank you Snooth and Wines of Garnacha for  the wine samples, along with organizing and sponsoring the tasting.  You can check out a  video of the virtual tasting  is available here.
Next week, I'm planning to participate in another Snooth virtual tasting.  This one will feature one of my favorite wine regions – Lodi!  Check out Snooth to RSVP for the Lodi wine event scheduled for Wednesday, September 28!
Related Articles:
_________________________________________________________________________
Follow me on Twitter, Facebook,Instagram, Vivino and Delectable, for all things wine. As a wino with latent foodie tendencies, you'll also find food and wine pairings, and food related stuff! Become a fan and join ENOFYLZ Wine Blog on Facebook. Cheers! This article is original to ENOFYLZ Wine Blog.com. Copyright 2016 ENOFYLZ Wine Blog. All rights reserved.