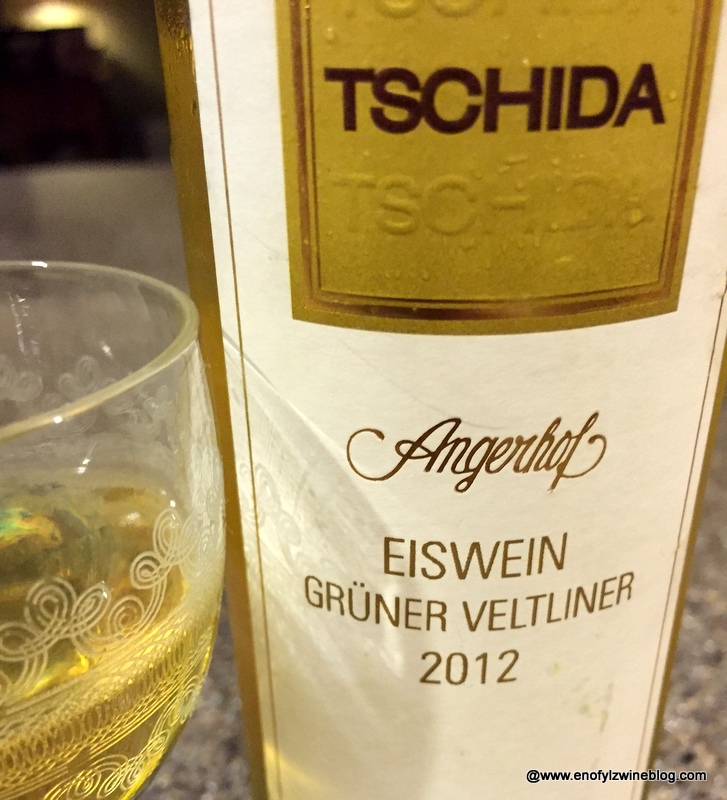 The 2012 Weingut Angerhof Tschida Grüner Veltliner Eiswein is an ice wine from the  Burgenland region in Eastern Austria.  Burgenland is Austria's key red wine region ( the main grapes being Blaufrankisch and and Zweigelt).  But sweet, primarily botrytized, wines are also a specialty of the region.
This wine is a rarity. That's because ice wine of Grüner Veltliner doesn't often come to Tschida's vineyards on the banks of Lake Neusiedl.  That's because crafting an ice wine requires nature to cooperate.  And 2012 had near perfect conditions allowing for  harvesting healthy (non-botrytized) and deliciously ripe frozen grapes still on the vine in December.
Such conditions existed in 2015 as well, so you can expect another vintage of this wine.
Angerhof Tschida is considered to be one of the world's premier producers of sweet wines in the world.  Winemaker Hans Tschida has been crowned  the International Wine Challenge "Sweet Winemaker of the Year" multiple times.
My tasting notes:
The wine is a pale golden yellow color with very appealing apricot jam, honey, citrus and orange blossom aromas. On the palate it approaches full bodied , but show an extraordinary finesse and concentration with very good acidity and a silky texture.  It's sweet, but not cloyingly so, with apricot jam, ripe tangerine, honey and an undercurrent of honey roasted almonds and a very long clean finish. From 375ml (Outstanding; 91-92 pts.)
Pair with: This is a wine that will stand on its own as dessert, but consider pairing with savory items such as duck pate and foie gras on crostini, cheeses such as camembert, brie, or chevre.  On the dessert front, it would be yummy with Crème brûlée, Macarons, Peach Pudding,  Pumpkin Pie, or fresh fruit!
9.5% abv |$30(sample)
_________________________________________________________________________
Follow me on Twitter, Facebook,Instagram, Vivino and Delectable, for all things wine. As a wino with latent foodie tendencies, you'll also find food and wine pairings, and food related stuff! Become a fan and join ENOFYLZ Wine Blog on Facebook. Cheers! This article is original to ENOFYLZ Wine Blog.com. Copyright 2016 ENOFYLZ Wine Blog. All rights reserved.